For the first time, Air France-KLM and associated airlines carried more than 100 million passengers in a year. The airline group concluded 2018 with 101.4m passengers, +2.8% over the previous year, it announced on January 9.
Results could have been even better, as they reflect the slump at Air France caused by social unrest and numerous strikes by cockpit crew, cabin crew, and ground staff. Air France and its affiliate airlines Joon and HOP improved full-year traffic by only 0.4% to 51.4m passengers, while load factor increased 0.5% to 86.2%. Long-haul services performed better at +1.5% more pax and even 2.3% higher Revenue Passenger Kilometers (RPK), but short and medium-haul traffic saw passengers numbers drop slightly by 0.1% to 35.3m. RPK improved by 0.5%, while capacity was 0.5% lower than in 2017. As such December summed up the year, with fewer passengers and lower load factors.
Dutch partner KLM performed much stronger, with 4.5% more passengers to 34.1m and 4.0% higher RPK. Short and medium-haul saw the biggest increase in passenger number percentage-wise (+4.8% compared to +3.9% long-haul), but RPKs improved more long-haul (+4.2% versus +3.4% short/medium-haul). KLM's load factor increased by 0.7% to 89.1%. The biggest increase in traffic has been on routes to Latin America (+8.9%).
KLM's president Pieter Elbers frequently has complained that limited capacity at its Amsterdam Schiphol base is restricting growth. Until a political decision is made on more capacity at Schiphol, this restriction will likely limit growth in 2019 too.
The strongest performer within Air France-KLM has been its low-cost airlines Transavia and Transavia France. Passengers carried increased +7.1% to 15.8m, RPK by +10.1% to 28.3m and load factor by 1.4% to 92% flat. In December pax numbers grew even by 11%, reflecting a successful year.
Cargo had an on and off year, reflecting the volatile situation in the cargo market. Revenue Tonne Kilometers grew 0.7% to 8.6m. In the past months, Air France has performed better here than KLM, which saw available capacity reduced by 1.9% versus a 2.2% increase at its French partner. Part of the reason is again restricted capacity at Schiphol, where cargo slots have been lost to (low-cost) passenger slots.
Air France-KLM will present its full-year results on February 20.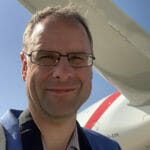 Active as a journalist since 1987, with a background in newspapers, magazines, and a regional news station, Richard has been covering commercial aviation on a freelance basis since late 2016.
Richard is contributing to AirInsight since December 2018. He also writes for Airliner World, Aviation News, Piloot & Vliegtuig, and Luchtvaartnieuws Magazine. Twitter: @rschuur_aero.