Drones are becoming an item of annoyance at airports and among commercial aviation people. But there are great uses of drones. Here is an example of this. This video is taken at the famous Glory Hole Spillway at Lake Berryessa in California. This is the first time in a decade the spillway has been active.
Last week saw the roll-out of the latest Boeing 787, the -10 which is the largest model. Like all aircraft that are stretched, it looks more graceful than the shorter models.
Boeing released the image above of the 787-10 as well as the image below, that allows a comparison in sizes with key capacity differences.
Continue reading →
China's Civil Aviation Administration re;eased its latest (13th) five year plan on February 3. In this plan there are five areas of focus:
sustained safety of civil aviation,
building a national integrated airport system,
comprehensively improving aviation service capability,
strengthening support and service quality of air traffic management and
speeding up transition through reform and innovation.
Of these items some caught our eye. For example, "The second target is to enhance the strategic role of civil aviation to continuously raise its contribution to the national economy and further increase the proportion of air transport in the integrated transport system". Then there was this: "The third target is to comprehensively enhance the support capability of civil aviation. A well-planned and efficient airport network consisting of about 260 transport airports will be built."
These issues are of special interest in light of something CAAC announced last year called Rule 96. Details are… Continue reading →
Air India took delivery of its first of 14 A320neos leased from Kuwait-based ALAFCO. Air India is the first CFM powered A320neo operator in India. This delivery is the first A320neo for ALAFCO from an order for 85. The A320neo is now part of Air India's fleet of 66 A320s.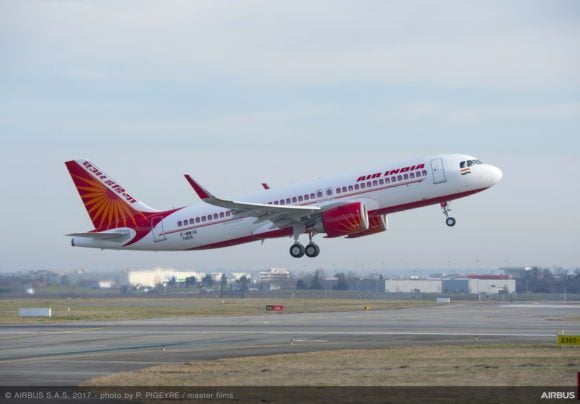 Continue reading →
China's AG600 is the world's largest amphibian aircraft and has passed its first engine tests. First flight is planned for later this year.
The engine test ran the four WJ-6 turboprops. Next comes a comprehensive ground test program which leading to first flight in first half of 2017, China Aviation Industry General Aircraft (CAIGA) reported. This organization is a subsidiary of state-owned AVIC.
The AG600 has been in development for seven years and is intended primarily for firefighting. The AVIC AG600 will likely also be used for maritime patrol and search and rescue. The AG600 search and rescue version will be able to seat 50. China's growing South China Sea islands are likely to see many AG600s. The is nearly 123 feet long with a wingspan of 127 feet and can carry 12 tons of water, according to CAIGA. The AG600 is expected to have a range of 3,000NM. AVIC… Continue reading →
News from Bloomberg suggests that AerLingus is about to announce a decision to select the Airbus A321LR to replace its Boeing 757s. These 757s are primarily used to connect Ireland and US east coast cities. The Boeing 757 is a remarkable aircraft that enjoyed great popularity long after Boeing stopped making them. But the existing airframes are ageing and its obsolesce is a factor.
AerLingus has four 757s, and the report says the airline is looking at seven A321LRs. This might indicate a decision by AerLingus to increase its trans-Atlantic routes from Dublin. Are all going to fly west to the US? Perhaps, but perhaps not. The advantage of aircraft with long range is that they offer potential to be flexible and experiment with new markets. The following map shows markets that are within reach.
The map shows the ranges for the 757, A321LR and MAX8. We include the MAX8… Continue reading →
Widerøe confirmed it will be the E190-E2 launch operator. Delivery of the first aircraft is scheduled for the first half of 2018. Embraer is confident of its schedule. Currently Widerøe operates a Bombardier turboprop fleet of 41 aircraft. The selection of the Embraer was something of a surprise to many. But the CS100 is too large for the airline's requirements. This decision is interesting as it may be a guide for other airlines that are also considering aircraft of this size. The Widerøe E190-E2's will have a single class with 114 seats.
Widerøe is based in Norway and is a regional operator. The airline's deal with Embraer for up to 15 E2 aircraft; three firm E190-E2 orders and purchase rights for a dozen more. Widerøe CEO Stein Nilsen said in a statement that the three firm order aircraft would be deployed on regular flights from its Bergen and Oslo hubs. … Continue reading →