China Southern Airlines' net loss for FY22 has significantly deepened compared to the previous year. The carrier said on January 30 that based on preliminary information, the loss will be RMB -30.3 billion compared to RMB -12.1 billion in 2021. China Southern is the first of the Big Three to report its 2022 results. China Southern losses deepen over "multiple shocks".
The loss attributable to shareholders will be RMB -33.2 billion versus RMB -12.6 billion. The net loss after deducting the non-recurring profit or loss attributable to shareholders is estimated at RMB -30.9 billion to RMB -34.1 billion.
The deeper loss is caused by many reasons, of which the strict zero-Covid policy that was effective until early December was one of the main factors. "During the Reporting Period, the domestic civil aviation industry was affected by multiple shocks such as the repeated impact of the pandemic, high oil prices, and the depreciation of the Renminbi."
As a result, China Southern saw its passenger capacity in available seat kilometers and revenue passenger kilometers decrease by approximately 28.1 percent and 33.0 percent (to 102 million) respectively. Compared to 2019, capacity and RPKs were down some 55.3 and 64.2 percent. The overall load factor in 2022 was 66.4 percent, down 4.9 percent over 2021. Domestic stood at 66.6 percent for the full year, with international at 63.2 percent, and regional at 42.7 percent.
"In the face of extreme difficulties and severe challenges, the Company insisted on joint efforts of long-term strategies and short-term strategies, making every effort to seize income, reduce costs, revitalize resources, and actively respond to negative impacts. However, as affected by multiple factors such as the epidemic, the operating performance of the Company in 2022 continued to suffer loss," China Southern says in an investor's statement.
The airline ended December with 894 aircraft, but its summary still includes two Airbus A380s that have been phased out since then and ferried to the Mojave desert in the US.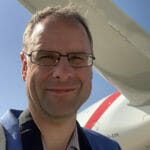 Active as a journalist since 1987, with a background in newspapers, magazines, and a regional news station, Richard has been covering commercial aviation on a freelance basis since late 2016.
Richard is contributing to AirInsight since December 2018. He also writes for Airliner World, Aviation News, Piloot & Vliegtuig, and Luchtvaartnieuws Magazine. Twitter: @rschuur_aero.