The Italian government has received approval from the European Commission to launch Italia Trasporto Aereo (ITA), the successor to Alitalia. The new airline will commence services on October 15, the Ministry of Economic Affairs and Finance has announced in a brief statement on July 15. The news means that after 74.5 years, Alitalia will operate its last flights on October 14. ITA gets the go-ahead from Brussels.
"The discussion with the European Commission has made it possible to reach a constructive and balanced solution, which guarantees the discontinuity necessary for compliance with European legislation", the Ministry says in the statement. "The positive outcome of the dialogue with the Commission's offices makes it possible to initiate the procedures relating to the capital increase of ITA and creates the conditions for the signing of the Memorandum of Understanding for the transfer of certain activities from Alitalia to ITA."
The government has said earlier that it intends to support ITA with a capital increase of €700 million this year, €400 million in 2022, and €250 million in 2023. This allows ITA to buy part of the assets of Alitalia, including the purchase of 45 narrow-body and seven wide-body aircraft this year. The business plan includes another 28 that should be added next year. By 2025, ITA hopes to have a fleet of 105 aircraft, of which 81 new that will be bought or leased in the near future. This could be as early as mid-2022. ITA plans to issue a tender for other activities, like maintenance and ground handling, but also to get the Alitalia brand name.
ITA will take over 8.550 Alitalia staff
ITA will take over 2.800 Alitalia staff this year plus 5.750 in 2022, which means that the combined workforce of 8.550 will be smaller than the 10.000 with the current airline. This could increase by another 4.000 if more staff joins ITA from maintenance and ground handling. The Ministry of Labor and the extraordinary administration of Alitalia will supervise the transition period between the two airlines. ITA's Executive Chairman will be Alfredo Altavilla, who was appointed by the Ministry of Economic Affairs and Finance in June. He currently is chairman at Recordati Industria Chimica e Farmaceutica. He has no background in the airline industry. CEO remains Fabio Lazzerini.
The go-ahead from Brussels for ITA and the financial aid package is conditional to the new airline surrendering fifty percent of its slots at Milan Linate, the popular airport close to the city, as well as at Rome Fiumicino, and some European airports. Alitalia's loyalty program MilleMiglia will no longer be valid for customers who wish to switch to ITA. There will be a special solution for passengers who have bought Alitalia for travel after October 15.
New airline should be break-even in Q3 2023
ITA is set to expand its network in the first year to 45 destinations and 61 routes. In 2025, this should have grown to 74 destinations and 89 routes. While Alitalia has been loss-making for years, ITA should break even by Q3 2023 and produce an EBIT of some €209 million. Revenues should reach €3.3 billion in 2025.
"With the start of ITA's operations, the foundations are laid for a new national air transport carrier that is solid, sustainable and independent, able to operate in the name of discontinuity and with solid prospects for growth and development", the Ministry-statement says after
As reported in June, Lufthansa Group as well as Air France-KLM/Delta Airlines/Virgin Atlantic have shown an interest in taking a share in ITA. This will not be possible until 2024-2025.
(For this report, we used some information from Corriere della Sera)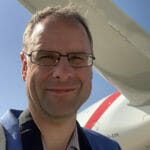 Active as a journalist since 1987, with a background in newspapers, magazines, and a regional news station, Richard has been covering commercial aviation on a freelance basis since late 2016.
Richard is contributing to AirInsight since December 2018. He also writes for Airliner World, Aviation News, Piloot & Vliegtuig, and Luchtvaartnieuws Magazine. Twitter: @rschuur_aero.