Lufthansa is trying to have the re-sized successor to Alitalia join its airline group and also enter the transatlantic joint-venture with United and Air Canada. Italian media say the German airline has made an offer to the management of Italia Trasporto Aereo (ITA), which plans to launch this autumn. Lufthansa lures ITA with an attractive deal.
In a parliamentary session last December, ITA's acting CEO Fabio Lazzerini confirmed that both Lufthansa Group and Air France-KLM were discussing options for partnerships. Since then, not the French-Dutch airline group but its shareholder Delta Airlines seems to be leading discussions. Delta has been a long-term partner to Alitalia and in 2019 tried to buy the airline together with the Italian railway company Ferrovie dello Stato e Atlantia.
Until late April, there have been seven meetings with the potential partners. In a presentation to parliament, ITA stressed that any partnership should offer not just commercial advantages to ITA, but also on an industrial and operational level to develop its European and North American markets.
According to the newspaper Corriere della Sera, the Delta/Air France-KLM/Virgin Atlantic alliance has offered ITA only a limited role in its transatlantic joint-venture. Lufthansa Group, however, with its A++ joint-venture with United Airlines and Air Canada, would not just offer a key role within in JV. It is willing to give the Italians access to its commercial sales infrastructure, of which ticket sales form the central part.
ITA would also benefit from shared data and the shared acquisition of goods and (aircraft) parts purchased together with Lufthansa Group and its airlines Lufthansa, Eurowings, SWISS, Austrian Airlines, and Brussels Airlines. The cost-benefit for ITA would be around €200 million each year, the newspaper says.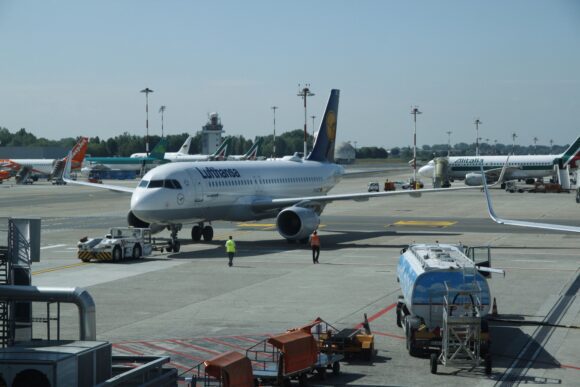 Italy is Lufthansa's most important European market, which explains its interest in ITA. Here an Airbus A320ceo is seen at Milan Linate. (Richard Schuurman)
That Lufthansa lures ITA with an attractive deal comes as no surprise. Lufthansa CEO Carsten Spohr has made no secret out of his interest in the Italian market, which is the biggest in Europe for the airline. At recent investor webcasts, he has been reluctant to say more on the potential participation of Lufthansa into ITA. The Germans have been looking at Alitalia a number of times in the past – as has Air France-KLM -, but in the end, were unwilling to commit to investing in the loss-making national airline. The lessons learned by Etihad, which lost hundreds of millions on its investments in Alitalia, have been studied carefully in Frankfurt.
Government seems to favor the Delta option
If ITA commits to Lufthansa Group, this could open the door to an equity purchase by the Germans, Corriere della Sera says. But Lufthansa would want to have its own financial situation back on order, having received €9 billion in restructuring aid from state-owned funds last June. Lufthansa wants to repay these loans as quickly as possible and attract new funding through private sources.

However, Corriere della Sera has learned that the Italian government seems to favor the Delta option, which has offered ITA a "progressive integration" of the network in the coming years. Around 2024-2025, the first window when ITA would be allowed to attract foreign investors with a maximum of 49 percent, Delta and/or its partners could consider an equity investment in the Italian airline. Don't rule out a role for China Eastern, which has recently upped its shares in Air France-KLM.
As far as ITA is concerned, the launch of the new carrier still has to be officially confirmed. When its plans were announced last October and further outlined to the Italian Senate in December, ITA had planned to start flying in April this year. This has been delayed after the European Commission intervened. Last December, EU-Commissioner for competition, Margrethe Vestager, sent a long letter with over a hundred questions to Rome to ask for clarification of the business plan. ITA said it planned to launch with the help of €3.0 billion in aid or loans from the Italian government, but Brussels was quick to point out that this would be regarded as state aid that might contravene EU regulations.
EC wants ITA and Alitalia to be strictly separate entities
During a meeting on May 27, Vestager and Italian Minister of Economic Development Giancarlo Giorgetti and Minister of Economy Daniele Franco came closer on the conditions on which ITA would get an initial backing of €1.35 billion, of which €700 million this year, €400 million in 2022, and €250 million in 2023. The remainder of €1.65 billion would become available in 2024 and 2025.
The main condition is that ITA has to be a separate entity from Alitalia without any financial and shareholder connections whatsoever, although ITA (also referred to as NewCo – new company) is set to take over part of Alitalia's fleet. Neither is ITA automatically entitled to Alitalia's slots, especially at Milan Linate, and may obtain only half of them. ITA must also guarantee that the special services to Sardinia will be retained. The airline will operate with its own Airline Operator Certificate.
Even the name 'Alitalia' will remain the ownership of the current airline, which thanks to another €100 million investment would be able to continue until ITA becomes operational this autumn. The name could become available to another operator. ITA wants to start selling tickets in August, but frequent flyers and loyal Alitalia customers will be disappointed: their miles collected by the airline's MilleMiglia loyalty program won't be valid for ITA.
Before Brussels will rubberstamp the business plan, ITA will have to prove it can meet all the conditions, but the May meeting has been hailed as an important breakthrough by both Vestager and the Italian government. The final plan has to be presented to the EC this month. 
ITA plans to launch with some fifty aircraft this autumn
ITA plans to launch with some fifty aircraft, growing the fleet to 78 next year. The five-year business plan announced last December included 104 aircraft in 2026 and the purchase of new planes to replace Alitalia's fleet, which is between eight and 22 years old. As ITA wants to have maximum flexibility of a homogeneous (single-type) fleet, leasing will be the most obvious solution. Operating on a lean cost structure basis "in line with the best practice in the market", ITA would start with a staff of 5.000 or over half that of Alitalia, which will operate 4.000 weekly flights to 94 destinations this summer. Of these, 26 are domestic services.
The business plan also looks at the option to start a dedicated cargo division to be based at Milan Malpensa, which would operate an unspecified number of freighters. ITA also promises to interact closely with the high-speed railway network, particularly at Rome Fiumicino.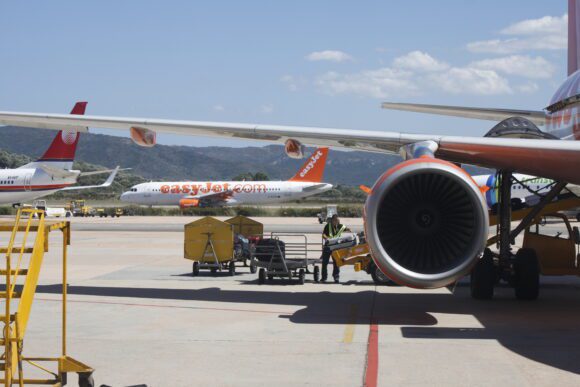 easyjet has been present in Italy for many years, like at Olbia (Sardinia) here. It wants to benefit
from Alitalia's troubles. (Richard Schuurman)
Whatever the outcome is of the launch of ITA and potential partnerships with other airlines, the new airline has to prepare for a case at the European High Court. Ryanair has already announced it will appeal against any EC decision to approve ITA as it claims the airline will only be able to launch thanks to unlawful state aid. Ryanair says that Alitalia has received €30 billion in unlawful state aid over the last few years, including almost €200 million in October and another €73 million to compensate for damages caused by the Covid-crisis. COO Eddie Wilson told La Repubblica ITA will just be an extension of Alitalia and any aid will be an "umpteenth loan."
Last month, Ryanair won its first appeal over state aid to KLM and TAP Portugal and today over German leisure airline Condor, so its chances of winning a case against the EC over ITA should not be underestimated.
Italy itself is becoming more and more a battleground for low-cost airlines. Ryanair, easyjet, Wizz Air, Vueling, and Volotea have all added capacity to the Italian market and opened new bases. Wizz said last week that it will base seventeen aircraft in Italy this summer as it will become the key market in Western Europe for the ultra-low-cost.
In between this battle, Alitalia/ITA will have to try to keep its market share, while another start-up might join in the form of the re-launched Air Italy. These are indeed exciting times for airlines in Italy, even without Lufthansa luring ITA with an attractive deal.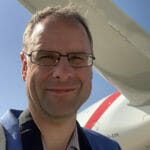 Active as a journalist since 1987, with a background in newspapers, magazines, and a regional news station, Richard has been covering commercial aviation on a freelance basis since late 2016.
Richard is contributing to AirInsight since December 2018. He also writes for Airliner World, Aviation News, Piloot & Vliegtuig, and Luchtvaartnieuws Magazine. Twitter: @rschuur_aero.