A long time ago, in January and February, things looked great for US airlines. There was a new virus doing damage in China, but it wasn't anything to worry about. Then, very suddenly it was. At industry conferences early in 2020 the idea of a pandemic pushing air travel from 80% load factors down to near zero was laughable. As a guide of how the impact came on far more suddenly than anyone could have imagined we offer this chart.
What we see (left axis) is passenger traffic and the number of flights on the right axis. The data we have comes from several sources including the US Dot and FlightRadar24. We plan to run a weekly update to see how things are playing out and provide more insight.
The chart shows is how traffic disappeared far more quickly than the US airlines expected. Even as we see yesterday saw a good bounce in traffic (spike at the end of the blue line), airlines have been behind the traffic drop. Airlines usually have good visibility of traffic from bookings. But when passengers canceled flight plans at the rate seen from the second week in March, that visibility turned out to be a mirage. From then on, airlines have been chasing the traffic collapse and never catching up.
The average US domestic flight had 115 people all through last year. March 2019 saw an average load of 114 people and March 2020 saw 44 people. Preliminary data for April show an even steeper drop; 115 passengers/flight in 2019 to 12 passengers/flight in 2020.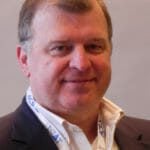 Co-Founder AirInsight. My previous life includes stints at Shell South Africa, CIC Research, and PA Consulting. Got bitten by the aviation bug and ended up an Avgeek. Then the data bug got me, making me a curious Avgeek seeking data-driven logic. Also, I appreciate conversations with smart people from whom I learn so much. Summary: I am very fortunate to work with and converse with great people.