Singapore Airlines counts on a "measured expansion" of its passenger network but will take a nimble and flexible approach to meet market demand as it hopes to exit the Covid-crisis. It will benefit from the ongoing transformation program and the strengthening of its liquidity position.

SIA Group reported a $4.271 billion net loss for FY2020-2021, compared to a $212 million loss in the previous year. The drastic effects of the pandemic hit the airline right from the start of its financial year in March last year. Over the year, it carried just 596.000 passengers compared to 35.8 million in 2020, or -98.3 percent.
The operating result dropped from $59.1 million to a negative $2.513 billion. Total revenues dropped from $15.976 billion to $3.816 billion. Of this, $2.709 billion was generated with cargo flights by extensively using the full-freighter fleet and deploying passenger aircraft on cargo-only services. E-commerce, pharmaceuticals, and electronics were frequent goods on board SIA's planes.

Impairment of $1.7 billion on the fleet

During the year, Singapore Airlines took an impairment charge of $1.734 billion on 45 aircraft. These include 33 in the first half-year (Airbus A380s, A319s, A320s, and Boeing 777s), and twelve in the second half, like four additional Boeing 777-300ERs, and eight Boeing 737-800s.
Another $48 million impairment charge was made on SIA Engineering as shop visits collapsed. Impairment of $170 on the goodwill of Tiger Airways that was recorded when SIA took over the airline in 2014 was also attributed to FY20/21.

At the end of March, Singapore had $15.9 billion in liquidity. During the year, it raised $14.8 billion in fresh capital, of which $8.8 billion through a rights issue completed in June. Singapore announced another $6.2 billion right issue today as it plans to offer new mandatory convertible bonds.
The carrier also secured $2.1 billion in financing on Airbus A350s and Boeing 787-10s as well as completing sale and leasebacks worth $2.0 billion for seven A350s and four 787-10s in early May.

Capacity to grow to 32 percent in July
Singapore Airlines expects capacity to grow to 28 percent in June and 32 percent in July as it will serve 49 percent of its pre-crisis network. Further expansion of its (international) network is dependent on the roll-out of vaccinations and re-opening of borders.
The carrier continues to pursue "new engines" of revenue growth and initiatives to achieve a more competitive cost base to secure its future financial sustainability. It reduced its headcount by 5.8 percent last year to 15.790.

On its fleet, SIA Group operated 162 aircraft and seven freighters, with 41 aircraft either grounded or retired. Its six Boeing MAX 8s are grounded as the airline awaits approval to return them to service. Nine 737-800s have been transferred from low-cost subsidiary Silk Air to the parent airline.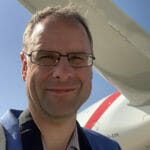 Active as a journalist since 1987, with a background in newspapers, magazines, and a regional news station, Richard has been covering commercial aviation on a freelance basis since late 2016.
Richard is contributing to AirInsight since December 2018. He also writes for Airliner World, Aviation News, Piloot & Vliegtuig, and Luchtvaartnieuws Magazine. Twitter: @rschuur_aero.