Etihad Airways is happy about its 2021 results, which despite another core operating loss show evidence of recovery, especially in the second half-year. The Abu Dhabi airline produced another positive EBITDA, it reported on March 1. Etihad positive for 2022 after strong recovery in HY2 2021.
The $476 million core operating loss compares to a $1.7 billion loss in 2020 when Etihad was grounded for weeks during the first wave of Covid. The full-year loss is almost identical to that for the first six months, which demonstrates how Etihad recovered in the second half of the year.
EBITDA was $0.41 billion compared to $-0.65 billion and almost back to the 2019 level of $0.45 billion.
Passenger numbers were down to 3.46 million from 4.2 million in 2020 and 17.5 million in 2019, but again, the second half-year made the difference after Abu Dhabi relaxed its travel restrictions and an end to mandatory quarantine in September. It carried 2.46 million passengers versus one million in HY1. The average load factor was just 39.6 percent but recovered to seventy percent in December, despite the effect of Omicron on bookings.
Cargo revenues at a record level
Passenger revenues were $1.07 billion, down from $1.24 billion in 2020, of which $0.7 billion came from the second quarter. Cargo revenues produced a new record at $1.73 billion, up from $1.2 billion in 2020. Tonnage was 729.200 versus 575.700 in 2020 and 635.000 in 2019, but higher yields in a capacity-constrained market did the trick. Volumes are expected to remain high this year.
Etihad kept a strict an on fixed cost controls and reduced spending by $110 million despite an increase in fuel costs of $197 million. Financing costs were down by $90 million, giving Etihad a 'strong' but unspecified liquidity position. Net debt has been reduced by twenty percent. Until October, staff has been working on the reduced pay scheme that was introduced in 2020 and which has been instrumental in lowering costs.
This year's balance sheet will look quite different as key business units of the airline group have been sold to ADQ. In a transaction that was announced in December and that will be completed later this year, ADQ has bought Etihad Engineering, Etihad Airport Services Cargo, Etihad Airport Services Ground, Etihad Aviation Training, Etihad Secure Logistics, and Etihad Technical Training. Etihad Airport Services Catering and Etihad Holidays have been sold to Abu Dhabi National Exhibition Group. The sale will allow Etihad to focus on its core airline business as it recovers from the pandemic.
The A350-1000 will finally enter service in Q2
Some 2,5 years after taking delivery of its first Airbus A350-1000 in September 2019, Etihad will finally introduce the type into service in the second quarter of this year. Four of the five aircraft that have been delivered since then are in Abu Dhabi, with the fifth still in storage in Bordeaux. Etihad has fifteen more -1000s on order and will add them to its 'backbone' fleet of thirty Boeing 787-9s and nine -10s, with one -9 left on order.
Compared to 2020, Etihad's fleet is down from 103 to 67 aircraft, three more than in July. It has parked eleven Airbus A320ceo's, three A321ceo's, all ten A380s, five Boeing 777-300ERs, and two 787s. In February, Etihad signed a Letter of Intent for seven Airbus A350Fs to bolster its cargo capacity.
In his outlook, CEO Tony Douglas says he is confident that Etihad will emerge strongly from Omicron and have that spring and summer will see a resurgence of air travel. He expects that a full recovery could happen as early 2023 compared to late 2023 in previous outlook.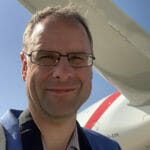 Active as a journalist since 1987, with a background in newspapers, magazines, and a regional news station, Richard has been covering commercial aviation on a freelance basis since late 2016.
Richard is contributing to AirInsight since December 2018. He also writes for Airliner World, Aviation News, Piloot & Vliegtuig, and Luchtvaartnieuws Magazine. Twitter: @rschuur_aero.