Despite a three-month grounding from March to June 2020 and the negative effects of many travel restrictions to and from Abu Dhabi, Etihad Airways limited its losses to just $-1.7 billion. This compares to a $0.8 billion profit in 2019, the airline said on March 4.
Etihad's passenger revenues dropped to $1.2 billion for $4.8 billion the previous year as it carried just 4.2 million passengers versus 17.5 million in 2019. Its network capacity dropped by 64 percent to 37.5 billion Available Seat Kilometers.
Cargo revenues were up to $1.2 billion from $0.7 million, largely driven by demand for pharmaceuticals and medical supplies that passed through the Abu Dhabi hub. Despite fewer tons flown, higher yields in a strained market benefited the airline.
Total operating revenues for the year were $2.7 billion, down from $5.6 billion. With fewer flights, operating costs were also down by -39 percent to $3.3 billion. Etihad reduced its overhead costs by $0.8 billion including a reduction of 33 percent of its staff to 13.587 employees. It also reduced finance costs by almost a quarter.
The Abu Dhabi airline was on track for recovery from its difficult financial position in the past three years, but this upward trend came to an end when the Covid-crisis struck. CEO Tony Douglas continues to target 2023 as the year when Etihad must have completed its restructuring and returned to profit. For this, the airline has accelerated its restructuring and transformation plans.
In the results press release, Etihad doesn't identify new measures, but Douglas has said recently that it will carefully review workforce and fleet numbers. In 2020, the airline had 103 aircraft in its fleet, a plus of two (787s) compared to 2019. Its passenger and cargo-only network were driven by its Dreamliner fleet.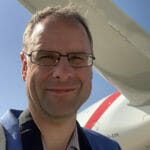 Active as a journalist since 1987, with a background in newspapers, magazines, and a regional news station, Richard has been covering commercial aviation on a freelance basis since late 2016.
Richard is contributing to AirInsight since December 2018. He also writes for Airliner World, Aviation News, Piloot & Vliegtuig, and Luchtvaartnieuws Magazine. Twitter: @rschuur_aero.