Etihad Airways has reduced its core operating half-year loss by half to $0.4 billion. The airline even posted a small positive EBITDA of $0.1 million, but is still suffering from low demand across its network, it reported on August 10. Its partner airline Air Arabia has reported its third consecutive profitable quarter. Etihad reduces operating loss by half.
The core loss compares to $0.8 billion in the first six months of 2020. Back then, EBITDA showed a negative $0.1 billion. Total revenues were $1.2 billion, down from $1.7 billion last year. Passenger revenues were $0.3 billion, one-third of last year's as the airline carried also less than one-third of the numbers from last year: one million versus 3.5 million.
Cargo revenues were up to $0.8 billion from $0.5 billion, reflecting the trend within the industry of higher yields. Its five modified Boeing 777-300ERs carried 365.5 million tons compared to 254.3 in 2020.
Etihad has launched or restarted ten destinations on its network since the start of this year to bring this to sixty but continues to suffer from travel restrictions on its routes to Europe and the Indian sub-continent. Whenever countries change to green and become safe, the carrier has seen sharp pent-up demand and sometimes six-fold bookings. Etihad operates seasonal routes to Greece (Santorini and Mykonos) and Spain (Malaga) this summer and launched services to Vienna last month, a year later than planned. It also serves Tel Aviv since April, which followed the normalization of diplomatic relations between the United Arab Emirates and Israel.
The reduction of the operating loss by half was very much the result of the focus on cost reductions. It has grounded 49 aircraft of its 103 strong fleet, with all Airbus A380s parked indefinitely. The operational fleet includes 59 passenger and five (modified) cargo aircraft. An unspecified number of employees have been furloughed.
This resulted in a reduction of fixed overhead costs by 22 percent to $3.0 billion while operating costs were down by 27 percent to $1.4 billion. Finance costs were also down by 22 percent. Etihad says only that it has been able to 'rebuild its liquidity position to pre-pandemic levels', without providing further details.
Air Arabia reports AED 44 million HY1 profit
Etihad's partner airline Air Arabia also reported improved results on August 10, showing an AED 44 million HY1-profit compared to an AED 169 million loss for the same period last year. The operating result was an AED 65 million profit compared to AED-149 million in 2020. Revenues were AED 1.068 billion, up from 1.027 billion.
The second quarter was Air Arabia's third consecutive profitable one, although it produced only an AED 10.4 million profit versus -239 million in Q2 2020.  Revenues were up to AED 496 million versus AED 120 million as it carried 940.000 passengers via all of its five hubs. The carrier hopes to build on this recovery in the third quarter as travel restrictions are more and more relaxed. 
Air Arabia had a fleet of 58 aircraft by the end of June, including six A321LRs and 52 A320neo's. Of these, 39 are based at Sharjah, nine in Morocco, and four in Egypt after services were resumed here. No updates have been given in Air Arabia Abu Dhabi. The airline had AED 5.247 billion in capital and reserves.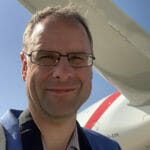 Active as a journalist since 1987, with a background in newspapers, magazines, and a regional news station, Richard has been covering commercial aviation on a freelance basis since late 2016.
Richard is contributing to AirInsight since December 2018. He also writes for Airliner World, Aviation News, Piloot & Vliegtuig, and Luchtvaartnieuws Magazine. Twitter: @rschuur_aero.