Air Kiribati, and the Government of Kiribati, have selected the Embraer E190-E2 for their fleet, with a firm order for two and options for two additional aircraft.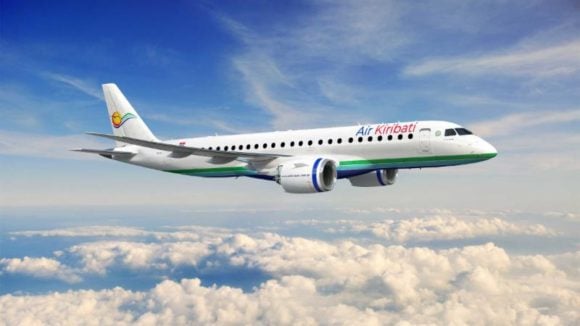 Currently an operator of turboprop aircraft, the inclusion of the E190-E2 in its fleet will enable Air Kiribati to fly longer domestic and international routes. Kiribati, which has more than 30 islands spanning four time zones, is the only country in the world that is present in all four hemispheres.
"We were impressed with what we saw when the E190-E2 visited Kiribati in October," said Hon. Willie Tokataake, Minister for Information, Communication, Transport and Tourism Development of the Kiribati Government. "Given its impressive range, lower fuel consumption and maintenance costs and dual class configuration that brings comfort to our passengers compared to its peers, the E190-E2's capabilities empower us to enhance connectivity within our country and beyond, taking our nation to its next phase of growth."
"We warmly welcome Air Kiribati to the Embraer family and we will work closely with the airline as they transition to the E190-E2 through our extensive entry-into-service package and world-class support team in the region," said Cesar Pereira, Asia Pacific Vice President, Embraer Commercial Aviation. "Flying in the Pacific, over large bodies of water, requires outstanding range, performance and ample cargo capacity. Air Kiribati's selection of the E190-E2 is yet another validation of the world's most efficient single-aisle jet design, which exceeds these requirements and will enable the airline to enhance its flight frequency and to boost its network."
The E190-E2 will enable non-stop operations between the capital Tarawa and Kiritmati (Christmas) island, which currently requires an international stop in Fiji. With a range of 2,850 nautical miles, the E190-E2 can operate throughout the country with non-stop routes.
Air Kiribati will be the first operator of the E2 family in the Asia-Pacific region (excluding China) and will take delivery of its first aircraft in 2019.