Despite impressive results on revenues and net income for the first nine months, Airbus has revised its guidance for the total number of airliners it expects to deliver in 2019 from previously 880-890 to now 860. This reflects the 'updated delivery schedule', the European company said on October 30.
Airbus Group record nine-month revenues of EUR 46.168 billion, an increase of 14 percent compared to last year's 40.4231 billion. EBIT Adjusted is up 51 percent to EUR 4.133 billion. Net income increased by 50 percent to EUR 2.186 billion. Free cash flow before M&A and customer financing was EUR -4.937 billion compared to -4.169 billion.
The main driver of these improvements is the higher output of A320neo-production and A350 ramp-up, which is reflected in its Commercial Aircraft results. Nine-month revenues increased 17 percent from EUR 30.478 billion to 35.572 billion. EBIT Adjusted increased 64 percent to 3.833 billion. Deliveries until September were 575, 68 more than last year.
However, in Q3 results are different, with revenues -3 percent to EUR 11.529 billion and EBIT Adjusted only one percent up to 1.495 billion. Order intake for the January-September period reflects a sluggish year as they were halved from 256 to 127. Order backlog stands at 7.133, 3 percent down from last year.
Of 422 A320 deliveries so far this year, 338 are A320neo-family aircraft. While production increased and improved and will further do in Q4 and 2020, Airbus still says that of the A321 Airbus Cabin Flex (ACF) remains 'challenging'. The airframer keeps looking for different options to increase the rate for the A321neo, most of which are made in Hamburg. Additional workforce and introducing automation in Hamburg have helped to reduce ACF-delays, with half of all 2019 ACF-deliveries delivered in Q3 and will reach triple digits full-year.
It will take Airbus until late 2020 to produce the last of 30-50 head-of-version ACF-aircraft that are the most difficult to build as they are new variants on the line.  In Q3 the first A321neo ACF was assembled in Mobile.
Neo-production rate is progressing towards 63 a month from 2021, incuding rate 6 in Mobile, is a sustainable and predictable way. Production is fully booked until 2024. Faury expects to announce more decisions on the A321neo production at the full-year 2019 results conference early next 2020.
CEO Guilaume Faury is seeing good order momentum and is confident of winning additional orders for the A220, with 40 gross orders in Q3 and a backlog of 435 aircraft. He targets 45 deliveries  this year, with production rate ramped up in Mirabel to 10 and in Mobile at 4 by 2025.
Production of the A330neo also further improved in Q3 and as a result, 26 A330-900s have been delivered until October of 34 A330s. Certification of the A330-800 is expected early 2020. The A350 continues to make good progress on improving recurring costs, which at around 10 a month will make the program break-even this year as announced earlier.
EBIT Adjusted included a EUR 22 million charge in Q3 for terminating the A380-program from late 2021 which so far totals  158 million this year.
Airbus expects EBIT Adjusted for FY2019 to be 15 percent above 2018 and free cash flow of around EUR 3 billion. In the second half of 2020 Faury expects revenues to be affected by the 10 percent tarriffs imposed on October 18 by the US government in response to the WTO-report on subsidies to the European planemaker. The tarriffs don't impact single-aisle aircraft assembled in Mobile (Alabama) but hurt EU-produced airliners. Airbus is in discussion with its US customers to 'manage' the consequences, but Faury admitts it is the airlines that will have to pay for the tarriffs. He repeated Airbus is looking for a negotiated solution between the EU and US to solve this 'useless tarriff war'.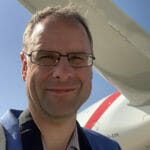 Active as a journalist since 1987, with a background in newspapers, magazines, and a regional news station, Richard has been covering commercial aviation on a freelance basis since late 2016.
Richard is contributing to AirInsight since December 2018. He also writes for Airliner World, Aviation News, Piloot & Vliegtuig, and Luchtvaartnieuws Magazine. Twitter: @rschuur_aero.