Actually, it is a kind of a miracle: despite severe travel restrictions into Hong Kong, Cathay Pacific has been able to improve its financial results in HY1 2022. The carrier reported an HK$-4.999 billion net loss compared to HK$-7.564 billion in the first six months of 2021. Cathay Pacific improves despite difficult HY1.
As President Patrick Healy points out in the earnings release, "the first half of 2022 bore similarities to the first half of 2021. The spread of a new COVID-19 variant, Omicron, led to increasingly stringent travel and operational restrictions, most notably in Hong Kong and the Chinese Mainland, which severely constrained our ability to operate flights and greatly affected the demand for travel." He referred to "an extremely difficult start to 2022."
These restrictions, which included banning transfer flights through Hong Kong, affected Cathay between January and May. And not just passengers but also crew, which were forced to stay in quarantine hotels for long periods. Only in May, the government gradually eased them to open up Hong Kong to foreign visitors again.
Where other airlines were able to recover and produced profits, Cathay stayed in the group of loss-making airlines. In January, Cathay estimated they would HK$1.5 billion per month. The HK$-4.999 billion net loss for the Cathay Pacific group includes finance charges and the share of losses of associates. The operating loss was actually better at HK$-1.253 billion compared to HK$-5.435 billion. Cathay must be one of the few with lower expenses year on year as it operated at such a low level. Expenses totaled HK$19.8 billion versus HK$20.4 billion. Staff costs were down but fuel costs were up some HK$300 million to HK$2.6 billion.
Cathay's HY1 started in May
Revenues improved to HK$18.6 billion from HK$15.9 billion, of which HK$2.1 billion was from passengers (2021: HK$748 million). Cathay carried 335.000 passengers, up from 157.000. The load factor improved to 59.2 percent from 18.9 percent. By capacity, the Americas remained the biggest market for Cathay, although capacity was down (by 45.3 percent) compared to last year. Flights to the US and Canada had been banned between January and April and resumed in earnest only in June. Cathay now serves New York, Los Angeles, San Francisco, Toronto, and Vancouver.
Capacity to Europe recovered by 37.5 percent, which reflects the resumption of services to London Heathrow and Paris since April. Since then, Manchester, Frankfurt, and Amsterdam are also back on the schedule. North Asia, which includes mainland China and Japan, was also up (by 21.7 percent) thanks to a significant portion of transfer traffic from mainland China, Australia, the US, and the UK. Cathay currently serves fourteen destinations in China and one each in Japan and South Korea.
Capacity to South Asia, the Middle East, and Africa combined increased by 240 percent, but, again, only when restrictions were eased from April. The airline is now back in India, Israel, Indonesia, Thailand, Vietnam, Malaysia, Singapore, and the Philippines. Services to Australia and New Zealand were resumed in June.
Cargo, again, outperformed passenger revenues at HK$13.8 billion compared to HK$12.7 billion in HY1 2021, despite carrying 526.000 tonnes versus 549.000 last year. This could have been much more if the strict Covid restrictions including self-isolation hadn't also applied to cargo operations and their crew. In a constrained market, yields were up 69.7 percent to HK$5.72. Available cargo tonnes kilometers were down by 31 percent.
Cathay's subsidiary HK Express reported a net loss of HK$-824 million compared to HK$-976 million in HY1 2021. Severely restricted by the Hong Kong Covid measures, the carrier's capacity or available seat kilometers was just 69 million. When services resumed in May, load factors started to recover to 18.9 percent, up 11.6 percent from last year.
Cargo subsidiary Air Hong Kong posted a HK$383 million profit, up from HK$374 million in 2021.
At the end of June, Cathay Pacific had 188 aircraft, HK Express 26, and Air Hong Kong fourteen in their fleets. In total 69 were still in storage outside Hong Kong. They will be reactivated once there is more visibility on the reopening of more borders and the need for sustained capacity. Cathay expects to take delivery this year of five Airbus A321neo's and three A350-1000s, while HK Express will get one A321neo. Next year, it will receive six A321neo's and the parent airline a further four, plus two A350-900s.
Q2 ended cash flow positive
Cathay Pacific Group ended June with HK$26.7 billion in unrestricted liquidity, with total debt (borrowings) of HK$65.9 billion. It stopped burning cash and generated positive cash by the end of the quarter, which makes the airline positive for the coming months. Passenger capacity should gradually grow to 25 percent of 2019 levels and cargo capacity to 65 percent. "This gives us confidence that our airlines and subsidiaries will see a stronger second-half than first-half performance. However, the results from associates (the majority of which are reported three months in arrears) will remain very challenging", Patrick Healy says.
He also adds his concerns about crew restrictions: "While we are fully committed to supporting our home city, our ability to operate more flight capacity continues to be severely constrained by a bottleneck on crewing resources under the existing quarantine requirements. We will only be able to operate more flight capacity when the existing stringent travel restrictions and quarantine requirements applicable to Hong Kong-based aircrew are lifted." Cathay plans to bring back some 4.000 frontline staff to meet its operational demands for the coming 1.5 to two years.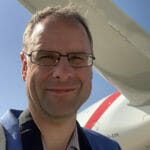 Active as a journalist since 1987, with a background in newspapers, magazines, and a regional news station, Richard has been covering commercial aviation on a freelance basis since late 2016.
Richard is contributing to AirInsight since December 2018. He also writes for Airliner World, Aviation News, Piloot & Vliegtuig, and Luchtvaartnieuws Magazine. Twitter: @rschuur_aero.