Air Lease Corporation (ALC) has signed a comprehensive lease restructuring agreement with Vietnam Airlines, it announced on December 16. The airline has been defaulting on payments to ALC for numerous quarters this year and only started repaying this autumn. The lease restructuring helps Vietnam and secures that ALC's aircraft can continue to operate with the airline. Vietnam Airlines restructures leases as it tries to recover.
The restructuring covers twelve Airbus A321neo's and six Boeing 787-10s. "These agreements extend terms and revise lease economics closely tailored to the recovering economies and air travel in Vietnam and Southeast Asia", is all that ALC adds in a brief media statement.
During its Q3-results presentation in November, ALC said that the majority of the $180 million in lease payment deferrals was caused by Vietnam. CEO John Plueger said that the airline had started making "significant cash payments" since then, but he and Chairman Steven Udvar-Hazy were cautious if Vietnam Airlines would be able to continue paying.
In its HY1 2021 results document, Vietnam Airlines says it was in discussions with lessors "to delay scheduled aircraft acceptance, in which nine aircraft (including B787-10 and A320 NEO) have been rescheduled for delayed delivery to 2022, 2023 instead of delivery in 2021 as per the original agreements."
By June, the carrier said it had 26 aircraft on lease but the number of aircraft it had on operating lease was actually eighty: 18 A320s, 13 A321s, 20 A321neo's, 14 A350-900s, 4 787-9s, 10 787-10s, and one ATR 72. Operating lease obligations were VND 120.5 trillion. The airline said it would sell eleven aircraft to generate sources of income and also depreciate the value of its aircraft and engines by some VND 2.135 billion.
Borders closures hit Vietnam Airlines hard
The closure of borders and other travel restrictions since the start of the pandemic has hit Vietnam Airlines hard. The airline operated some international repatriation flights but its network was almost down for most of the year. In the HY1 results until June 30, it said current liabilities exceeded its assets by VND 34.664 billion, up from VND 24.456 billion in December 2020. The owner's equity was a negative VND 2.787 billion compared to a positive VND 6.072 billion six months earlier. Overdue payments stood at VND 14.805 billion, more than double that of VND 6.640 billion in December.
Vietnam Airlines ended HY1 at a VND 8.622 billion loss after tax compared to VND -5.623 billion in the same period of 2020. Late November, it reported a VND 3.5 billion net loss for Q3. "Vietnam Airlines' ability to continue as a going concern will depend upon the financial support of the Government of the Socialist's Republic of Vietnam, the extensions of its borrowings at commercial banks and financial institutions, payables to suppliers and lessors, as well as the development of the pandemic", the airline's auditor Deloitte says in the HY-1 document.
The airline has been helped by the government. In June 2020, the airline proposed a government package of VND 4 to 12 billion. Earlier in 2021, the government-assisted in raising VND 4.0 billion for Vietnam Airlines through loans from three commercial banks, while the airline issued VND 8.0 billion in new capital through the issuance of new shares. At the same time, it started working on a restructuring plan for the 2021-2025 period to repair its balance sheet and improve operational efficiency.
Vietnam reopens in two phases
Vietnam Airlines resumed services to and from San Francisco on December 1 (main picture) and is offering tickets again to Sydney and Melbourne after the Vietnamese government reopened the country for international travel on December 15. The reopening will happen in two phases and only through Hanoi and Ho Chi Minh City, from where airlines can connect to nine cities. From January, Vietnam will open to more destinations. Domestic travel is also to step up from the current one daily flight on trunk routes to twenty per day until the end of December, but the plan is to lift all restrictions from January.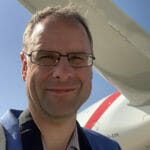 Active as a journalist since 1987, with a background in newspapers, magazines, and a regional news station, Richard has been covering commercial aviation on a freelance basis since late 2016.
Richard is contributing to AirInsight since December 2018. He also writes for Airliner World, Aviation News, Piloot & Vliegtuig, and Luchtvaartnieuws Magazine. Twitter: @rschuur_aero.