Air Lease Corporation (ALC) will emphasize more on coping with demand for narrowbody aircraft. It is satisfied with the almost complete placement of its widebodies but wants to get a stronger hold on the narrowbody market, where demand is huge. A new narrowbody order is likely, Air Lease indicated during its Q3-results presentation on November 4. ALC will emphasize more on single-aisle demand.
"We still have a pretty good widebody backlog of 787s, A330s, and A350s. Most of them have been placed. But I think we need more emphasis going forward on the most popular single-aisle aircraft where we are also seeing the strongest improvements in lease rates and lease rate factors. At least for the next two to three years", said Executive Chairman of the Board, Steven Udvar-Hazy.
Demand for narrowbodies is so high that Boeing and Airbus work on aggressive production rate increases to cope with it. Until they have been implemented, demand is greater than supply. "We ourselves have more requests coming in than we can handle, so we need to be more selective, more disciplined, more strategically oriented", said Udvar-Hazy. ALC has 51 Airbus A220s, 124 A320neo-family, and 88 Boeing MAX in its backlog until 2027.
Looking ahead at its capital allocation, a new order for single-aisle aircraft is not a question of if but when. "Should we decide to place any new orders, you should expect us to go out a few more years beyond 2026. We will probably emphasize single-aisles more but in the long term, widebodies will always have a role", said CEO and President, John Plueger. ALC has placed 96 percent of its order book through the end of 2023 on long-term leases while 67 percent of its entire order book is placed with running orders to 2026. Airlines are already looking well into 2026 to get a hold on new aircraft.
Placement with ITA Airways biggest in ALC's history
Demand for narrowbodies is growing, particularly for the Airbus A220, A320neo-family, and the A321LR and XLR. The Boeing 737 MAX is also recovering well in the marketplace, notably the -9. The popularity translates into rising lease rates. In Q3, ALC placed 64 aircraft, its highest number ever.
Of these, 31 were placed with ITA Airways, which is the single largest placement in the history of Air Lease and includes fifteen A220s, two A320neo's, fifteen A321neo's, and five A330-900s. ALC also placed ten A320neo's and five A321neo's with Spirit Airlines from its order book and leveraged funding from capital partners. Allegiant took ten ex-Alaska Airlines A320ceo's.
Although the widebody market is seen as soft right now, ALC is seeing some movements here too. This is confirmed by the A330neo's for ITA, but also by "several unannounced placements for Boeing 787s and Airbus A350s", said Plueger.

ALC's estimated delivery schedule, but 25 for 2021 is unlikely
The main concern is delayed 787 deliveries
Plueger's main concern is delivery delays. ALC has 25 contractual deliveries for this year but expects only fifteen. Airbus is running some four to seven weeks behind schedule on the A321neo's, but Boeing hasn't delivered any 787s since May as it works to solve quality issues.  
ALC took delivery of just two 787s this year before Boeing paused the program. The lessor was expecting ten 787s by the end of the year, but it is unlikely that it will take any as the delivery freeze continues. As some aircraft will be twelve months late, ALC has taken up its right to cancel orders for three Dreamliners. The company now expects to receive between twelve and fifteen 787s in the second and third quarter next year. MAX deliveries are running very smoothly.
The third quarter produced 6.3 percent higher revenues of $524.5 million compared to Q3 last year. Rental revenues reached a record-high of $519.5 million. In the first nine months, total revenues were $1.439 billion compared to $1.462 billion. The lease collection rate was up to 94 percent compared to 87 percent in Q2 and 84 percent in Q1. The lease utilization rate was 99.9 percent.
"The industry is clearly improving, which we see in our results for aircraft demand and lease rates", John Plueger said, who stressed that the recovery will not be linear but bumpy on the way up.
While lease payment deferrals were slightly up from $150 million in August to $180 million now, ALC can now lose a little less sleep over one of its customers: Vietnam Airlines. The carrier defaulted on payments in previous quarters but has now made significant cash payments for its Air Lease aircraft again. Although this no guarantee that it will remain on a cash basis next quarter. In total, 54 percent of deferrals have been paid and ALC expects this to rise in the months ahead. Restructuring requests have dropped significantly compared to early this year and 2020.
ALC will resume the sale of young aircraft
In Q3, ALC took delivery of sixteen aircraft in its order book valued at $808 million, bringing the managed fleet including sales to 370 compared to 332 in December. Deliveries could have been $200 million higher if not for delays at Boeing and Airbus. For this reason, ALC said in August that it had scaled back aircraft sales to compensate for the delays. It will likely resume some sales in Q4 and ramp up sales activities once new deliveries stabilize. Eligible for sale will be aircraft aged five or six years that have some lease terms remaining. ALC could use another Thunderbolt platform or a new partnership to market these youngsters.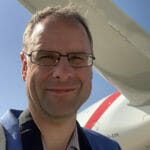 Active as a journalist since 1987, with a background in newspapers, magazines, and a regional news station, Richard has been covering commercial aviation on a freelance basis since late 2016.
Richard is contributing to AirInsight since December 2018. He also writes for Airliner World, Aviation News, Piloot & Vliegtuig, and Luchtvaartnieuws Magazine. Twitter: @rschuur_aero.