Another aircraft lessor has been affected by the impact of the pandemic. Dublin-based lessor AMCK is selling its existing and future aircraft portfolio of 148 aircraft for $4.2 billion to Carlyle Aviation Partners, it announced on December 23. AMCK cites risks as reason for exiting leasing market.
AMCK was formed in October 2019 after the integration of the leasing platforms of Accipiter and MCAP. Accipiter is owned by CK Asset Holdings, one of the largest developers in Hong Kong with assets in China, Singapore, and the UK but based on the Cayman Islands. The other shareholder in AMCK is Li Ka Sheng Foundation. Accipiter used to manage a fleet together with Vermillion, a joint-venture with MC Aviation Partners that was owned by Mitsubishi Aircraft Corporation.
In a filing to the Hong Kong Exchange, CK Asset Holdings says that it will sell Accipiter Finance for $2.441 billion and Manchester Aviation Finance for $1.8.40 billion, which includes the agreed headline price for the aircraft. The agreement covers 74 aircraft in Accipiters portfolio plus twenty Airbus A320neo that are listed in the order book of the OEM. Manchester Aviation Finance has a portfolio of 54 aircraft.
The AMCK website shows 153 managed and owned aircraft per September 30, including 53 Airbus A320-200s, twelve A321-200s, 23 Airbus A320neo/A321neo's, 36 Boeing 737-800s, two 737-900ERs, two Boeing 777-300ERs, and four Airbus A330-300s. They are leased to 41 airlines in 26 countries and include Jetstar, Transavia, Frontier, LATAM, Scoot, Spirit, IndiGo, Jet2, Air Arabia, American Airlines, Lion Air, Go First, Wizz Air, Smartavia, Japan Airlines, Volaris, and Spring Airlines. Just before the integration into AMCK, Accipiter placed a purchase agreement for twenty A320neo's during the 2019 Paris Airshow.  
COVID caused a paradigm shift in the leasing sector
CK Asset Holding motivates the sale by stating that "COVID-19 has caused a paradigm shift in the aircraft leasing sector. The risk and return dynamics have become volatile and unpredictable, and the industry has undergone increased consolidation, mergers, and acquisitions activities to mitigate such volatility. Following an internal consolidation of the Group's aircraft leasing business, the Group considered it an opportune time to exit the aircraft leasing sector and enhance its strategic focus during the pandemic. The Disposals would allow the Group to unlock the underlying value of its aircraft portfolio and realize a satisfactory gain, creating values for its Shareholders and allowing the Group to reallocate its capital in other investment opportunities."
The holding notes that the leasing division has generated steady returns since it was formed in 2014. Accipiter recorded a $62 million profit after tax in 2020, Manchester Aviation Finance $25 million. The aggregate profit from the disposal will be around $170 million, CK says.
Carlyle Aviation Partners, which was founded in 2002, will purchase AMCK through its Cayman Island-based investment vehicle Maverick Aviation Partnership, whose primary investor is CCPIB Credit Investor that is a wholly-owned subsidiary of Canada Pension Plan Investment Board. It used to own a stake in aircraft lessor AWAS. Carlyle itself says it has an owned, managed, and committed fleet of 311 aircraft with 106 airlines, so the acquisition of AMCK will bring this to 459 once the deal is to be completed in the second quarter of 2022. In August, Carlyle completed the acquisition of Fly Leasing for $2.36 billion, adding 84 predominantly mid-life aircraft to its fleet. In size, Carlyle is the sixteenth largest lessor in the world.
Carlyle pleased to acquire AMCK portfolio 
Carlyle's press release says the agreement covers 125 aircraft plus twenty on order with Airbus. While CK Asset Holding cites risk and return dynamics as its reason to exit the aircraft leasing market, Carlyle is seeing no obstacles. On the contrary, as Chairman William Hoffman says: "We are pleased to acquire AMCK's attractive portfolio, comprised of primarily narrowbody aircraft whose lessee counterparties have performed well in the COVID operating environment. This transaction will help us enhance our capabilities for airline customers and all of our investors across the Carlyle Aviation platform."
The news about AMCK comes a few days after Nordic Aviation Capital (NAC) voluntarily filed for Chapter 11 bankruptcy protection in the US, citing numerous customers defaulting on payments as one of the main reasons for its need to restructure. More lessors have announced lease restructurings recently, including Air Lease Corporation with Vietnam Airlines and Kuwaiti lessor ALAFCO.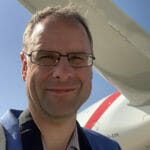 Active as a journalist since 1987, with a background in newspapers, magazines, and a regional news station, Richard has been covering commercial aviation on a freelance basis since late 2016.
Richard is contributing to AirInsight since December 2018. He also writes for Airliner World, Aviation News, Piloot & Vliegtuig, and Luchtvaartnieuws Magazine. Twitter: @rschuur_aero.