Boeing
Air India took delivery of its first of 14 A320neos leased from Kuwait-based ALAFCO. Air India is the first CFM powered A320neo operator in India. This delivery is the first A320neo for ALAFCO from an order for 85. The A320neo is now part of Air India's fleet of 66 A320s.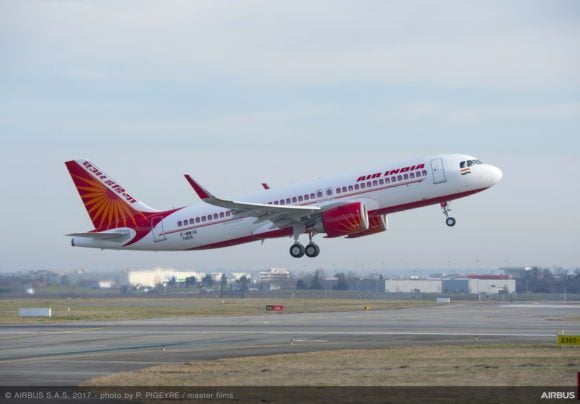 Continue reading →
News from Bloomberg suggests that AerLingus is about to announce a decision to select the Airbus A321LR to replace its Boeing 757s. These 757s are primarily used to connect Ireland and US east coast cities. The Boeing 757 is a remarkable aircraft that enjoyed great popularity long after Boeing stopped making them. But the existing airframes are ageing and its obsolesce is a factor.
AerLingus has four 757s, and the report says the airline is looking at seven A321LRs. This might indicate a decision by AerLingus to increase its trans-Atlantic routes from Dublin. Are all going to fly west to the US? Perhaps, but perhaps not. The advantage of aircraft with long range is that they offer potential to be flexible and experiment with new markets. The following map shows markets that are within reach.
The map shows the ranges for the 757, A321LR and MAX8. We include the MAX8… Continue reading →
Boeing has an $16.6bn deal with Iran for 80 aircraft. Many in the industry were wary of the deal's next steps after the change of government in Washington, DC. President Trump imposed a temporary travel restriction that included Iran. Then news emerged that Iran had test fired a ballistic missile last Thursday, which was seen by Washington as a provocation. On Friday, following a missile test masquerading as an orbital test flight, the US imposed new economic sanctions against several Iranian officials and entities involved in Tehran's missile testing program. On Sunday, Iran fired another missile. Continue reading →
The airline business is competitive – more so than most other types of business. It is also a complex business because its reach is global. The airlines that have dominated the industry so far tended to be network, or legacy, carriers. In some markets, where traffic volumes allowed it, low cost carriers (LCCs) managed to plant roots and thrive.
An early pioneer of low cost long-haul travel was Sir Freddie Laker's Skytrain. It was a brilliant idea. Then came People's Express. Both failed. The complexity of connecting people to fly across the North Atlantic worked if you lived in or near the two points being served. Moreover, the ability to market tickets to travelers was difficult – you depended on travel agents. They wanted a commission to make the deals, and LCCs didn't have the margin to afford this sales channel. Today we have the Internet and the typical travel agent has been dis-intermediated. Booking systems like the GDS' are not critical. An airline can distribute its products effectively from its own website. Continue reading →
AIR (AirInsightResearch) released its new forecast of the commercial aviation market to 2030. This analysis consists of a 32 page document with 37 charts highlighting the current and forecast market for the major aircraft OEMs (Airbus, ATR, Boeing, Bombardier, COMAC, EMBRAER, Mitsubishi, UAC). Continue reading →