With the infectious Omicron variant present in more and more countries and spreading quickly, airlines are beginning to see the effects of this mutation on their business. A few airlines have announced a drastic reduction in capacity for the coming months, while short-term, cancelations are disrupting travel plans during the Christmas holiday season. Omicron effect becomes evident in air travel.
With more and more staff unavailable because they have been diagnosed with Omicron and have to stay in quarantine, airlines like United Airlines, Delta Airlines, and Lufthansa have been forced to cancel flights today on December 24. United reportedly has canceled some 120 flights, Delta around ninety, Alaska Airlines around twenty, and Lufthansa around six long-haul flights over the Christmas weekend.
These are the short-term effects of Omicron, but in the medium-term, the virus is making the public unsure of flying. Irish low-cost airline Ryanair said on December 23 that it will reduce capacity in January by 33 percent and expects to fly six to seven million passengers instead of the earlier anticipated ten million. The ban of UK flights into Germany and France since last weekend plus the suspension of all EU flights to Morocco has already affected Ryanair's December traffic by one to 1.5 million passengers. Ryanair has changed its guidance for the current financial year, expecting a net loss of €250 to €450 million now compared to between €100 to €200 million in its previous guidance.
Lufthansa Group too is seeing a sharp decline in bookings for January and February and has responded by cutting its schedule for the two months by 33.000 flights, or ten percent of total flights said CEO Carsten Spohr. He said that he could have made even deeper cuts but is forced to operate flights to prevent losing slots under the slot rule from the European Commission. Under this rule, airlines are required to operate fifty percent of their flights if they want to keep their historical rights at airports.
Earlier this month, British Airways flight schedule showed that it would cancel over 2.100 flights until March. ANA has adjusted its January-March international schedule by some 3.000 flights. At the same time, the airline – like other ones – announced their January sales, with BA offering tickets to some 100 destinations at discount prices. On Boxing Day, Ryanair will start offering ten million seats for €29.99 for the April-September period. This will unquestionably affect its financial results, as has happened in the past year after Ryanair tried to stimulate demand by dumping ticket prices.
From recent research in the UK, Denmark, and South Africa, the effects of Omicron seem to be more favorable than that of the Delta variant, but the higher infection rates and greater change of contamination still could cause serious capacity problems in hospitals and health systems. Earlier in December, IATA said that the airline industry was not to blame for the spreading of Omicron.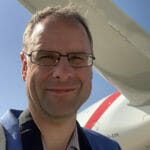 Active as a journalist since 1987, with a background in newspapers, magazines, and a regional news station, Richard has been covering commercial aviation on a freelance basis since late 2016.
Richard is contributing to AirInsight since December 2018. He also writes for Airliner World, Aviation News, Piloot & Vliegtuig, and Luchtvaartnieuws Magazine. Twitter: @rschuur_aero.