American Airlines and Chilean carrier JetSMART have signed a letter of intent on a new partnership. Both airlines plan to create "the broadest and most rewarding network in the Americas", they have announced on July 29. Moreover, American will take an unspecified minority share in JetSMART. American makes strategic investment in JetSMART.
The proposed partnership is subject to government and regulatory approval. It would uniquely tie a full-service carrier and an ultra-low-cost airline in South America and allow both operators to grow aggressively and profitably across Latin America, said Vasu Raja, American's Chief Revenue Officer.
Estuardo Ortiz, JetSMART's CEO, said in a statement: "When completed, this proposed partnership would accelerate JetSMART's path to becoming the leading South American low-cost carrier while expanding service for American's customers." Both airlines have committed themselves to provide additional capital to fund potential future opportunities in the region. 
American Airlines operates to seventeen South American destinations in nine countries, while JetSMART operates to 33 destinations in Chile and Argentina. If knitted together, the proposed route map results in the following network: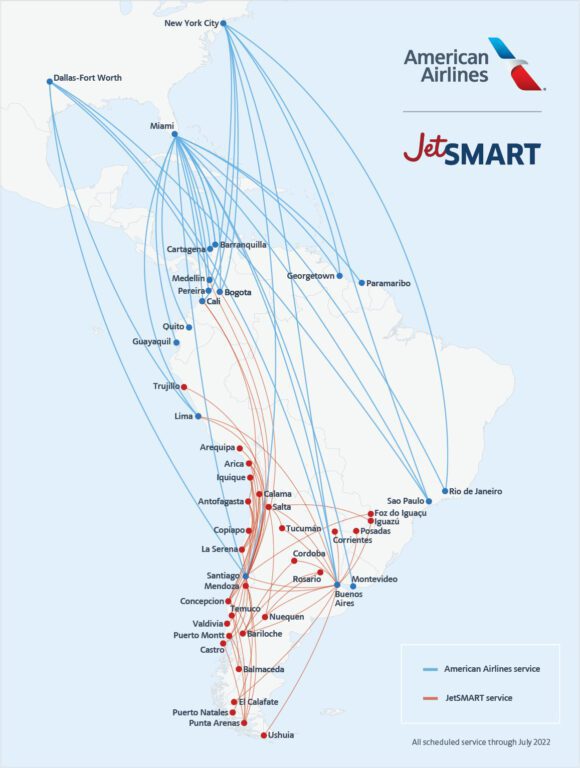 JetSMART is the third most important Chilean airline behind LATAM Airlines Group and Sky Airline in terms of the number of domestic passengers carried. Until June, the airline had carried 535.314 passengers although Chile has one of the most restrictive Covid-policies at the moment. This number is 52.1 percent below pre-pandemic domestic traffic figures. Internationally, JetSMART has carried 36.187 passengers this year, 79.6 percent fewer compared to last year.
The airline also operates domestic flights in Argentina, although it is no match for Aerolíneas Argentinas, the giant State carrier. In addition, JetSMART is looking to obtain an Air Operator Certificate in Peru. 
JetSMART is part of the Indigo ULCC powerhouse
JetSMART was formed in 2016 and is part of Bill Franke's Indigo Partners, the ultra-low-cost carrier (ULCC) powerhouse that also includes Frontier Airlines, Volaris, and Wizz Air. At the 2017 Dubai Airshow, Indigo signed a Memorandum of Understanding for 430 Airbus A320neo-family aircraft that was confirmed a month later. The order included 56 A320neo's and 14 A321neo's for JetSMART. This was followed at the 2019 Paris Airshow by an order for 50 A321XLRs, of which 12 will be for the Chilean airline that will be the first operator of the type in South America.
JetSMART currently operates ten Airbus A320ceo's and seven A320neo's in Chile, plus four A320ceo's in Argentina.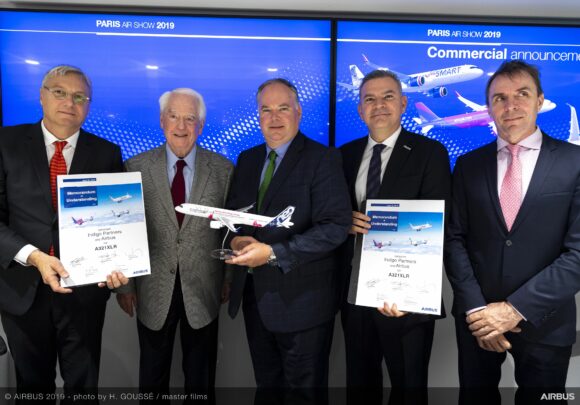 Indigo Partners ordered 50 Airbus A321XLRs at the 2019 Paris Airshow. Second from the right is JetSMART CEO, Estuardo Ortiz. (Airbus)
After the bumper announcement in Dubai, Estuardo Ortiz explained that his airline planned to revolutionize air travel in Chile. JetSMART planned to educate Chileans about taking an airplane for a long journey instead of the traditional bus trip in a country that extends on the western side of the South American continent. And his airline would offer competitive prices to stimulate traffic. 
American already has a partnership with GOL
The partnership with JetSMART is an interesting one, as American Airlines already has a strong partner in South America with Brazilian carrier GOL Linhas Aereas. American hasn't elaborated on how a partnership with two airlines is going to work.
During an investor's call about the airline's quarterly results, GOL's CEO Paulo Kakinoff reacted to the American-JetSMART alliance: "We have a very strong partnership with American. That movement is part of a plan to enhance its strong footprint in the region. It is also promising to all the partnerships because the stronger the American is in the region, the most attractive will be our offer. We welcome that movement of American Airlines investing in the region."
There is another twist to this announcement: the rivalry between American Airlines and Delta Airlines. Both are in close competition to increase their presence in Latin America. American has its partnerships with GOL and now JetSMART, while Delta has its investments in LATAM and Aeroméxico. Between both carriers, they've mostly restored its pre-pandemic connectivity in the region. According to Cirium's database, they will be offering 17.071 flights in August with over three million seats available. Those numbers are a 9.8 percent and 4.7 percent decrease respectively compared to August 2019.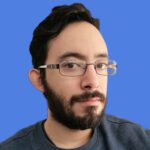 Daniel Martínez Garbuno is a Mexican journalist. He has specialized in the air industry working mainly for A21, a Mexican media outlet focused entirely on the aviation world. He has also published on other sites like Simple Flying, Roads & Kingdoms, Proceso, El Economista, Buzos de la Noticia, Contenido, and Notimex.