American Airlines
[Update: Each MAX seat will have both AC power (with an international outlet) as well as USB. No news on neo fleet yet]
American Airlines will not install seat-back IFE screens on its 737 MAX fleet. The first four MAXs are due later in 2017. The airline plans to offer free entertainment via Wi-Fi (powered by ViaSat) which will enables passenger personal device connectivity. American will provide access to its movies and TV show libraries and live TV. Not all the content access will be free, but some will be.
"We know in-flight entertainment is important to our customers, which is why we've committed to offering free, streaming high-quality movies and music, and to investing in fast satellite-based Internet access and power at every seat across our domestic fleet," the airline said in an employee statement. They went on to say: "More than 90 percent of our passengers already bring… Continue reading →
In June the airline split its business between Gogo and ViaSat. We covered that story here. Back then, ViaSat was given the opportunity to work on 100 new 737 MAXs while Gogo was to install its 2Ku service on more than 130 A319s and A320s. Panasonic provides satellite Wi-Fi for the airline's international widebody fleet.
ViaSat, in its latest earnings news made mention of "New contracts with commercial airline customers announced: Major North American airline, as well as European airlines Finnair and SAS". The company then also mentioned: "Subsequent to the end of the second quarter of fiscal year 2017, ViaSat was selected by a North American airline to retrofit more than 500 aircraft from its existing, mainline domestic fleet with ViaSat's highly advanced in-flight internet system. Installation under this contract is expected to begin in summer 2017." A pretty clear signal that they were doing a deal with… Continue reading →
Airlines have embraced ancillary fees as a way to make up for low fares. One of those fees was the "Reservation Cancellation/Change Fee". Air travel is an activity that comes with many disruptive factors, as anyone can testify. The US airlines embraced a series of fees. Take a look at how popular this fee has become. Continue reading →
American Airlines selected ViaSat for connectivity on its Boeing 737 MAX fleet. ViaSat's in-flight internet service has been recognized with multiple industry awards for delivering the best performing, highest-quality and fastest in-flight internet experience. The service encourages higher passenger engagement per plane by offering an 'at home' internet experience when in-flight – with the ability to stream movies, videos, television and music, as well as surf the web, upload pictures to social media, email large files and more.
The new American MAX fleet will tap into the power of ViaSat's high capacity Ka-band satellite system, which includes ViaSat-1, ViaSat-2 and ViaSat-3 satellites, and has more capacity in orbit than any other in-flight Wi-Fi provider. American will leverage ViaSat's first two generation satellite platforms, which together provide more capacity than all of the commercial satellites over North America combined. When the first ViaSat-3 class satellite platform launches in 2019, it will… Continue reading →
Norwegian Air International filed an application to serve the US from Europe under the US-EU Open Skies agreement in late 2013 with the DoT. On April 15th of this year, 29 months later, the DOT tentatively approved their application. The agency is gathering a last round of industry comments and a final and favorable DOT decision is expected in June.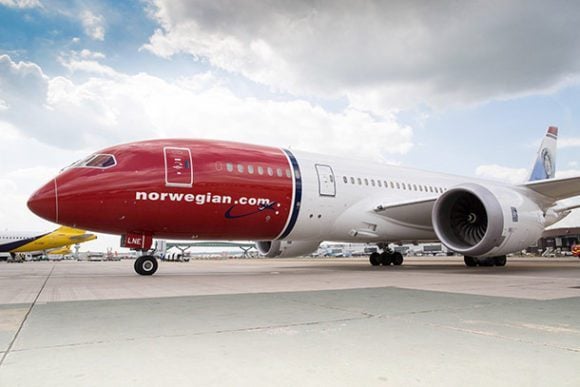 The big three US airlines oppose this application, and the low-cost competition it will bring. After having been rejected by the DOT, Justice Department and State Department, the major US airlines are now lobbying Congress to kill the NAI application via legislation. Since the Big Three and their antitrust immunized partners control 78% of trans-Atlantic seats (up from 55% in 2010), the last thing they want is additional competition and service to under-served communities.
Are the Big Three airlines, American, Delta and United afraid of a new low fare competitor… Continue reading →