Airbus has confirmed Breeze Airways as the airline behind the undisclosed order for twenty A220-300s that has been in the backlog since March. The order follows that for sixty announced at the 2018 Farnborough Airshow. Breeze is set to become the biggest A220-300 operator.
Breeze, the latest initiative of David Neeleman, launched commercial services within the US on May 27 with second-hand Embraer E190s and E195s. But from the start, Neeleman has been keen to build his new airline around the A220-300. His aircraft will get some 500 nautical miles extra range thanks to an auxiliary tank, bringing more underserved city pairs some 4.000 nm apart within reach.
During the World Aviation Festival in April, Neeleman was most happy with the A220 even before getting the first aircraft: "The A220 obviously are new airplanes, the capital costs are higher. They are not expensive aircraft but they are very inexpensive to operate. Our A220s will burn less fuel per hour than our E190s. So we have a larger airplane with a lot of range. We actually fly them from Florida to points in Central and South America."
First aircraft has been painted
The first aircraft has just been painted in the latest blue Breeze livery at the Airbus assembly plant in Mobile. It is expected to be delivered in October, although Airbus says 'Q4' in its press release. It also confirms that Breeze plans to start A220 operations only in Q2 2022 instead of Q1, as Neeleman said in April. The airline will take delivery of an A220 approximately every month for the next 6.5 years, so well into 2026.
All of its A220s will be assembled in Mobile (Alabama), where Airbus has the second assembly line beside the one in Mirabel (Montreal). Airbus currently builds the A220 at a rate of five aircraft per month but will increase this to six. The A220 has been the only type not to suffer any rate cuts since Airbus announced them in April 2020. This spring, the airframer announced aggressive ramp-ups again, with the A320neo-family up from 40 per month to 43 in the current third quarter and 45 in Q4. More ramp-ups to rate 64 are planned for Q2 2023 and potentially 70 in Q1 2024.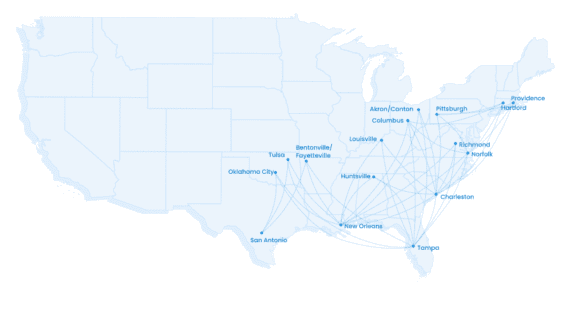 Map showing the network of Breeze Airways as of September 2021. (Breeze Airways)
Breeze hasn't disclosed the results for its first four months, but from its network planning, it is clear that not everything has been going without problems. As One Mile at a Time reported in July, the airline has reduced frequencies on a third of its routes (13 out of 39) by half. Frequencies were often down from four per week to just two per week. Five routes were temporarily suspended. This happened at a time when the major US airlines were reporting significant growth as bookings returned, followed by the latest slump as the Delta Covid-variant spreads. The Breeze website shows sixteen destinations served, with no new ones added since Providence (Richmond) was added on July 22.
What's behind the reduced network?
Without an explanation from the airline, it is difficult to judge what is behind Breeze's reduced network. It could be that it is capacity-restrained as it only operates ten E190s and three E195s while eagerly awaiting the A220s. In that case, we will only see an expansion once the Airbus fleet becomes operational somewhere in Q2 next year. Another reason could be that traffic on its network is simply too low to justify the original frequencies and that building demand takes more time. If this is the explanation, then Breeze might have to worry if its network is the right one.  
In July, Breeze confirmed a press statement by Routes Online that it is sounding out options to operate its A220 into the Americas, Caribbean, and Europe. This would generate welcome traffic on its own as well as feed Breeze's domestic network.
With the confirmed order and now 80 A220s to join, Breeze will become the biggest operator of the -300 ahead of JetBlue (70), Air France (60) airBaltic, and Delta Airlines (50 each), Air Canada (45), and SWISS (21).  Delta had another 45 -100s on order to bring its A220-fleet eventually to 95 while SWISS has nine -100s that make 30 in total.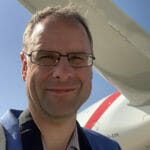 Active as a journalist since 1987, with a background in newspapers, magazines, and a regional news station, Richard has been covering commercial aviation on a freelance basis since late 2016.
Richard is contributing to AirInsight since December 2018. He also writes for Airliner World, Aviation News, Piloot & Vliegtuig, and Luchtvaartnieuws Magazine. Twitter: @rschuur_aero.