Airbus revealed a prototype scale model of a blended wing aircraft that could eventually become an airliner concept in the future. The concept called Maveric (Model Aircraft for Validation and Experimentation of Robust Innovative Controls) was announced on the first day of the Singapore Airshow on February 11.
Maveric has been designed and developed since the program-launch in 2017. A  by 3.2 meters scale model has been flight-tested in France since last June, with more tested planned until mid-year.
Airbus follows a blended wing, in which the traditional tubular fuselage has been replaced by a V-shaped body. Cabin arrangements are still in an early stage of conception, but KLM's and TU Delft's Flying Wing-concept revealed various innovative options last year.
Maveric will possibly introduce new propulsion options, but could also use more conventional turbofan-technology. Two engines are to be positioned aft of the blended wing with vertical tail fins op top. Aircraft shape and engine technology should reduce fuel consumption by some 20 percent.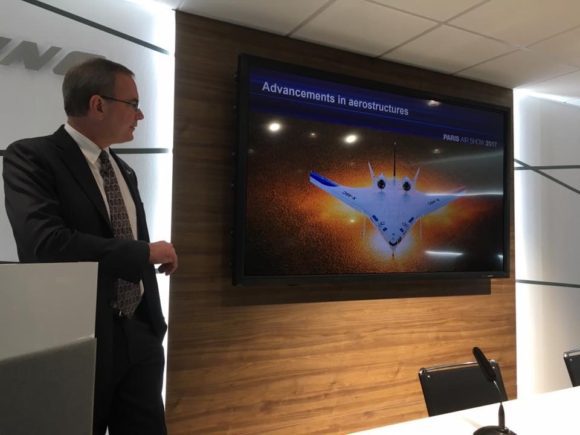 Boeing's Mike Sinnett showed a blended wing concept at the 2017 Paris Airshow. (Richard Schuurman)
More blendes wing studies
The European airframer is not alone in researching blended wing concepts. German Aerospace Center (DLR) has studied a 500-seater while Boeing and NASA also have had a look with a concept not dissimilar to Maveric. Big blended wing aircraft are not expected to enter service before 2035 at the earliest, IATA's recently published technology roadmap said. Earlier opportunities are available to smaller blended wing aircraft. IATA quotes a DZYNE-study in cooperation with NASA.
A factor with blended wing aircraft that shouldn't be underestimated is public acceptance. Sitting in a windowless fuselage with a few hundred passengers makes many people unhappy to fly on such an aircraft, studies have revealed. This seems an issue at a lesser extent on smaller designs.
Another topic is ground handling of blended wings, which might need some major adaptations to current operations. The same applies to boarding and cargo loading procedures, with a blended wing having different weight distribution.
The IATA study says: "BWB design is subject to high uncertainties since today's standard design methods are directly applicable only to tube-and-wing aircraft configurations. Consequently, high investments need to be made in new design methods and tools as well as in investigating handling qualities, which is crucial to reduce uncertainties. Further research is also important to get a clear identification of overall benefits." Thisinclude CO2-reductions of 30 to 50 percent.
If blended wings stand a chance depends a lot on how airlines support them. The IATA report recommended: "Airlines should proactively show their interest in new fuel-efficient aircraft contributing to the Industry's climate action goals, to give manufacturers more certainty about the expected demand, which is needed to launch a new aircraft program."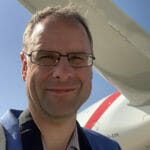 Active as a journalist since 1987, with a background in newspapers, magazines, and a regional news station, Richard has been covering commercial aviation on a freelance basis since late 2016.
Richard is contributing to AirInsight since December 2018. He also writes for Airliner World, Aviation News, Piloot & Vliegtuig, and Luchtvaartnieuws Magazine. Twitter: @rschuur_aero.