UPDATE –  Lufthansa Group happily reported a return to profitability in the second quarter with a €259 million net profit. The first six months were still loss-making, in line with results at other carriers. But whereas the recovery is continuing, Lufthansa has to solve some labor issues before it can be fully happy. Profitable Lufthansa has some labor issues to solve.
The German/Swiss/Austrian/Belgium/Italian airline group, which includes Lufthansa, Eurowings, Eurowings Discover, SWISS, Edelweiss, Austrian Airlines, Brussels Airlines, and Air Dolomiti, had a strong Q2. Combined, the airlines carried 29 million passengers (2021: seven million), or 42 million in HY1 (ten million). Load factors were at eighty percent, almost touching 83 percent of 2019, with the number for Premium cabins at eighty percent even higher than 76 percent pre-Covid. Capacity was 74 percent in the quarter and 66 percent for HY1.
This translated into a €259 million net profit for Q2 (2021: €-756 million), an Adjusted EBIT of €393 million (€-979 million), and total revenues of €8.462 billion (€3.211 billion. Operating expenses were up to €8.603 billion (€4.385 billion).
For HY1, Lufthansa Group still posted a €-325 million net loss (2021: €-1.805 billion), an Adjusted EBIT of €-198 million (€-1.875 billion), and total revenues of €13.825 billion (€5.771 billion). Expenses were €14.964 billion (€8.270 billion), mostly fuel costs.
"Lufthansa Group is back in the black", said Group CEO Carsten Spohr. CFO Remco Steenbergen referred to Q2 as "a turning point in our results." He was most happy that the group delivered this profit despite the geopolitical issues (Russia, Ukraine) and the resulting high oil and jet fuel prices. And not least the difficult labor environment with, high levels of sickness contributes to existing staff shortages at the airlines and airports.
The ramp-up curve was too steep
Spohr admitted that "the ramp-up curve from just twenty to eighty percent in a few weeks, to be honest, was just too steep." It forced Lufthansa to take various measures, including the cancelation of thousands of flights since June, which cost the group €158 million in irregularity expenses in Q2. With further compensation to customers expected for July and August for canceled flights and the effects of the ground crew strike on July 27/28, total irregularity costs could end at €450 million for the full year. "Our top priority remains the stabilization of our flight operations," Spohr said.
Steenbergen was positively surprised that yields had improved by 24.4 percent over last year to €8.8 cents and by even 10.2 percent of 2019. Unit costs improved by 33.1 percent but is still above 2019 levels, the effect of operating at lower capacity levels.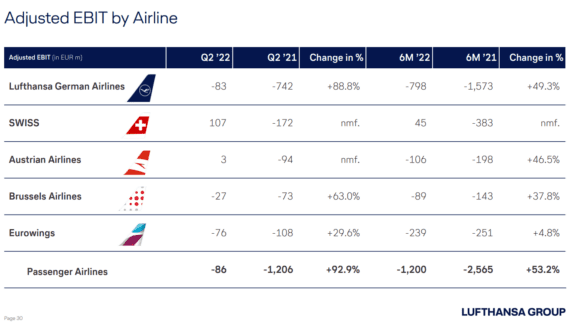 Results by airline
Looking at the HY1 results by airline, Lufthansa reported an Adjusted EBIT of €-798 million (2021: €1.573 billion), with revenues of €5.258 billion (€1.381 billion). The result in Q2 was €-83 million (€-742 million).
SWISS was profitable in the first six months at €45 million (€-383 million), the result of strong bookings and the effects of the deep restructuring the airline has gone through since 2020. The airline carried 5.3 million passengers, five times more than in HY1 2021. Adjusted EBIT for Q2 was €107 million (€-172 million). HY1 revenues were €1.936 billion (€614 million). SWISS is optimistic it will return to profitability this year. "The combination of substantial pent-up travel demand, higher ticket prices, and our improved cost structures has had a very beneficial impact on our liquidity situation over the past few months. This also enabled us to terminate our bank loan facility which had been guaranteed by the Swiss Confederation ahead of time in the course of the second quarter", said SWISS CFO Markus Binkert in a media statement.
In HY1,  Austrian Airlines was still at a negative €-106 million Adjusted EBIT (€-198 million) on €678 million in revenues (€187 million). For Q2, the Adjusted EBIT was €3 million (-94 million). Austrian carried 4.2 million passengers, four times that of HY1 last year. "Austrian is on the up again, but the continued pandemic, high fuel costs, and economic uncertainties offer various challenges," said CEO Annette Mann. She said that the carrier has now repaid one-third of the €300 million in state aid that it received since 2020.
Brussels Airlines reported an Adjusted EBIT in HY1 of €-89 million (€-143 million) and €-27 million in Q2 (€-73 million), with revenues in the first six months of €452 million (€138 million). The airline carried 2.7 million passengers in HY1, three times more than last year partly due to the good performance of its African routes. June included four days of strikes from staff for higher salaries, but without the strike, Brussels Airlines would have been EBIT-positive in June. With the automatic indexation in Belgium, labor costs have gone up by six percent.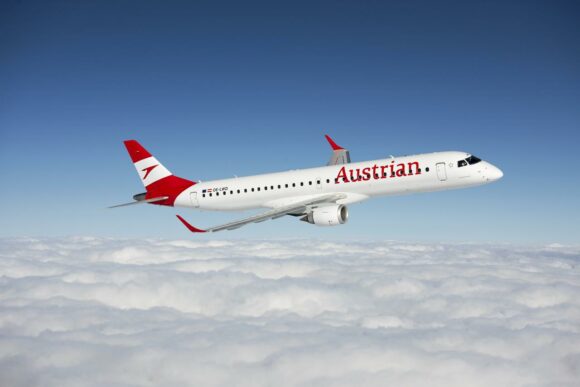 Adjusted EBIT of Austrian Airlines in Q2 was €3 million. (Austrian Airlines)
Low-cost leisure airline Eurowings grew half-year revenues to €721 million (€158 million), but Adjusted EBIT was €-239 million (€-251 million) for HY1 and €-76 million in Q2 (€-108 million). Its result improved thanks to a significant expansion of the flight program and a higher load factor which helped to improve unit costs. However, half of the result was impacted by irregularity costs coming from the cancelation of flights. With hopefully fewer disruptions, Remco Steenbergen expects the situation to turn around in HY2. "Although not this year, Eurowings is on track for profitability in 2023." The carrier has established a new entity in Malta, Eurowings Europe Ltd, which used to be based in Vienna but has been moved to Malta for taxation reasons. 
Results of Eurowings Discover were included in that of Lufthansa and haven't been specified. Spohr said that Discover will get two more long-haul aircraft and that it will extend the wet lease contract with Finnair for the coming summer. Discover just welcomed its one-millionth passenger in July, one year after launching operations.
Lufthansa Cargo produced another record result, with an Adjusted EBIT in HY1 of €977 million (€641 million) or €482 million (€326 million) in Q2. Revenues grew to €2.426 billion in HY1 (€1.671 billion) or to €1.257 billion in Q2 (€869 million). Higher yields (+38.1 percent) and margins are the direct consequence of the strong demand for air travel as worldwide disruptions in sea travel continue. Capacity was up nineteen percent, mainly thanks to more belly capacity on passenger flights. America was the strongest cargo market, ahead of Asia. Spohr added that "the peak of the cargo season is still ahead of us."
Lufthansa Technik improved its Adjusted EBIT in Q2 to €144 million from €135 million and to €309 million from €225 million in HY1. Revenues in the first six months increased to €2.591 billion (€1.717 billion) or to €1.265 billion in Q2 (€888 million). Increased traffic resulted in more shop visits and maintenance of aircraft, but the positive effects of this were partly offset by higher costs for materials, supply problems, and costs related to the war in Ukraine. Following the sanction on Russia, LH Technik has lost its business in Russia.
Catering business LSG ended HY1 at a €-13 million Adjusted EBIT (€19 million), the effect of the absence of payroll support in the US from the CARES act. Revenues grew to €857 million (€447 million), especially in North and Latin America. LSG suffered from significant labor issues and had difficulties providing all the requested meals, both in Germany and in the US.
Positive outlook for Q3
Strong bookings and improvements in working capital management helped Lufthansa to generate €2.1 billion in Adjusted free cash flow in Q2 and €2.9 billion in HY1. Net cash from bookings was €891 million. The Group reduced net debt from €9.0 to €6.4 billion and bolstered liquidity from €9.4 billion in December to €11.4 billion at the end of June, well above its own target of between six and eight billion. Steenbergen added that Lufthansa continues to strengthen its balance sheet and reduce debt. Of the €3.5 billion in cost reductions targeted for 2024, €3.0 billion has been secured.
Lufthansa Group is positive about the rest of 2022. Bookings until December are strong and at 83 percent of pre-pandemic levels. Corporate bookings were at forty percent of 2019 in June but should grow to sixty percent in Q3 and probably seventy percent in Q4. After drastically reducing capacity in July and August for operational reasons, Q3 capacity will be 80 percent instead of the originally planned 85 percent. The average capacity for the year should be 75 percent. Q3 should produce another significant improvement in Adjusted free cash flow and Adjusted EBIT, which should be at least €500 million for the full year.
The Group had a €562 million benefit from hedging fuel, although fuel costs were still up 353 percent to €2.4 billion in HY1. As in May, Steenbergen remains concerned about the so-called jet crack, the price difference between crude oil and refined jet fuel. The Group has hedged crude oil at 68 percent in Q3 and 66 percent in Q4, or 67 percent on average for the full year. For 2023, currently, 46 percent has been hedged. It has also hedged the jet crack, at on average thirty percent for the year.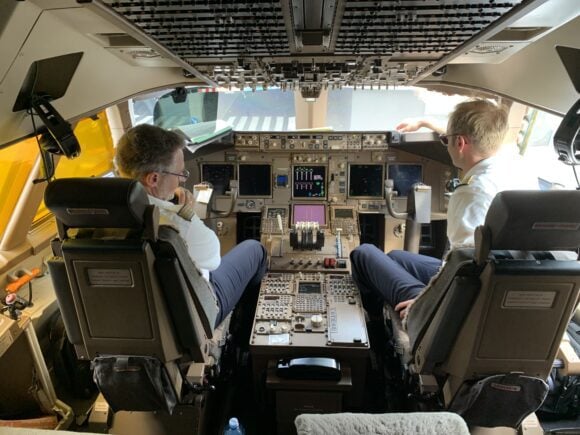 Lufthansa hopes to conclude a new agreement with its pilots. (Richard Schuurman)
Solving social issues
But a major problem that Spohr and his management team have to solve is the labor issues with unions over collective bargaining agreements, salaries, and restructurings across the company. After only two rounds of negotiations, ground staff union ver.di called out a warning strike on July 27/28 that severely disrupted Lufthansa's flight schedule in Frankfurt and Munich and cost the airline €35 million. It was a signal that the airline should up its offer.
The third round of negotiations was held on Thursday with all three unions. Having spoken to the chairman of ver.di last night, Spohr said in the earnings call that he was confident about a deal: "We believe to be very close to each other, so we believe we will soon reach an agreement. Already in the first two rounds of negotiations, we made significant progress and offered fairly high increases, with a very strong social component for the lower end (of salaries)." Indeed, Lufthansa and ver.di reached an agreement late on Thursday night that covers a new pay scheme for 20.000 ground staff. Talks are also ongoing with cabin crew union Ufo about compensation for the lower-paid crew.
The pilots are also unhappy, with over 97 percent of members of union Cockpit voting last weekend to continue to take a firm position in negotiations over new contracts and the size of Lufthansa's mainline operations. Spohr said he noted a strong will with both Lufthansa and Cockpit to continue negotiations and get a deal done. Dates for new talks have been set and an offer for a 5.5 percent pay increase and the renewal of the existing contract that includes attractive career perspectives have been made. Lufthansa wants to offer opportunities to new and younger pilots and is offering positions for 300 Captains while at the same time some 380 older pilots have been offered attractive terms to terminate contracts.
Steenbergen stressed that Lufthansa will not walk away from its strategy to have multiple Airline Operator Certificates (AOC) with individual social contracts: "We need that for differentiating certain customer groups, we need to be at a different competitive level for the main airline. To come to one overall pay scale system is a strategic no-go. That would put our company at such a strategic disadvantage against other airlines. But within that structure, we can do a lot of things."
Having slashed over 30.000 jobs during the pandemic years, Lufthansa Group has restarted recruiting staff again and needs 5.000 new staff by the end of the year. The group has even called back staff that had recently left. Particularly needed are engineers at Lufthansa Technik, more staff at LSG, and extra pilots and cabin crew at all airlines but in particular at Eurowings and Eurowings Discover to cater for the planned growth. Similar hirings are planned for 2023.
Spohr is optimistic that the airline industry will return to what he called the 'new normal next year. For 2024, he sees potential for Lufthansa to recover by a further 25 percent. A key ingredient of this will come from premium products, so the group will invest in new premium products in all four cabin classes to support the continued trend of high demand.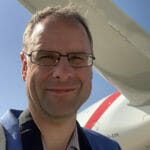 Active as a journalist since 1987, with a background in newspapers, magazines, and a regional news station, Richard has been covering commercial aviation on a freelance basis since late 2016.
Richard is contributing to AirInsight since December 2018. He also writes for Airliner World, Aviation News, Piloot & Vliegtuig, and Luchtvaartnieuws Magazine. Twitter: @rschuur_aero.