Rolls-Royce is benefitting from an upturn in flying of its large engines' fleet, a recovery in its Power Systems business, and good results from its Defence business. The UK engine maker said in a trading update on December 9 that its third-quarter produced positive free cash inflow and that it expects free cash outflow to be better than the £2.0 billion reported earlier. Rolls-Royce benefits from higher flying activities. 
Rolls-Royce is seeing a recovery of flying hours of its large engines to around fifty percent of 2019 levels, to a large extent thanks to the reopening of transatlantic routes. Flying hours for engines that are on long-term service agreements have improved from 43 percent in the first six months to 46 percent now. Those of business jet is above pre-pandemic levels.
At the same time, more flying doesn't immediately translate into more after-market shop visits. They are still below 2020 levels. In its HY1-results, Rolls-Royce reported 92 major large engine refurbishments compared to 161 in the same period in 2020 and 192 checks and repairs versus 310 the year before. That's forty percent down, a trend that has continued in HY2, although Rolls-Royce didn't provide specific numbers in its trade update.
CEO Warren East anticipates an increase in shop visit rates but it should be managed in an agile way. "The pace of travel recovery remains uneven as countries around the world look to manage the ongoing challenges of the COVID-19 pandemic", the Derby-based company says in its update.
New engine sales have also been lower while delays of Boeing 787 deliveries for which engines have already been delivered to Boeing result in a deferral of £300 million in original equipment outflows until next year. East said that 'by the rule of thumb' some 35 percent of the 105 Dreamliners in Boeing's inventory have the Trent 1000 and 1000 TEN engines. 
Its Power Systems business, which remains exposed to supply chain problems, produced higher order intake. So did Defence, which won a $2.6 billion contract from the US Air Force to provide engines for the B-52 strategic bomber fleet.
Rolls-Royce says it is on track with its restructuring program to save £1.3 billion in structural costs by the end of 2022. It will realize £1.0 billion this year, in large part coming from a significant reduction of its workforce which currently stands at 8.500 fewer roles until the end of this year.

The OEM will strengthen its balance sheet with four previously announced disposals, which will generate some £2.0 billion that is used to reduce R-R's net debt. One of the disposals is that of ITP Aero, which produced key components for the Trent family of civil engines. The sale of ITP, which was announced in September but will be completed until July next year, will generate £1.7 billion. Rolls-Royce will provide more detailed guidance for 2022 and the medium-term early next year.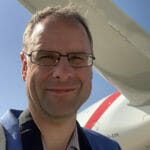 Active as a journalist since 1987, with a background in newspapers, magazines, and a regional news station, Richard has been covering commercial aviation on a freelance basis since late 2016.
Richard is contributing to AirInsight since December 2018. He also writes for Airliner World, Aviation News, Piloot & Vliegtuig, and Luchtvaartnieuws Magazine. Twitter: @rschuur_aero.