Emirates
December 2 is literally around the corner and Emirates is supposed to take delivery of its first Rolls-Royce powered A380. But it looks like this might not occur on the date. News out November 18th suggests that Rolls-Royce has not met its contractual obligations.
Sir Tim Clark, president of Emirates, is not a man to be trifled with. He has built the airline's remarkable success on the A380. He is committed to the aircraft, and it is the cornerstone of the airline's plans to move pretty much all major traffic flows over Dubai. At a media meeting in Berlin on the 18th he was unequivocal "We want the engines as prescribed in the contract".
Sir Tim gave no details. But there are apparently technical issues that need fixing.
Rolls-Royce pushed to win Emirates as a customer and secured a deal to power 50 A380s – that's 200 engines. … Continue reading →
News this week about Singapore Airlines not renewing the lease on its first A380 has caused a flutter. The considered opinion is that this is another piece of bad news for the Airbus program. The Wall Street Journal has this view: "But it is another symbolic hit for the double-deck aircraft, for which Airbus has struggled to find customers after investing about $15 billion to develop."
The news that Malaysian is also offloading its A380s is seen as bad news. But we believe this is not to be a reflection on the aircraft, but more a case of the airline not having the traffic and ability to exploit the A380. Back in 2003, Malaysia was pressed for a quid quo pro to allow its seafood products to have unrestricted access to the EU. While there were no direct links to an A380 order, that certainly helped with… Continue reading →
During the Farnborough Air Show, Airbus announced a production rate cut for the A380, reducing production to one aircraft per month. This rate cut reflects the waning backlog for the aircraft, which has yet to emerge as a favorite among airlines, although it is a favorite among passengers. This rate cut also buys time for Airbus, and leasing company Amedeo, to garner orders for the A380 should demand begin to increase for the type.
Has the A380 program peaked? We don't think so and offer this report (buy it here) laying out our thinking.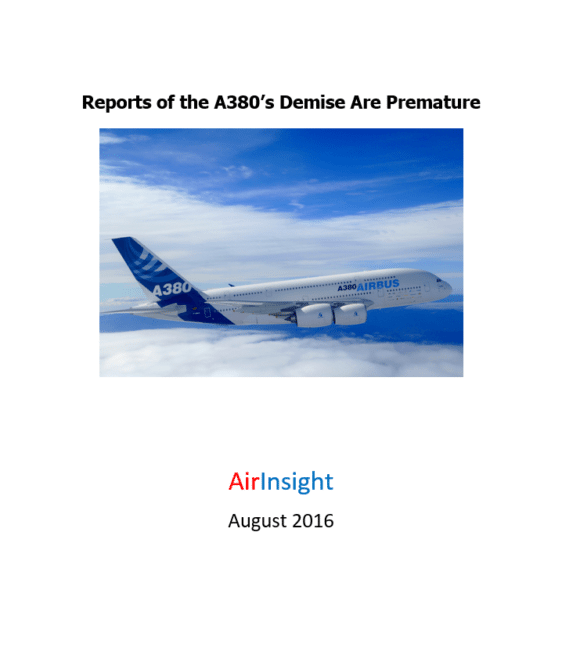 The A380 has recently been described as having a limited future. After the Farnborough show, Airbus cut back production. Then came news that Qantas will not take another eight it has on order. All bad news for the program one might think.
Meanwhile, the most successful A380 operator keeps growing its reach using the aircraft. On August 8th, Emirates announced new A380 service to Manchester in the UK from January 2017. That is in addition to two A380s per day between Dubai and Manchester already in operation! Emirates says it will break the million passenger mark on this route during this financial year. So much for the argument that the A380 can only be used between hubs on long, thick routes.
Then on August 9th, Emirates announced it was swapping its two class 777-300ER on the Dubai-Guangzhou market for a three class A380. This new market… Continue reading →
A German appeals court allowed Etihad to operate most of its code-share flights with Air Berlin for the winter schedule ending in March. The court said Etihad and Air Berlin should be allowed to continue code sharing on 26 international routes. The court rejected code sharing on five domestic German routes.
The court said the international routes could continue as they are in accordance with the German/Abu Dhabi bilateral signed in 2000. Etihad said the code-sharing is a primary reason for its investment in Air Berlin in 2012. Etihad has invested in a number of other EU airlines.
"The court's interpretation of the UAE-Germany Air Services Agreement also means that Etihad Airways will be able to continue with all those code-shares beyond the Winter Schedule," Etihad said in a statement. Air Berlin shared Etihad's positive response to the court's decision. No doubt so do Qatar and Emirates.
The case started… Continue reading →