Competition on the lucrative United States-Nigeria route is set to have begun as United Airlines November 30 resumed flight services to Lagos. The airline will battle Delta Airlines for a huge market share on the route and may look to expand services to other cities in the future under the 'Open Skies' policy between Nigeria and the US. United returns to Nigeria after five years of absence.
The carrier operated its new nonstop service between its hub at Washington Dulles International Airport and Murtala Muhammed International Airport with the arrival of the first flight into Lagos.
With three weekly flights, United is the first and only airline serving Washington D.C. nonstop from Lagos. The flight is operated with state-of-the-art Boeing 787 Dreamliner aircraft, featuring United's award-winning United Polaris business class cabin and United Premium Plus premium economy seats.
The new service marks United's return to Nigeria, which the airline previously served up until 2016. The return was  confirmed in September. A  water cannon salute marked the arrival of United flight UA612 with Oluwatomi Bola-Sadipe, United's Country Sales Manager Nigeria, Victoria Shin-Aba, Federal Airports Authority of Nigeria (FAAN) Regional General Manager and Claire Pierangelo, U.S. Consul General welcoming the first arriving United customers at Murtala Muhammed International Airport.
"This new flight from Lagos reinforces our ongoing commitment to growing our network in Africa and providing more convenient service to the destinations our customers want to fly to most," said Patrick Quayle, United's Senior Vice President of International Network Planning and Alliances.
"This highly anticipated service will provide a key gateway between Lagos and Washington D.C., as well as easy one-stop connections to almost eighty destinations across the Americas, including Houston and Chicago. This exciting initiative further expands our economic relationship, promotes people-to-people ties, and creates new opportunities for United, travel companies, and customers alike," said Mary Beth Leonard, U.S. Ambassador to Nigeria.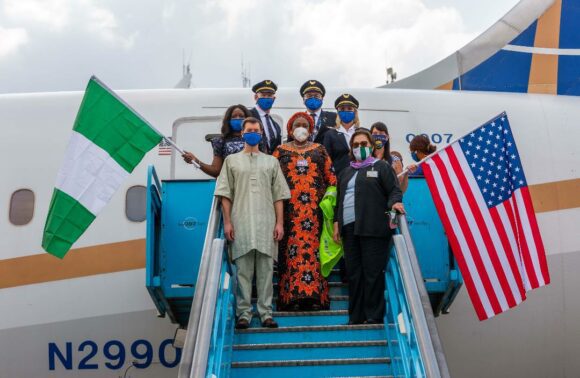 Happy scenes in Lagos at the return of United to the Nigerian capital. (United Airlines)
Expansion into Africa
This new flight builds on United's expansion into Africa and solidifies the airline's leadership position from Africa to the U.S. Earlier this year, United launched a new service between Johannesburg and New York/Newark and between Accra and Washington D.C.
This December and January, United will increase its Accra service from three weekly flights to daily. United will also bring back its popular nonstop service between Cape Town and New York/Newark on 1 December.
Ironing rough edges
The carrier had worked behind the scenes to return to the route it left after engaging the Nigerian authorities and ironing out issues that would see it become the second airline after Delta Air Lines to operate the US-Nigerian routes under both nations' 'Open Skies' pact signed in 2000. United attributed its exit from Nigeria to Nigeria's Central Bank of Nigeria's foreign exchange policy which restricted the movement of foreign currencies abroad after the global slump in oil prices depleted the country's foreign reserves.  
"We are honored to work with our partners at United Airlines to welcome their second nonstop connection from Dulles International to the African continent," said Carl Schultz, acting vice president of airline business development at the Metropolitan Washington Airports Authority. "Lagos joins nearly 50 other nonstop international destinations currently served by the National Capital Region's gateway to the world."