Addison Schonland
This airline has plans for the US that have been delayed by the US authorities.  Not satisfied with waiting for annoying delays, the airline has more disruptive moves up its sleeve.   We had a chance to speak with the airline's CCO Thomas Ramdahl this morning discussing the delays and new plans.
With long range aircraft the airline can be expected to disrupt a number of markets and ensure traffic to the French Caribbean grows sharply next year.
Airbus' A320neo flight test program remains a source of interest.  Tracking the program we note that the P&W powered airplane is not flying, but has resumed ground testing. Airbus tells us "it will fly in the coming weeks" and is doing ground tests now. Continue reading →
Last week United announced its deal to take a stake in Azul. This follows an earlier move by Delta to take a stake in GOL.   What do these deals mean? Let's start with the following table.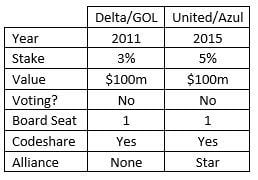 Continue reading →
We have our latest estimates in and the program continues to to accelerate towards its 2,400 hour goal. Based on our estimates the flight test program has passed  83% of its target.  If current monthly hours continue at 200, the program is two months from completion. Continue reading →
What an great story! The best 16:15 an Avgeek can spend today.