Addison Schonland
This issue is now getting a lot of attention.  United just banned a passenger who is an IT cyber security expert, because the airline believes him to be a threat to their aircraft systems.   We are not sure this was the best response from the airline.
The decision now will likely attract every IT person who flies to have at least a twinge of curiosity.  IT people by training are smart and by nature inquisitive.  Getting an IT person to accomplish just about anything can be done by saying these words "I bet you can't…." – we know because we use it and it works every time.  Smart IT people like these accept challenges because the determination to prove themselves to themselves is a constant driver.
Bear in mind in a knowledge economy, the IT worker is the sharp end of the sword.  Which… Continue reading →
The 180-200 seats segment is getting the attention of Boeing and Airbus.  It is growing fast as airlines up-gauge their narrow-body fleets and 757s retire.  The chart below illustrates the growth in this segment, with the fleet of about 600 aircraft in 2000 doubling by 2014.  And who is winning this segment's competition? Airbus and its A321.  Boeing used to own this segment with its 757.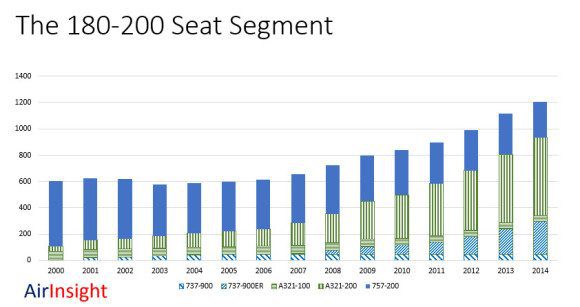 Airbus has seen its share of the segment rise from 17% in 2000 to 53% in 2014.  Given that the A321neo is comfortably outselling the 9MAX, this is likely to continue in the near and medium term.
However, one should not assume that this success is going unnoticed in Seattle.  Even as Airbus offers an A321LR – seemingly surrounding this segment with options – Boeing is almost certainly going to respond.
The question is when,… Continue reading →
The middle of the narrow-body market is changing, as it has been for many years. We define the narrow-body as single aisle aircraft over 100 seats, relegating those under 100 seats to the regional jet market. While the middle of the single aisle market ranges between 150 and 160 today, there is a trend towards larger aircraft, and the next generation of narrow-bodies will likely be optimized for between 180 to 200 seats.
Today, with many Boeing 757s approaching retirement, Airbus and Boeing are positioning their A321LR and 737-9MAX models as potential replacements, although neither has the capacity or range of the 757.
How has the middle of the market changed? It has grown steadily since wide-bodies replaced intercontinental narrow-bodies, and has continued to steadily climb over the last decade. The following chart shows the average number of seats for the US-based Airbus and Boeing single aisle fleet from 2000-2014.
Boeing is proving to be an increasingly productive company, with output from its plants growing 76.9% since 2011. The following table, based on Boeing data, summarizes deliveries in first quarter of this year and the prior four years. Continue reading →
We got an update to the program test flight hours.  March was, quite simply, a fantastic month.  Every test program watcher looks for the "hockey stick" curve.  It looks like Bombardier's CSeries test program has reached the upward part of the curve.
FTV7's (CS300) maiden flight was over five hours.  Bombardier missed the 787-9 first flight time record by ten minutes.  FTV5 recently had a flight that lasted over seven hours.  In case you miss the point – this is about the time it would take to fly from Montreal to Paris. Continue reading →