Addison Schonland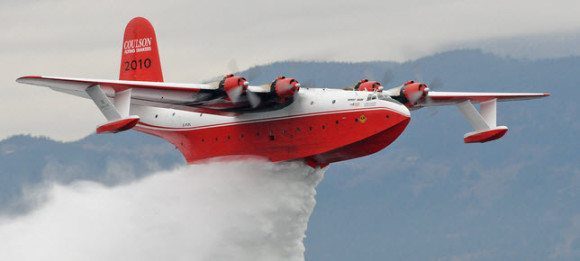 Coulson Group, owners of the world's only Martin Mars, are retiring the aircraft.  Only five of these giants were built by Glenn L. Martin Company in Baltimore.
Coulson's website has this history of the aircraft: "The Hawaii and Philippine Mars are still in action. They are US national treasures, serving the US Navy from 1945 to 1958. Starting their careers operating between the California Coast and Hawaiian Islands during the Second World War, these aircraft are the only two that still operate today in commercial air service.
Of the five Martin Mars originally built, only these two remain. They were converted to water bombers in 1960 by a consortium of five BC timber companies. Since 1960 these aircraft have operated out of beautiful Sproat Lake, Port Alberni, BC, fighting over 4,000 wildfires and dropping an impressive 7,200 gallons per load.
Coulson Group purchased these aviation giants in… Continue reading →
This was a historic and special moment for aviation fans.  Yesterday the world's last two flying Lancasters joined the last flying Vulcan for a flight over Bomber Command memorial at Canwick Hill in England. The event even got its own hash-tag -#Avro3Sisters.  More Merlin Music to be seen and heard here.

Recently there was a bit of a flutter in some Israeli media about Turkish Airlines hiring Iranian pilots.  Given the current heated emotions in the Levant, the tension is understandable.
We contacted Turkish to ask about this.  Here is the reply we were sent:
"We have around 600 foreign pilots from up to 100 different countries.  Only a few of them are Iranian.
We are also going to roadshows to everywhere in the world to find pilots to make up for the very fast growing fleet.  Iran is one of the countries we have visited and we received many applications, but have not hired anyone yet. We believe even when we hire it wont be more than 50.
Also Iran has one of the highest ICAO scores, they are perfectly compatible pilots.  "
The Israeli reaction is somewhat over excited.  Turkish is one of… Continue reading →
Despite the bravado about "capturing" an RQ-170 and then copying it,  the truth is that Iran's aerospace industry is in its infancy.  Nowhere is this more aptly displayed than the latest airliner crash.  The problem extends to its military aviation as well as the video from 2011  shows.
The Iran-140, a locally made copy of the Antonov An-140, apparently lost an engine on takeoff.   This is the fourth Iran-140 crash in 12 years.  Iran's President Hassan Rouhani issued a directive grounding all Iran-140s until a government-led investigation uncovers the root cause. This should be straightforward.
Western sanctions are biting Iran's aerospace and airline industry hard.   Losing one engine on takeoff is not a sufficient reason for a twin engined aircraft to crash.  Something more insidious may be at work here. For example, and this is speculation on… Continue reading →
Reports in the press have confirmed that Lufthansa is looking into setting up a low-cost long-haul operation. Given the Lufthansa brand, one would be hard pressed to visualize an LCC version under the Lufthansa name.  But people felt the same about Singapore Airlines, and yet its LCC operation called Scoot is doing fine.
Many details have yet to be finalized and announced, but we have managed to obtain some insight into  the company's current thinking.
It turns out that the company was not in quite as robust a condition as the new CEO, Carsten Spohr, was led to believe. A profit warning recently sent the shares downward by around 30%.   The market reaction is rational, because it was thought the cost cutting exercise at Lufthansa was making good progress.  But,  as most senior executives know, there is a limit to how much… Continue reading →