Addison Schonland
The most brutal area of commercial aerospace is the single aisle market. Competition between Airbus and Boeing is fierce.  So fierce that new entrants rightly fear the news these giants are going to increase production.  The pool may be growing bigger, but it is also getting tougher to enter as the two OEMs swamp the market with aircraft.  Between them, Airbus and Boeing are heading into a situation that sees them delivering over 100 single aisle aircraft every month.
Take a look at the situation from another angle.  Airbus and Boeing are doing very well selling single aisle aircraft.  The chart illustrates the state of play.  Even at ~100 aircraft deliveries per month, with no new orders, the two OEMs have over five years of production in backlog. (Note how much better Airbus is doing in the largest size. )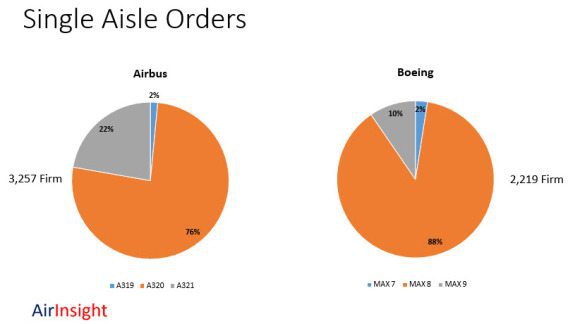 Now consider this. … Continue reading →
Overnight two deals announced by Republic Airways appear complex.
Embraer:
Lost a deal with Flybe in the UK for 20 E-175s and defers delivery on four. Flybe and Embraer agreed to reduce an outstanding deal for 24 E175s on order by 20 aircraft.
Won a deal for 50 E-175s at Republic (for United Express) – transferring the Flybe order plus more. United anticipates deliveries will begin in July 2015 and continue through the summer of 2017. The new aircraft will replace large turboprop airplanes and older, less-efficient aircraft and are in addition to 70 E-175s whose deliveries began this year for other carriers to operate as United Express.
Embraer's backlog is net +30.
Bombardier:
Flybe gets 24 Q400s, leased from Republic. So this is not a new order for Bombardier.
The deal is a sublease and will "supplant 21 of the same aircraft type whose lease periods are ending over… Continue reading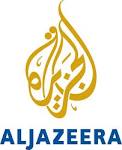 Qatari television station Al Jazeera recently published an expose on the Boeing 787 that was quite negative.  The video is nearly an hour long and leaves an uneducated viewer with the impression that 787s will soon be falling out of the sky, a la Chicken Little.  Our reaction is no, that is unlikely to happen.
We are keen followers of this industry; this is where we do business.  Finding fault and criticizing is easy.  And when this is done by people with little industry knowledge, it's mostly inaccurate.  Traditional media has an old SOP – "if it bleeds, it leads".  And the Al Jazeera report is tabloid-style journalism masquerading as an in-depth analysis.
Unlike Al Jazeera, we will try to be fair and balanced:
Boeing's 787 program did not cover the company in glory.  It is clearly the most fumbled project in the… Continue reading
As Lufthansa tweaks its business to become more competitive, it has undertaken some interesting actions on the long haul fleet. As the chart below shows, the three aircraft involved are seeing significant changes. The key item here is Lufthansa adding premium economy seating.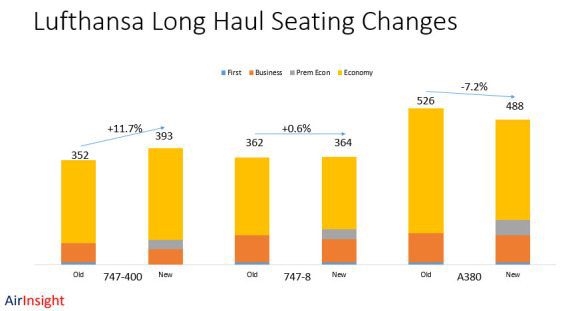 The 747-400 loses first class and gets nearly 12% more seats. This allows the airline to focus this fleet on markets which are more leisure focused – or as the airline puts it, "markets where there is less demand for first class product". Example? Bangkok.
The 747-8 by contrast keeps first class. The addition of premium economy sees fewer economy seats. This fleet is focused on markets where demand for first class is justified. Examples? USA, India, selected Asia markets plus Mexico and Brazil. Possibly Argentina from October (yes how about that, defaulting Argentina). Interestingly Argentina and Venezuela have traditionally been the best first class markets for… Continue reading →
Wayne Coulson is CEO of Coulson Air Tankers.  Last week we wrote about how the company is retiring the last two Martin Mars – seventy years after they were made.  How many aircraft have worked that long?
Mr Coulson reflects on their experience with this amazing aircraft.