Addison Schonland
Observers have been saying for some time that single aisle aircraft buyers like to order the smallest model and then when the time comes, convert the initial order to a larger variant.  We asked Boeing about this and they declined to provide us with any data on conversions.
Taking a look at orders and deliveries from 2000 through 2014, we created the following chart.  We color coded the NG (solid) and MAX (pattern) models so readers can follow the sizes.  Of course orders and deliveries don't track year to year.  That said, we can see what airlines and lessors are ordering and what gets delivered.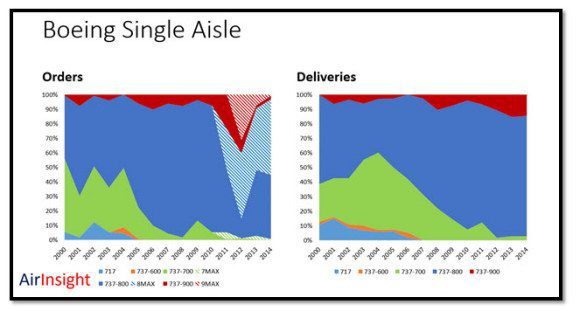 There is a sharp decline in both orders and deliveries for the smaller 737s, with some time-lag.  Of the smaller models the -700 (and 7MAX) are the most important to watch.  700NG annual orders for this period peaked in… Continue reading →
The original Air Force One has been found and a group trying to restore and save the aircraft.
What a wing test looks like in less than 30 seconds.
See next video below the line. Continue reading →
Mark Lapidus is CEO of Amedeo, a leasing firm with with 20 A380s on order.  Selling the A380 has proven to be a  complicated task.  The aircraft is the largest passenger airliner and for many airlines, the A380 is intimidating.  Yet, among the users of the aircraft there are voluble fans, like Emirates.  One of the leading A380 fans is Mark Lapidus, who thinks many airlines do not understand the aircraft's capabilities (but should and could benefit from it) and many who have deployed the aircraft are not optimizing its capabilities.

It has been almost a month since we last saw Ross Mitchell in Mirabel.  There have been some big changes at the company since that visit.  On the sidelines of the 17th Global Airfinance Conference in Dublin we caught up with Mr Mitchell and got to talk about Bombardier in terms of how the year ended and what 2015 is starting to look like.

One of today's best panels was titled the "Fleet Managers" and moderated by Helane Becker from Cowen & Co. On the panel were Nathaniel Pieper from Delta, Jude Bricker from Allegiant and Jose Yunda from Avianca.
Mr Pieper started off by telling the audience that Delta is still interested in used aircraft. (He joked that Delta and Allegiant together accounted for the world's biggest used airplane buyers).  Used aircraft offered excellent ROI and ensured a strong balance sheet. (It helped Delta's results reported today were so good)  Low fuel costs have offered further support to the decision by Delta not to buy new aircraft at the same level as other airlines.  This strategy will continue to play at Delta.  The airline's fleet plan is driven by matching aircraft to routes. He used the 717 as an example – Delta frequently makes use of the 717 to… Continue reading →