Addison Schonland
Today we had an opportunity to visit Embraer's Melbourne, Florida  plant.  The facility acts as a final assembly line for the Phenom line and the Legacy 450/500.   Embraer's history in the business jet industry is impressive.  The company has only been making business jets for about a decade.
In 2000 Embraer took its ERJ135 and turned that into a business jet.  As opposed to Bombardier that took a business jet and turned it into an airliner.  For Embraer the experience was rewarding as they made a number of sales.  The buyers appreciated getting an aircraft that was made to run like an airliner, with close to 100% dispatch.  This was an unusual standard as business jets don't get to fly that much.  The Embraer reliability was a hit.
But the first aircraft was not enough.  Embraer wanted to be… Continue reading →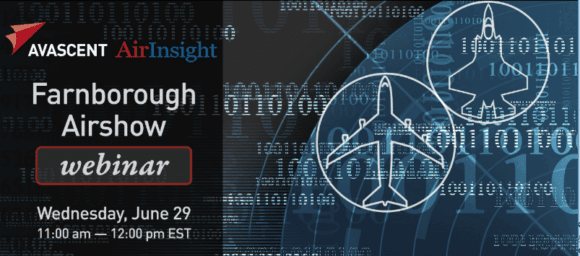 Over the course of an hour, the team will share insights into recent market developments, the funding outlook, and technological and operational disruptions to watch in the coming period. Alongside key market trends and analysis, we will share early results from our just completed survey on global competitiveness and innovation.
In addition, we are pleased to be joined by our colleagues from AirInsight, Addison Schonland and Ernie Arvai, who will offer perspectives on hot-button issues facing the commercial aerospace industry.
After initial remarks and prepared materials, we look forward to fielding question and comments from participants.
We note with interest that there is news about doubts Iran Air will take delivery of those A380s.  The Airbus order has yet to be formally completed.  We have also heard the deal on the A380 is unlikely to be completed.
Iran's decision on the A380 may have been a deal sweetener for both sides.  But there is a big risk for the airline to acquire an aircraft this size.  Iran Air has to re-enter the market and attract traffic.  The airline has ambitions to turn Tehran into a regional hub like Dubai, Abu Dhabi and Doha.  For Tehran to reach the same levels as these hubs is a long way off. Almost certainly longer than the five years when the A380s are meant to come on stream.
Iran does have a far larger O&D potential than the three regional hubs because it is… Continue reading →
Base2 Solutions has developed a software solution that will speed up 737MAX operators' ability to turn their airplane even as it monitors 6,000 sensors.