A strong pent-up of demand with spontaneous travel is cause for optimism that the worst of the pandemic is over in core markets Malaysia, Thailand, Indonesia, and the Philippines, AirAsia said during its 2020-results presentation on March 29. Despite a softer than expected Q1, forward bookings look positive and should result in stability of its operations, especially as vaccinations continue to be rolled out. AirAsia's international network, which has been non-existent for most of 2020, is set to restart in the second half of this year pending the reopening of borders and lifting of travel restrictions.
After a strong recovery of traffic in Q3, AirAsia Malaysia's Q4 was hampered by lockdowns in October and November but 2020 ended with a good December. AirAsia Indonesia operated at 93 percent capacity of pre-Covid levels and carried eleven times the number of passengers in Q4 than in Q3. AirAsia Thailand grew by 31 percent, AirAsia Philippines almost doubled pax numbers, and AirAsia Thailand operated at 116 percent capacity in December. This month of March has seen a relaxation of cross-state restrictions in Malaysia, with the kick-off of leisure bubbles. In Thailand, the situation has also improved to such a level that the carrier plans to operate on all forty domestic routes again in April.
Net loss of RM 5.9 billion
AirAsia Berhad recorded a net loss of Malaysian Ringgit (RM) -5.866 billion compared to -283.3 million in 2019. The net operating loss was RM -5.908 billion versus -380 million in the previous year. Group revenues plummeted to RM 3.136 billion compared to RM 11.860 billion. The Group made a one-off impairment of RM 1.9 billion on rights-of-use assets and (financial lease) receivables, RM 2.5 billion on the depreciation of right-of-use assets and interest on lease liabilities, RM 972 million on fuel hedging, and RM 20 million on bankruptcy costs of AirAsia Japan. It reduces its stake in AirAsia India for RM 37.6 million.
The airline group reduced its fixed costs by 52 percent, including an unspecified number of headline reductions. Fixed maintenance costs were reduced by 93 percent. Monthly cash burn was reduced to MYT 26 million down from 327 million in Q1. Despite payment deferrals, depreciation and finance costs were 24 percent higher as the airline leased more aircraft. AirAsia says it has continued support from lessors and banks for deferrals.
AirAsia has seen strong interest in its digital products, launching its app in October. AirAsia Digital made up 42 percent of its Q4 revenues of MYR 267.4 million, with the app contributed to this by fifteen percent to MYR 12 million. The Group will accelerate the expansion of its digital product within the ASEAN region.
New third-party investors not ruled out
While borrowings ended at RM 1.283 billion, the Group has lease liabilities of RM 12.7 billion included deferred lease payments of RM 1.5 billion. To improve its liquidity position, AirAsia raised RM 336 million through two private placements. In Total, it plans to raise between RM 2.0-2.5 billion in a combination of debt and equity. AirAsia Malaysia expects to conclude terms of a government-backed loan soon and is in discussion with banks, lenders, and investors to raise capital to strengthen equity and liquidity. "In addition, AirAsia has ongoing deliberations with a number of parties for joint-ventures and collaborations that may result in additional third-party investments in specific segments of the group's business."
AirAsia operated 245 aircraft in December 2020 and plans for 231 in December this year, with actually only the Malaysian subsidiary adding aircraft (plus eight) while all other subsidiaries are slightly reducing their fleets. AirAsia didn't provide any updates on its existing order for 404 Airbus A320neo-family aircraft.
Long-haul subsidiary AirAsia X canceled an order for ten A350-900s in December. In February, the airline reported an RM -1.337 billion net loss on revenues of RM 1.130 billion. It has RM 5.272 billion in short- and long-term borrowings.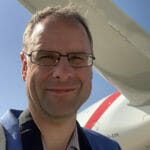 Active as a journalist since 1987, with a background in newspapers, magazines, and a regional news station, Richard has been covering commercial aviation on a freelance basis since late 2016.
Richard is contributing to AirInsight since December 2018. He also writes for Airliner World, Aviation News, Piloot & Vliegtuig, and Luchtvaartnieuws Magazine. Twitter: @rschuur_aero.