The half-year 1-results of Airbus clearly reflect the crisis the aerospace sector is in now, with the European airframer reporting a net loss of EUR -1.919 billion on July 30. This compares to a €1.197 billion profit for the same period last year.
Commercial Aircraft was hit the hardest, with revenues down by 48 percent in HY1 to €12.533 billion compared to 24.043 billion last year. EBIT Reported is €-1.808 billion versus 2.006 billion, EBIT Adjusted €-1.307 billion versus 2.193 billion in 2019.
In Q2, Commercial Aircraft lost even 65 percent of its revenues to €4.964 billion, down from 14.346 billion. EBIT Reported was €-1.865 versus 1.687 billion, EBIT Adjusted €-1.498 versus 1.730 billion.
Airbus Group reported an EBIT Reported of €-1.559 billion compared to 2.093 billion. This includes a €332 million write-down on the A380 program, including 33 million in Q1. EBIT Adjusted was €-945 million versus 2.529 billion and includes Covid-19 related charges after a comprehensive review of the balance sheet.
Cash flow suffers from 145 undelivered aircraft
Free cash flow before M&A and Customer Financing suffered massively from an 'unusually low' number of deliveries and 145 undelivered aircraft. FCF in the first six months ended at €-12.440 billion compared to -3.981 billion last year. Despite this, CEO Guillaume Faury is satisfied that free cash flow reflects improvements in cost savings in Q2. CFO Dominik Asam did not provide guidance as to when the 145 aircraft will be delivered but inventory and the revised production schedule will converge in Q3. Faury added that the 145 should be the 'high point' in the year. Some have been with Airbus for fifteen months and are expected to remain there for some time.
The increased number of stored aircraft has driven inventories up by €5.2 billion to €37.5 billion. After a comprehensive review of its operating assets and liabilities, Airbus has taken a €1.2 billion charge. This includes an impairment of risks of €299 million of aircraft that might not be delivered, additional provisions to the A380 of €276 million, a write-off of capitalized development costs of €98 million, €150 million in provisions for supplier commitments, and €250 million for various commercial risks.
The Group's net cash position also went red to €-586 million, down from 12.534 billion.
Airbus has €17.5 billion in gross cash, invested in highly rated securities. €3.0 billion is available in a revolving credit facility plus €9.5 billion as a supplemental liquidity line. Liabilities amount to €18.1 billion, of which 13.4 billion is long-term. Dominik Asam says this liquidity position will get Airbus through the crisis and prepare it for the post-Covid era.
A350 production down to five per month
Airbus has confirmed most of its revised production rates that were announced last April, except for the A350. The program will go down to five per month instead of six, reflecting the reduced appetite for widebodies as the recovery of long-haul travel will take longer. Mind you the A350 has come down from rate ten per month.
As reported, the A320neo-family has been adjusted to forty per month, the A330-900 to two per month, and the A220 is expected to return to four per month. After talks with all customers, Faury thinks the rate forty on the A320neo still reflects the right balance for 2020 and 2021. Ramping-up will depend on when the market recovers, which could happen in 2022, but it is important to get the timing right and do it not too early or not too late.
In HY1, Airbus delivered 196 aircraft compared to 389 last year and received orders for 298 compared to 88 in the first six months of 2019. The order backlog stands at 7.584.
Earlier in July, Airbus announced its intention to reduce its 135.000 workforces by 15.000. Discussions with unions are progressing with the aim of reaching an agreement this fall and implement the reductions until Summer 2021. A restructuring provision of €1.2-1.6 billion will be taken in HY2.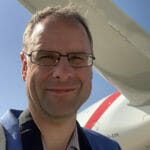 Active as a journalist since 1987, with a background in newspapers, magazines, and a regional news station, Richard has been covering commercial aviation on a freelance basis since late 2016.
Richard is contributing to AirInsight since December 2018. He also writes for Airliner World, Aviation News, Piloot & Vliegtuig, and Luchtvaartnieuws Magazine. Twitter: @rschuur_aero.