Regular readers know we are building lots of data models. This next one is especially fun because it has more interactivity than the previous models we have published.
This model uses T-100 Domestic Segment data and tracks passenger volume (ball size), miles flown on the X-axis and number of flights of the Y-axis.
Click the play button at the bottom left of the chart to let it run. (Remember the double-headed arrow to maximize the screen) . You will probably play the model repeatedly to be able to follow the movement.
Notes:
 Airlines that merged with others are apparent by the way their traffic jumps (Alaska, American, Delta, United)
 The LCCs show remarkable seasonality
 Notice how average miles flown varies as the months go by.
 Each airline shows interesting behaviors
 Notice how some airlines show significant traffic growth (ball gets bigger)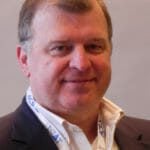 Co-Founder AirInsight. My previous life includes stints at Shell South Africa, CIC Research, and PA Consulting. Got bitten by the aviation bug and ended up an Avgeek. Then the data bug got me, making me a curious Avgeek seeking data-driven logic. Also, I appreciate conversations with smart people from whom I learn so much. Summary: I am very fortunate to work with and converse with great people.