Despite a strong final quarter with a 534 million reais net profit, Brazilian airline Azul Linhas Aereas posted a full-year net loss of R$ -10.179 billion (US$1.8 billion), it announced on March 4. 
The full-year operating loss was R$ -1.461 billion on revenues of R$ 5.793 billion, which were down -49.4 percent compared to the previous year. The Covid-crisis had a deep impact on Brazil and, as a result, demand for air travel.
In the last three months of 2020, Azul's operating revenue increased significantly compared to the third quarter. At R$ 1.783 billion, revenues were double that of R$ 805.3 million in Q3 but still well down compared to the previous year by -45.1 percent. The operating loss for the last quarter was R$ -143.2 million versus a R$ 782.8 million profit the year before.  
In addition, the airline made significant progress during the quarter on demand and capacity.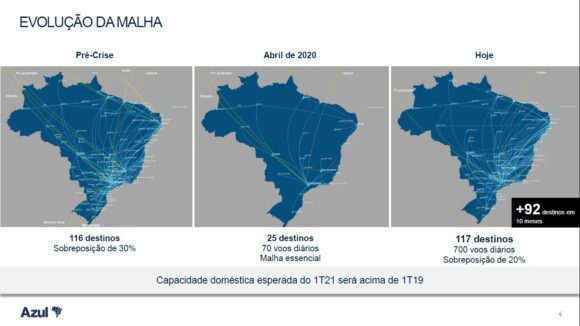 Azul ended 2020 with more than ninety percent of its domestic capacity recovered, operating 117 destinations and more than 700 flights daily. Management said this was possible due to its diversified fleet and unique network advantages. 
During the year, the Brazilian airline carried 14.796 million passengers, a decrease of  46.5 percent from the previous year when it carried 27.675 million. It nearly transported five million travelers in the final quarter, showing the strength of the last three months of the year. 
"Even more remarkable is that while rebuilding our network at this rapid pace, we saw a strong Passenger Revenue per Available-Seat Kilometer (PRASK) increase of 23 percent in the fourth quarter compared to the previous one, which is further evidence of the demand recovery and the sustainable competitive advantages of our business," said Azul.
Cargo performed exceptionally well, with an increase of 64 percent in revenues in Q4. Including some other revenues, full-year cargo revenues were up by 31.8 percent to R$ 704.5 million.  
Corporate fares remain flat
The current crisis allowed Azul to increase its market share in cities where it is the only competitor. At the start of the year, on seventy percent of Azul's routes, it was the only operator. Now, that's up to eight percent, according to the airline. This point-to-point strategy in an immense country like Brazil served the airline well to maintain its fares. The average fare fell 12.7 percent on a year-to-year basis: from R$ 394.2 to R$ 343.9.
Nevertheless, the corporate fares behaved a lot better. The average corporate fare decrease only two percent between January 2020 and January 2021. According to Azul, business fares at GOL and LATAM dropped by between eleven and fifteen percent. Azul claims it now has the largest market share for corporate travelers in Brazil, with 38 percent.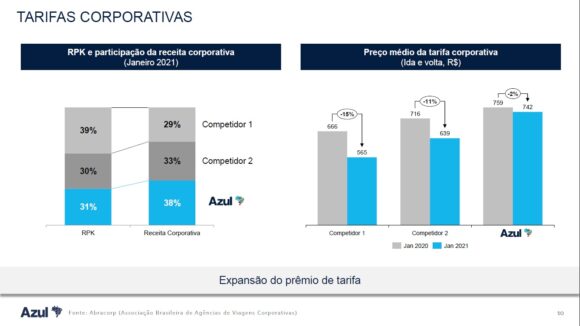 The cargo segment also performed remarkably well for Azul. The revenues from cargo increased 131.8 percent between 2019 and 2020 due to the increase in Brazil's e-commerce. John Rodgerson, Azul's CEO, said: "Our logistics business Azul Cargo Express continued to set revenue records. In the fourth quarter, revenues increased 64 percent compared to the same period of last year." 
Expenses, liquidity, and fleet
Operating expenses decreased 22 percent year on year. This was mainly due to lower capacity-related costs and cost reduction initiatives. For instance, aircraft fuel decreased 45.8 percent, salaries, wages, and benefits went down 16.6 percent. Maintenance, materials, and repairs increased seventy percent, mostly due to the devaluation of the Brazilian real against the US dollar. 
Azul closed the quarter with R$4.0 billion in immediate liquidity (US$710 million), an increase of R$ 1.7 billion as it raised cash in the fourth quarter through the convertible debenture issuance. Azul's total liquidity including deposits, maintenance reserves, and other unencumbered assets, was R$ 7.9 billion as of December 31. Moreover, the airline has no significant debt repayments in the next twelve months. 
Finally, Azul finished the year with a contractual fleet of 185 aircraft, up from 178 as it received two Airbus A330s, four Airbus A320neo's, five Embraer E195-E2s, and seventeen Cessna's. The contractual fleet includes nine aircraft sub-leased to TAP Portugal and one to Breeze.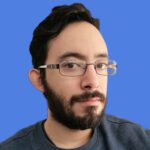 Daniel Martínez Garbuno is a Mexican journalist. He has specialized in the air industry working mainly for A21, a Mexican media outlet focused entirely on the aviation world. He has also published on other sites like Simple Flying, Roads & Kingdoms, Proceso, El Economista, Buzos de la Noticia, Contenido, and Notimex.