Despite the dire position of many airlines and the world's economy likely to head into a recession as the recovery of Covid-19 takes longer, there are still signs that the airline industry is seen as a good investment. Take for example Icelandair. The comparatively small airline from Iceland successfully raised new capital last week, with its offering even oversubscribed by 85 percent!
Icelandair planned to raise ISK 20 billion through the new public offering but increased this to ISK 23 billion ($168 million). When the offering closed on September 17, over 9.000 subscriptions had been made for ISK 37.3 billion. Shares have been placed with existing shareholders in line with their existing stake and with some thousand employees who also subscribed.
Interestingly, the airline saw strong demand from retail investors too. Together, they have bought enough shares to raise their combined share within Icelandair to fifty percent. It demonstrates the strong confidence with local investors and Iceland nationals to keep its national airline airborne.
Icelandair has seen some very strong years recently as it positioned itself as a hub airline between the US and Europe. Pre-Covid, it was very successful in attracting new tourist traffic from both continents to the island that is centrally positioned in the Atlantic Ocean. In 2019, it flew 4.4 million passengers to 44 destinations on 74 flights a day, operating a fleet of 51 aircraft and 4.400 staff.
Its national competitor WOW briefly was successful in capturing part of the Icelandic travel cake until it went bankrupt in March 2019 over high costs. For a short moment in November 2018, a merger between the two airlines was in the wings but the deal collapsed and Icelandair has gone it alone. It too has been in trouble and suffering in 2017-2018 from strategic mistakes resulting in an imbalance in its flights between the US and Europe.
83-Year old Icelandair has been restructuring since, including the divestment of 75 percent of its hotel business, and reducing costs where possible. Covid has placed its future in a new perspective, which has resulted in more measures to keep the airline going. The management was quick to conclude an agreement with its mechanics and pilots about an increase in productivity by 10 percent and 22 percent respectively by adding flying block hours to 640. The pilots also agreed to reduce their costs by 25 percent or $17 million per year.
Negotiations with the cabin crew unions took much longer and on numerous occasions failed. In the end, a deal was reached that will raise productivity by twenty percent and save the airline $9 million. The agreements with the pilots and cabin crew unions mature in October 2025, those with the mechanics by January 2026.
Cost reductions are key
The agreements with unions are instrumental in bringing costs down. For 2020, one-off costs related to Covid are expected to be $210 million. Long term, measures to save costs include organizational savings, outsourcing, more automation, 'lean' processes in maintenance and ground operations, and negotiations with suppliers. Lessors have agreed to defer payment obligations of $116 million by up to twelve months.
Another significant chunk is to come from a new and more fuel-efficient fleet and smarter handling/rerouting. Its partner airline Air Iceland Connect (operating Bombardier Dash 8 400s and Q 200s) will be fully integrated within the parent airline, opening up new opportunities in Greenland.
Icelandair targets a reduction of costs of ten percent by 2024, the year it expects to complete the restructuring that has been set in motion earlier this year.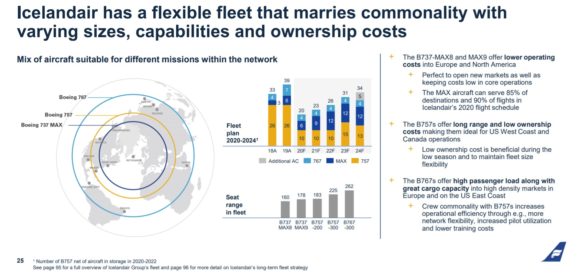 For some time, Icelandair's fleet plan has been concentrated around the Boeing 737 MAX 8 and 9, which have the range to operate on 85 percent of the airline's network. The 757 will be used on longer routes to the US and Canada, but the fleet will be reduced from 24 in 2019 to ten for 2020-2022 before growing to fifteen again in 2023 and thirteen in 2024. The four Boeing 767s will remain in the fleet for the next few years and will be used on higher-density markets as well as on cargo operations.
The number of MAX's available in 2021 depends on the return to service of the type after recertification, but Icelandair expects the six grounded aircraft to be available for service in Q4 2020. The fleet should grow to nine in 2021 and to twelve in 2022 but will remain flat as the airline has decided to cut its order with Boeing by four earlier this year. Financing of the six remaining aircraft has been secured, as has a discount on purchase prices with Boeing after its successfully renegotiated deliveries and cash compensation for the grounded aircraft This agreement should be completed until mid-2021. The revised MAX plan will save the airline $260 million in expenditures.
Icelandair's fleet plan identifies the need for five additional aircraft in 2024 and eleven in 2025 as replacements for the aging 757s. This could be MAX of Airbus A320neo's, it says.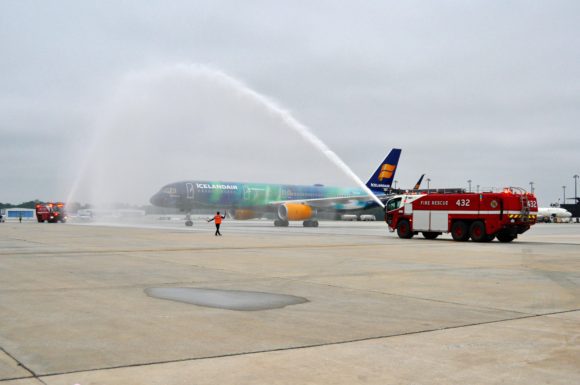 The Boeing 757-fleet will be reduced over the next five years. (Icelandair)
Ramp-up expected from May 2021
Icelandair expects a strong ramp-up to happen in Q2/May 2021 but this depends on the impact Covid-19 will have on the air travel industry by then. It has various scenarios in place to best answer conditions, including dropping the least profitable routes and lowering capacity by swapping 757s for MAX 8s.
In addition to the proceeds of the latest share offering, Icelandair has another $120 million in liquidity available through bank loans that are ninety-percent backed by the government and which can be terminated until 2022. This should bring total liquidity by Q1 2021 to $251 million, slowly growing to $269 million a year later, with net interest-bearing debts the highest in 2021 at some $500 million before they come down to around $400 million in 2023.
In its September 10 share offering prospectus, Icelandair also presented a scenario of what would happen if the airline would going into receivership. It expects the Icelandic market to be taken over by other European and US airlines as a place of destination, but its Keflavik hub would lose out as a transfer airport. This would severely hurt the country's tourist industry. A new Icelandic airline could emerge but it will take years to reach the level of Icelandair's strong position.
It's a scenario that investors in Iceland hate to see. Which could explain the huge success of the latest share offering.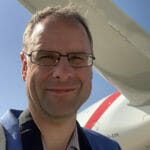 Active as a journalist since 1987, with a background in newspapers, magazines, and a regional news station, Richard has been covering commercial aviation on a freelance basis since late 2016.
Richard is contributing to AirInsight since December 2018. He also writes for Airliner World, Aviation News, Piloot & Vliegtuig, and Luchtvaartnieuws Magazine. Twitter: @rschuur_aero.