The COMAC C919 is expected to receive its airworthiness certificate next week on September 19 or 9/19, Chinese media have reported today September 13. The news was first announced by the China Times and later by Reuters. COMAC C919 set for a 9/19 certification.
Certification has been imminent after COMAC reported on July 23 that it had completed all flight tests and filed the required documentation with the regulatory agency CAAC. Since the first flight on May 5, 2017, six prototype/test aircraft have participated in the flight test and certification program. The CFM LEAP-1C engine that powers the Chinese airliner already received FAA and EASA type certification back in December 2016, so well ahead of the first flight of the C919. The airliner rolled out in November 2015 at the COMAC facilities at Shanghai Pudong.
Earlier on Tuesday, two C919s arrived at Beijing Capital Airport, believed to have been the first time that two of the new aircraft types were there. The aircraft were B-001F and the first production aircraft B-001J, both arriving from Shanghai between 10 and 10.36 am. (main picture from @FATIIIAviation on Twitter)
The C919 is expected to remain an aircraft for the Chinese market only as it yet needs to apply for international certification. There is no indication that COMAC has done this, in contrast to Russia's Irkut, which has been working for some years with EASA on getting an international type certificate. This has, of course, all been frozen since Russia started the war in Ukraine and sanctions were imposed.
China Eastern will become the first operator of the C919. In its recent Q2 2022 presentation, it said that one aircraft is expected to be delivered this year and another four in 2023. It isn't known how the airline intends to deploy the aircraft and if it will only introduce the type to its domestic network after it has received at least two C919s.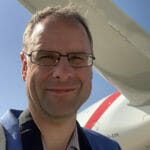 Active as a journalist since 1987, with a background in newspapers, magazines, and a regional news station, Richard has been covering commercial aviation on a freelance basis since late 2016.
Richard is contributing to AirInsight since December 2018. He also writes for Airliner World, Aviation News, Piloot & Vliegtuig, and Luchtvaartnieuws Magazine. Twitter: @rschuur_aero.