The Dutch government has bought shares into Air France-KLM Group holding since February 20. After announcing an initial purchase of 12.68% for €680mln on Tuesday, more shares were bought on Wednesday to equal the 14% of the French government.
Secretary of Finance Wopke Hoekstra and his colleague of Transport Cora van Nieuwenhuizen disclosed the purchase during an unscheduled press conference in The Hague on February 26. With the buy-in, the government wishes to secure its position and interests in the Franco-Dutch airline group and the governance.
Both Hoekstra and Van Nieuwenhuizen recently discussed the position of, especially KLM with the holding with CEO Ben Smith amidst concerns that KLM president-director Pieter Elbers might be ousted. Elbers has been nominated for a second term on February 19, but the government felt it was left without any certainty and grip on the future of the Dutch airline. As all major strategic decisions are likely to make at Group level and within the new Group CEO board, the Dutch government saw no other option than to start buying shares last week.
The two secretaries referred to recent decisions at Group level which had implications for the position of KLM, but on which the government was only involved after they had been made, like to strategic alliance of Delta Alliance and China Eastern Airlines in 2017 and discussions last year with Accor Hotels to take over the shares of the French government.
Already in 2017, the Dutch government started exploring options to participate within the holding. Hoekstra said the government doesn't intend to position itself as an activist shareholder, but just one that wants to gain control. It will keep its 5.92% share in KLM.
The French government has a 14.3% in the AF-KLM holding, while the Dutch so far had none. In a reaction, it said it had been informed by the Dutch only on Tuesday, but without previous knowledge. Dutch pilot union VNV is 'positively surprised' about the purchase.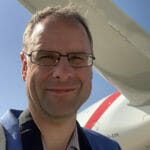 Active as a journalist since 1987, with a background in newspapers, magazines, and a regional news station, Richard has been covering commercial aviation on a freelance basis since late 2016.
Richard is contributing to AirInsight since December 2018. He also writes for Airliner World, Aviation News, Piloot & Vliegtuig, and Luchtvaartnieuws Magazine. Twitter: @rschuur_aero.