Commercial aviation has become safer again in 2021, with fewer accidents and fatalities. A total of 121 occupants died in air accidents last year compared to 132 in 2020, IATA said on March 2. The numbers have to be seen in perspective, as especially 2020 was a year of much-reduced activity because of the pandemic. Fewer fatal accidents but CIS and Africa are a reason for concern.
Figures compiled by the agency on the IATA Operational Safety Audit (IOSA) show an average of 207 fatalities for the five-year 2017-2021 period. This translates into an accident rate of 1.23 or one in every 0.81 million flights. In 2020, the rate was 1.58 or one in every 0.63 million flights. In 2021, it was 1.01 or one in 0.99 million flights. Last year, commercial aircraft did 25.7 million flights compared to 22.2 million in 2020, but on average 36.6 million during the five-year period. The last year before Covid (2019) was the third safest.
There were seven fatal accidents last year (one jet and six turboprops) compared to five in 2020 and 7.4 for the 2017-2021 period. Jet hull losses in one per million flights were 0.13 versus 0.16 in the previous year. Most (0.33) happened in the Asia Pacific, followed by Europe (0.27) and North America (0.14). There weren't any runway or taxiways excursions, which hasn't happened in the last fifteen years, says IATA.

Graphic showing the accident numbers for the 2017-2021 period. (IATA)
Turboprop losses were higher at 1.77 per one million flights compared to 1.59 million in 2020 or 1.52 for the 2017-2021 period. The region with the most accidents and hull losses was Russia and the CIS states, with a hull loss rate of 42.53. A total of 41 people died in three accidents in the CIS states. In 2020, there wasn't recorded a single one in the same region. Next comes Africa, with a rate of 5.59 compared to 0.77 in 2020. All accidents were in the sub-Sahara region, with eighteen fatalities in three accidents.
IATA remarks that although turboprops account for 10.99 percent of total sectors flown, they are involved in fifty percent of all accidents and 86 of all fatal accidents. That's the reason for concern, says IATA Director General Willie Walsh in a media statement: "Turboprop operations will be a focus area to identify ways and means to reduce the number of incidents related to certain aircraft types."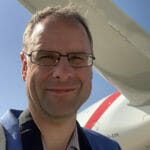 Active as a journalist since 1987, with a background in newspapers, magazines, and a regional news station, Richard has been covering commercial aviation on a freelance basis since late 2016.
Richard is contributing to AirInsight since December 2018. He also writes for Airliner World, Aviation News, Piloot & Vliegtuig, and Luchtvaartnieuws Magazine. Twitter: @rschuur_aero.