Between the updates on orders and deliveries from various OEM's, news has been lacking from one area: Canada. From De Havilland Canada to be more specific. How has the small turboprop maker from Downsview faired in 2020? Airinsight has contacted the company but few details have come forward. So we try to review the situation based on the information that is available.
De Havilland Canada (DHC) has been operating as a new stand-alone turboprop maker since parent company Longview Aviation Capital completed the purchase of the Dash 8 Q400 program from Bombardier on May 31, 2019, for C$285 million. That included assets, intellectual property, and all type certificates of the Dash 8-family including the -100, -200, -300, and Q400. DHC rebranded the Q400 back to its original designation 8-400.
Asked about orders and deliveries in 2020, this is the reply from the DHC spokesperson: "As a privately held company, we don't share details on our production rates or backlog, although we do publicize deliveries in conjunction with our customers. In the calendar year 2020, we delivered eleven aircraft despite the logistical challenges of the pandemic." Between June and December 2019, DHC delivered eight aircraft.
Checking on publicized deliveries, the DHC website confirms only those to TAAG Angola Airlines for one aircraft on June 26 (the first of an order for six announced at the 2019 Paris Airshow), two to Ethiopian on October 23 (the first of ten ordered in April 2018 with Bombardier), and one to Biman Bangladesh on November 23 (the first of three ordered in 2018).
That makes only four publicized deliveries, but data on Planespotters and Airfleets confirm the delivery of two 8-400s to Philippine Airlines via lessor Truenoord on January 11 and February 1, 2020, a waterbomber to the French Sécurité Civile on February 20, one to Ethiopian on February 23, and one to TAAG on August 19. Together, this makes only nine, not eleven. PAL and TAAG have parked these practically brand-new aircraft again in the past months.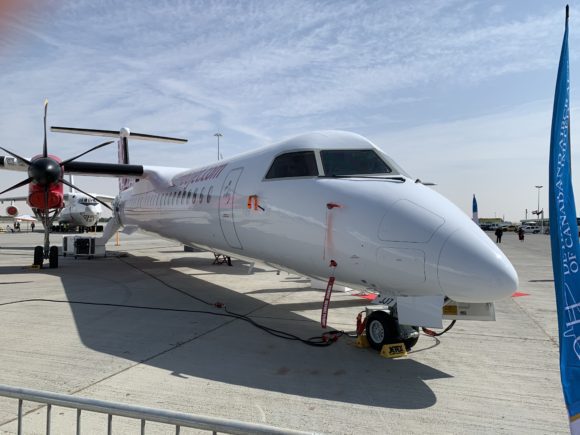 Kenya's Jambojet operates a fleet of six Dash 8-400s. (Richard Schuurman)
Eleven undelivered aircraft
From the same data, it shows that DHC has eleven undelivered turboprops on the ground. Three of them are destined for India's SpiceJet. The aircraft made their first flights between July and December 2019. There are also two assembled but undelivered aircraft for Ethiopian that was airborne for the first time in June and October 2020.
Another two are on order from Sécurité Civile and first flew in November 2019 and 2020. Kenya Airways' regional subsidiary JamboJet is also listed with two undelivered 8-400s: one that first flew in January 2020 and is now owned by lessor Avmax, the other one has done its maiden flight in March 2020. Airframe 4620 did her first flight in September 2020 and is destined for TAAG. The newest Dash 8-400 shown is frame 4621 for Air Tanzania, which did her maiden flight on December 18 and will join her sister-aircraft delivered in December 2019.
DHC announced the shutdown of its production at Downsview on March 20, 2020, responding to the first wave of Covid-cases that had hit Canada. This interrupted assembly as well as deliveries, with the first delivery again on April 28. Production resumed on May 4.
The aircraft and customers mentioned above are the ones that can be identified. If there are any assembled but canceled aircraft or so-called whitetails is unknown. "We don't share details on our backlog", is the reply from DHC. However, in a Town Halls Business Update dated June 17, 2020, available online, Longview Executive Chairman David Curtis denied there are any whitetails: "We currently have about 20+ aircraft in our backlog and the sales team is still looking at other opportunities. The fact is airline companies are not currently considering acquiring new regional aircraft. There will continue to be considerable uncertainty and given this uncertainty we are not able to predict where the business will be in the next three months, let alone in a year, or two. We are taking a phased, measured, and cautious approach with confirmed customers. We will not be producing whitetails."
Agreements Dubai 2019 still unconfirmed
This makes it difficult to judge what the status is of the deals for new aircraft, specifically the 37 announced during the Dubai Airshow in November 2019. The show was a huge success for DHC and kicked off with an announcement in a downtown Dubai hotel for a firm order from Nigeria's Elin Group for three aircraft, but they aren't showing yet on the production list.
The rest of the announcements at the show hasn't been confirmed either by De Havilland Canada or the individual customers. They include the Letter of Intent (LoI) for twenty from Dubai's Palma Holdings, an LoI for five from Aeroflot-subsidiary Aurora Airlines, an LoI from the Ghana government for a yet to be established new airline, nor the 'conditional purchase agreement' from lessor ACIA Aero Capital for three. Palma and ACIA both were positive about opportunities to offer the Dash 8-400 in sale and leaseback transactions, but nothing has been heard from them again.
David Curtis said last June: "Our sales team continues to interface with our customers and has been working diligently on converting the LoI's. A number are still in play and being actively worked on. Covid-19 has slowed the discussions, but a number are still active and being pursued along with all other market leads. (…) (Chief Operating Officer) Todd Young and his sales team are working to firm up the customers as well as the letters of intent we have but at this time we will not be producing aircraft that do not have customers."
Market value has slumped
Not helpful has been the sudden availability of large numbers of Q400 on the market. After the demise of UK-regional Flybe in early 2020, some 79 (mostly leased) aircraft became available. By mid-2020, airBaltic retired its twelve Q400s as it concentrated its post-Covid recovery plan solely on the Airbus A220. Retirements like these put pressure on the aircraft's residual market value. In its recent market outlook, IBA Consultancy said that the Q400 has lost on average two percent but up to nine percent in value. Lease rates could drop by on average twenty percent, reflecting oversupply.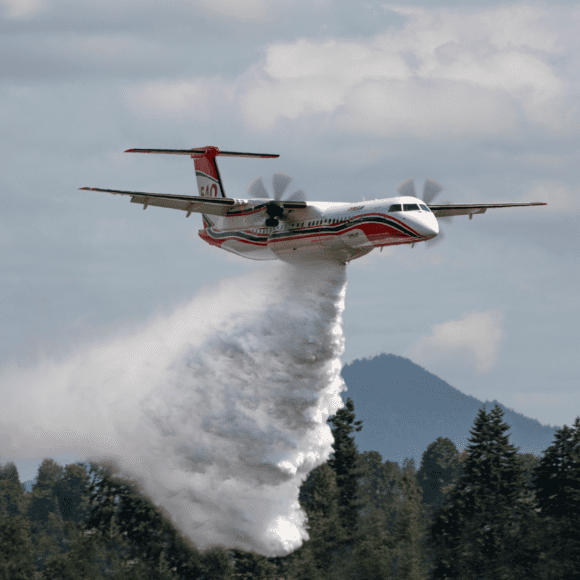 Conair Aviation has purchased eleven ex-Flybe Q400s for conversion into air tankers. (Conair Aviation)
The positive news is that Canada-based Conair Aviation has purchased eleven ex-Flybe aircraft to convert them into Q400AT firefighting air tankers. The company already has two in the fleet, describing them as the "most advanced air tanker in the world."
"It is positive news", De Havilland Canada says. "We're pleased to see Conair continue to renew their fleet and expand their use of Dash 8-400 aircraft for their firefighting operations.  It is a testament to the flexibility, performance, and reliability of the Dash 8-400 in a wide range of roles. De Havilland Canada's aftermarket parts and services are available to Conair in support of their conversion and operations."
Also helpful has been the use of the 8-400 as Simplified Package Freighter after Transport of Canada approved to carry lightweight freight inside the converted cabin within seventeen nets. Jazz Air and Air Canada Cargo were the first to opt for this specification without seats, with Jazz dedicating thirteen aircraft to a cargo-only role.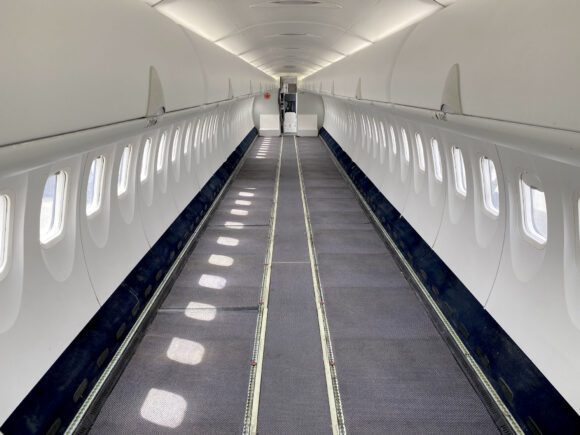 There is space for seventeen cargo nets onboard the Dash 8 special freighter. (Air Canada)
With quite a few unconfirmed orders and a backlog that seems to be between ten or twenty, it begs the question: how long will De Havilland Canada be around as an airplane manufacturer, apart from its services and support role? In Dubai 2019, Todd Young (who is expected to retire soon) was optimistically speaking to Airinsight about a modified, stretched, and possibly re-engined version of the trusted Dash 8-400 which has been around since the program started back in 1995. It could do with a few updates anyway, especially as its main competitor ATR has continuously updated the 42 and 72-family. Another worry should be Embraer's initiative to launch an all-new turboprop within the next two years.
In his June 2020 remarks, Curtis said about future models: "There is a smaller version we have always talked about, but the timing has to be right. There must be market demand and the economics must be right. As far as cargo aircraft, we have come to the market with the SPF, it is being received very well and we have received many orders. The designation is a 'temporary' configuration with the regulators. We are working to get that designation removed, so it can become a permanent configuration. Our target is by December 2020. We will also look at a full cargo freighter and a large door configuration. Some of the older aircraft are becoming very good aircraft for conversions to freighters." DHC had been in contact with Amazon, but Curtis said there was no firm order on the horizon.
This is what DHC's spokesperson has to say about the current turboprop market: "Turboprops have not been immune from the downturn in demand for air transport during this pandemic and as a result, the market is focused on managing and operating the existing capacity rather than expanding fleets with new aircraft.  However, as the Dash 8 is a highly versatile platform and very efficient in short-haul and regional markets, our aircraft have been in demand to operate utility aviation roles such as cargo transport, firefighting, corporate shuttle, and other specialized missions. Looking ahead, we are hearing from our operators that the Dash 8 (and Dash 8-400 in particular with its capability to replace jets) will play an important role in the post-Covid market recovery phase as they seek to re-establish services as demand returns."
That leaves one question unanswered: is Longview committed to investing in De Havilland Canada's product portfolio? Or are these words from the June 3, 2019, press release that announced the purchase from Bombardier a sound from a not so distant and very different past? "The combination of the Dash 8 with the existing Longview Aviation Capital portfolio unites the entire De Havilland product line under the same banner for the first time in decades. With a new corporate identity that draws on the rich brand heritage, we are excited about the opportunities we see ahead for this company, and for the Dash 8 aircraft."
Curtis was more explicit a year later in June 2020, but that was after the first Covid-wave and with many months of uncertainty ahead: "Right now, our focus needs to be on our existing businesses returning to health and being sustainable and it requires our full attention."
Update January 29: in response to questions from FlightGlobal, De Havilland Canada said it isn't ruling out pausing production of the 8-400 later this year. DHC remains fully committed to delivering the aircraft that are on order, so production will be suspended once the current backlog has been fully cleared, it told FlightGlobal. It didn't disclose backlog numbers to FlightGlobal either.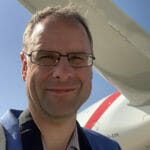 Active as a journalist since 1987, with a background in newspapers, magazines, and a regional news station, Richard has been covering commercial aviation on a freelance basis since late 2016.
Richard is contributing to AirInsight since December 2018. He also writes for Airliner World, Aviation News, Piloot & Vliegtuig, and Luchtvaartnieuws Magazine. Twitter: @rschuur_aero.