Norwegian needs access to additional state aid and secure support from lessors and bondholders before mid-May, otherwise, the low-cost airline will run out of cash and is likely to collapse, the company warned in an investor's presentation on April 27.
The update follows on last week's announcement that Norwegian's cockpit and crew units in Denmark and Sweden have gone bankrupt, resulting in the lay-off of some 4.700 staff.
If anything is clear from the presentation is that Norwegian's situation is most critical. The company was already heavily in debt (NOK 81.2 billion) but had a restructuring program in progress that was to reduce Capex by a combined NOK 40 billion, reduce costs by NOK 2.3 billion, raise liquidity by selling 24 aircraft by NOK 2.2 billion, and deliver an EBITDAR over FY19 of NOK 6.5 billion.
All this has changed in one month after the outbreak of Covid-19 forced it to ground 95 percent of its fleet, and place around 7.650 employees in furlough. With just a staff of 200, Norwegian currently operates seven aircraft on its domestic network.
It is on target to reduce cash-burn to NOK 100-300 million a month by the end of June. Only vital operational invoices are currently paid: "Aircraft financing providers (other than lessors) and suppliers to which the company has overdue payments are not included due to the number of counterparties and complexity." Some NOK 1.7 billion in payments to Boeing and Rolls-Royce are overdue.
First tranche state aid received
By late March, Norwegian received NOK 300 million in the first tranche of state aid but this is only ten percent of the full NOK 3 billion government package which the company says, for now, should be sufficient to cover its liquidity needs until the year-end. However, given the uncertainty in the market, there could be a need for more liquidity.
The second tranche of state aid of NOK 1.2 billion is conditional if existing creditors agree to a moratorium being put in place which includes a waiver of interest payments and a deferral of principal payments for a period of three months plus commencing on disbursement the guaranteed loans.
The third tranche of NOK 1.5 billion is provided only of Norwegian meets a pro forma year-end 2019 equity ratio of at least eight percent and secures ten percent in new risk capital.
To meet the criteria set under the third tranche, Norwegian plans to convert debt into equity and so strengthen its balance sheet, reduce lease liabilities, extend debt maturities, attract new equity, and become eligible for additional state support if needed.
Support lessors and bondholders instrumental
To succeed, the support from lessors and bondholders is instrumental and needs to be confirmed within the next week. In order to reduce lease obligations, Norwegian wants a reduction of lease levels from July or alternatively return aircraft to lessors. Overdue payments until June 30 should be canceled and converted into equity (shares), just like all lease obligations from July to March 2021 on the same terms if the aircraft is not utilized under a 'power by the hour'-agreement. This is expected to save an additional $300-400 million.
Norwegian's current portfolio with 24 lessors includes 92 aircraft (66 Boeing 737-800s and 26 787s) valued at NOK 33.2 billion. Obligations should be reduced by at least $500 million or at least $4.2 million a month. The revised Capex excludes new aircraft deliveries until at least Q2 2021.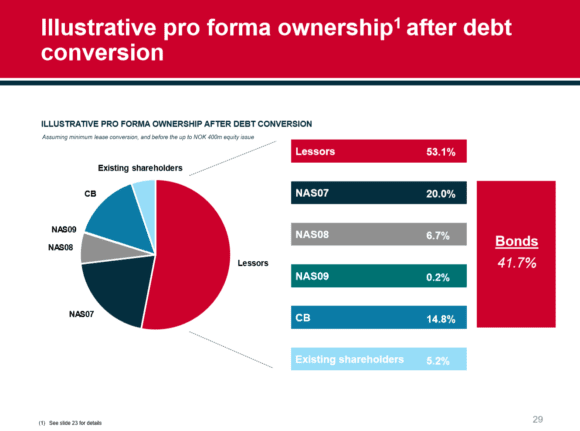 Bondholders are asked to convert up to 85 percent of the principal amount of three bonds into equity worth NOK 4.8 billion while at the same time postponing maturity. Some of the bonds are secured by the airline's slots at London Gatwick.
In total, Norwegian hopes to covert debts with lessors of some NOK 5.3 billion and with bondholders of some NOK 3.7 billion, in total converting around NOK 8.9 billion or fifteen percent of its debt.
The proposed package would give lessors a 53.1 percent share in Norwegian, bondholders 41.7 percent, and current shareholders 5.2 percent. Once this package is agreed, the company thinks it is well-placed to attract NOK 300 million in new risk capital through a public equity offering.
This should tick all the boxes for the government to provide the remaining NOK 2.7 billion in state aid. "It is critical to get access to the State Aid Package by mid-May before the company runs out of cash", Norwegian says.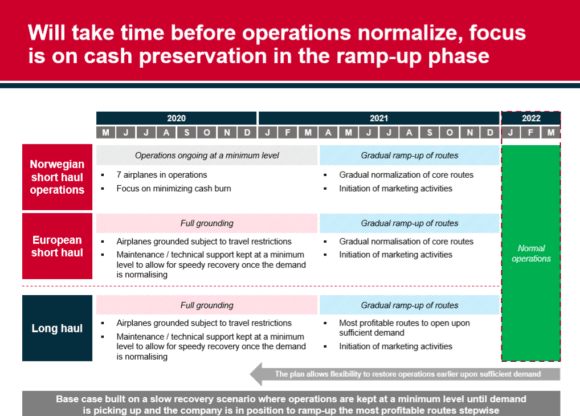 It is a do-or-die proposal that is on the table but the alternative is bankruptcy in which bondholders are set to lose most and lessors are dependent on the health of the market. "Value destruction is likely to be high, and as a consequence, most creditors are likely to have low recovery and occur significant costs", the presentation concludes.
Norwegian's board, of course, prefers the other scenario in which it hopes to have fully recovered as a leaner and meaner airline by January 2022. By then, it expects to operate a fleet of 110 to 120 aircraft compared to 168 now. It will be a slow recovery: for another year until April 2021, there will be only a limited schedule on Nordic and core European routes and just the most profitable long-haul routes to New York JFK and Los Angeles. Even then, Norwegian will still be at a high liquidity risk in Q4 2020/Q1 2021 and might likely need additional state aid to see it through.
Update May 5: At the Extraordinary General Meeting on May 4, 95 percent of the shareholders approved the debt/equity restructuring and public equity offering.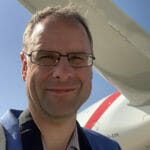 Active as a journalist since 1987, with a background in newspapers, magazines, and a regional news station, Richard has been covering commercial aviation on a freelance basis since late 2016.
Richard is contributing to AirInsight since December 2018. He also writes for Airliner World, Aviation News, Piloot & Vliegtuig, and Luchtvaartnieuws Magazine. Twitter: @rschuur_aero.