Qantas is on-track for a final decision on the purchase of aircraft for Project Sunrise before the end of this year. But the Australian airline will only proceed if it makes sense economically: "Rest assured Project Sunrise will only be pursued if it meets strict business hurdle rates", CEO Alan Joyce said on August 22 at the presentation of its FY19 results.
At the launch of its 787-9 non-stop Perth-London route in March 2018, Qantas said it wished to operate non-stop as well from Sydney/Melbourne/Brisbane to London and the US East-coast. It issued a request for proposal with Airbus and Boeing to come up with a suitable aircraft. Joyce said he did receive sales teams and management of both companies in recent weeks to pitch their products. Airbus is said to have offered yet-to-be-launched Ultra Long Range version of the A350-1000 and the Boeing the 777-8 or a sub-version of the -9. Both proposals are being studied, with Qantas taking into account that Boeing has delayed the 777-8 by a year.
Probably unrelated to the aircraft choice but of great importance for determining the feasibility of 19 hour-flights, Qantas together with Sydney University's Charles Perkins Centre, Monash University, CRC, and regulatory agencies will perform three research flights. In the next three months, it will re-route three Boeing 787-9s on their delivery flights from Seattle to New York and London to simulate ultra-long-haul services. Two will operate JFK-Sydney, one Heathrow-Sydney. Each flight will have only a maximum of 40 occupants on board to go the distance. They will be monitored for alertness, safety, and productivity. Joyce noted that one of the issues to be dealt with is the restriction on flight hours for the crew.
More revenues, less profit in FY19
In its June-June FY2019, Qantas recorded and underlying profit before tax of $1.30 billion, or $1.27 billion statutory profit before tax. This is down 17 and 6 percent respectively mainly due to $614 million higher fuel costs, $154 million of currency impacts and a $92 million provision for leave entitlements. Group revenues were up 5 percent to $17.966 billion.
By division, Qantas Domestic increased revenues 2.7 percent to $6.106 billion with underlying EBIT at $740 million. Jetstar revenues improved 4.4 percent to $3.961 billion and offset higher fuel costs, but underlying EBIT was still 19 percent down to $370 million. Joyce was happy to report the airline group increased market share despite weaker travel demand and fierce competition of Virgin Australia. Qantas also improved results of its loyalty program, attracting more business customers.
Qantas International revenues were up 7.2 percent to $7.425 billion, but fuel costs hurt underlying EBIT which was 28 percent at $285 million. Still, unit revenues offset fuel costs increase. After ten years of losses, Qantas made the London-network profitable again after re-routing and re-timing flights out of Heathrow via Singapore instead of Dubai. Operating the 747 and 787 concurrently on some routes had a negative impact on costs as well.
Qantas didn't specify its FY20-guidance, but expects mixed demand on the Domestic market versus strong demand to Asia and for premium products. International capacity is set to grow by 1.5 percent in HY1 but Domestic capacity should remain flat or even be slightly down.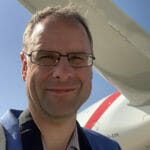 Active as a journalist since 1987, with a background in newspapers, magazines, and a regional news station, Richard has been covering commercial aviation on a freelance basis since late 2016.
Richard is contributing to AirInsight since December 2018. He also writes for Airliner World, Aviation News, Piloot & Vliegtuig, and Luchtvaartnieuws Magazine. Twitter: @rschuur_aero.