Qatar Airways intends to grow capacity year on year by 21 percent this summer, thanks to an aggressive increase in frequencies, the reinstatement of routes that were suspended for the past couple of years, and new routes. But the rate at which this is possible depends entirely on the availability of sufficient aircraft, CEO Akbar Al Baker said on Tuesday during a press conference in Berlin.
Al Baker used the tourism and travel fair ITB Berlin 2023 to unveil his network plans like he used previous editions to present new cabin products. Qatar Airways wants to grow its network until the end of FY23/24 or March 2024 to 174 destinations. This July, the number of weekly flights should grow by 21 percent to 655.
Most of the growth is coming from increasing frequencies to 35 existing destinations. For example, London Heathrow will see 45 weekly flights, up from 42. Vienna, Zurich, Edinburgh, and Bucharest go from ten to fourteen. Cairo goes from 21 to 28, Phuket from fourteen to 21, and Khartoum and Larnaca see a doubling from seven to fourteen.
Then there are the eleven resumptions of services the destinations that were on the network until the Covid crisis. They include Beijing, Birmingham, Buenos Aires, Casablanca, Davao, Marrakesh, Nice, Osaka, Phnom Penh, Ras Al-Khaimah, and Tokyo Haneda. New in the network is seven destinations: Chittagong, Juba, Kinshasa, Lyon, Medan, Toulouse, and Trabzon.
Not all services will be available from the start of the new season but follow from May all the way through March 2024. Others need to have their dates to be confirmed, like Toulouse, Kinshasa, and Juba, but they will be confirmed imminently, said Al Baker. Marrakesh and Casablanca will be launched a little later during the year.
The network shows that Africa, the Middle East, Asia, and Europe are all prominently there. Europe is no surprise, as Qatar Airways is exploiting every opportunity that comes from the EU-Qatar air treaty that gives it almost unrestricted access to the continent. Africa is also firmly on the airline's long-term strategy. North and South America were almost completely lacking except for Buenos Aires from December 8.
Not in their hands
"The reason that we have been very conservative in the dates that we have put here is that we are depending on aircraft deliveries to us from Airbus and Boeing", said Al Baker. Whereas he can be highly critical of the OEMs, this time, Al Baker was full of understanding that they are the victims of the supply chain issues that hamper aircraft production. "Unfortunately, it is not in their hands. Airbus and Boeing are suffering from the same supply chain problems. I think these problems will last for a bit longer. The aircraft deliveries are falling behind contractual obligations, so we will wait. We are confident it will improve, but it also depends on the conflict that is taking place in Europe and which is also putting pressure on the supply chain because a lot of raw materials were coming from conflict areas."
The announcement of Toulouse as a new destination is an interesting one, given the tense relations Qatar Airways has had over the past one and a half years with Airbus over de A350 paint issues and A321neo order. With a wry smile, Al Baker looked to the journalist who asked him if the Toulouse route had, of course, nothing to do with that but wanted to know more about the amicable settlement between Airbus and Qatar anyway. "I would rather not comment, because we are not talking aeroplanes but about the tourism industry. I can only say that we have come to an amicable settlement between our two parties, which was a win-win for both of us. And now we look forward to the strong partnership that we had with Airbus."
Part of the settlement is the reinstatement of the orders that Airbus terminated last year. The February order backlog confirms this has been done and includes the fifty A321neo's and 23 A350-1000s. 
German growth
Speaking in Berlin, Al Baker noted that Qatar will increase frequencies to German cities Berlin (14x), Frankfurt (21x), Munich (14x), and Dusseldorf (11x). He said that Berlin is underserved. The airline intends to grow capacity over the coming years in line with the EU-Qatar air services agreement, "which entitles us to gradually grow over the next five years. But we will do it prudently. We don't believe in undermining other airlines, we don't believe in dumping capacity which is not required and we want to make sure that we work in partnerships with other airlines to give feed to each other. We are ready to partner with other airlines." These words might have been listened to with interest in Frankfurt and Lufthansa, which only yesterday warned in its 'politics letter' of the distorting effect that the Qatar agreement might have on the airline industry in Europe.
Al Baker said that his airline is being careful with raising airfares to cope with inflation and other costs, notably fuel. "If we had to pass the fuel costs to our passengers, you would have to pay three times the ticket you are paying today. But we don't do that, we let other people. We make sure we carry the people on our airplanes and give them the best value to our passengers."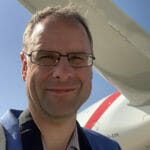 Active as a journalist since 1987, with a background in newspapers, magazines, and a regional news station, Richard has been covering commercial aviation on a freelance basis since late 2016.
Richard is contributing to AirInsight since December 2018. He also writes for Airliner World, Aviation News, Piloot & Vliegtuig, and Luchtvaartnieuws Magazine. Twitter: @rschuur_aero.