The unusual streak of warm weather that Moscow is living through this September provided the ideal background for the 2019 edition of RUBAE (formerly known as JetExpo), Russia's largest executive jet show.
Judging by the aircraft on display, the show seems to have bounced back a bit since last year's rather spartan line-up: Airbus brought one of its A320 ACJs (during the show it was announced that Comlux is getting another one of the type), Bombardier exhibited its latest novelty, the Global 7500 and Gulfstream (G280 and G650ER) and Embraer (Legacy 500 and Phenom 300) were also well represented.
It was even possible to get onboard a Tupolev Tu-204 in VIP configuration and, oddly, in (partial) Aeroflot livery (although it was not open to the public at the time of our visit).
We focused our attention on Dassault, though. The French aircraft maker has always been a loyal RUBAE attendee, its stand being usually one of the largest and most centrally located.
This year was no exception and they had both a Falcon 900LX and a Falcon 8X flown in from France to be on display (a third Falcon 2000 was also there, brought to the show by a private operator)
But this year the most interesting Dassault story was to be found indoors, where a real-scale mockup of its next executive jet, the Falcon 6X, could be visited.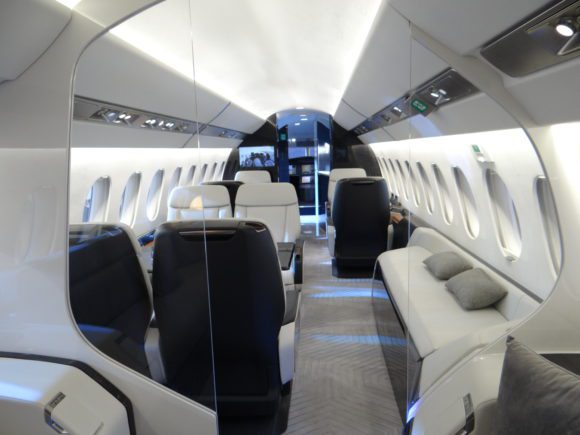 A quick glimpse inside was enough to give an idea of the elegant and neat interior of this latest addition to the tri-jet, on which Dassault has placed great expectations after a previous unfruitful attempt to develop the, now discarded, 5X model.
A little detail caught our eye: the window on the upper fuselage section just by the aircraft's entrance, that Dassault has named as "Skylight".
"The entrance is where people get their first impression of the aircraft, and it often feels a bit crowded, so we decided to open it up a bit with this unexpected extra window" explained Vadim Feldzer, Head of Global Communications at Dassault Aviation and with whom we had the chance to have a short conversation about the Falcon 6X.
"The 6X has Falcon family DNA, basically hyper-optimization for performance: short approach and landing capabilities, low fuel consumption, advanced avionics – but with some very interesting advanced features that we think are total game changers" he added, before continuing "this aircraft will have the tallest cabin of any purpose-built business jet and the largest cross-section in the 5,000nm range"
Less apparent, but perhaps more significant, it will also have a new generation of computer-controlled flight control systems that delivers an extremely smooth flight experience.
Whereas the Falcon 7X and 8X feature an advanced flight control system that is derived from the Rafale fighter jet, Dassault has devised an even more advanced, 100% digital control platform for the 6X.
"It's a new generation system, the next step in this industry" affirmed Mr. Feldzer proudly.
Innovative technology has also been used to make the Falcon 6X cabin quieter than its predecessors "Rather than just keep adding more insulation indiscriminately, we have used very sophisticated analysis tools to track down the sources of noise and act on them"
The Falcon 6X may not have the longest range in the market, but this is something that does not bother Dassault, as the overwhelming majority of private jet flights are well within its range. "Not obsessing about range above all else gives us room to deliver superior performance in other areas" explained Mr. Feldzer.
Those eager to test all these promising features will have to wait a couple of years, though.
Dassault expects to complete the Falcon 6X first prototype in the first half of 2020, to have the first flight in 2021 and start deliveries in 2022.