Market capacity outgrowing demand, valuta risks and higher fuel costs are likely to impact the 2019 result of Scandinavian airline SAS, which can look back on a record-year 2018. SAS announced its November 2017-October 2018 results on January 29. They include a SEK 1.543bln net income, up from SEK 1.149bln.
The national airline of Sweden and Denmark (Norway divested its 9.9% share in 2018) carried a record of just over 30mln passengers (up from 29.9mln) and generated SEK 44.7bln of revenues, up from 42.6bln the previous year. RPK's were slightly down by 0.6% to 39.946mln, with Europe/intra-Scandinavia traffic +4.4% and intercontinental traffic -2.0%. Capacity (ASK) increased by 1.1% to 52.781mln. Load factor for scheduled traffic was 74.4%, driven by strong demand in the Spring and Summer which continued into Q4.
This demand hasn't gone unnoticed by competitors, with Norwegian and Air France/KLM adding extra flights. In Q4 alone capacity between Scandinavia and the European continent increased by 4%, while traffic only grew by 2.7%. It is this trend SAS is expecting to continue in at least Q1 of FY2019, with ASK expected +2-3% for the year. Together with higher fuel costs and unfavorable exchange rates between the USD and Swedish and Norwegian krona could result in a Q1 loss. SAS has hedged fuel for the November 18-October 19 period at 52%, but not beyond this.
SAS continues its efficiency program, which in 2017-2018 generated SEK 0.7bln in savings and should bring another SEK 0.9bln this fiscal year, although SEK 0.2bln below the original target. The combined target is SEK 3.0bln in 2021. Another priority for the year is winning additional frequent flyers, expanding its EuroBonus program through extra digital services. Offering wifi on its fleet is one of SAS' selling points with which it wants to attract extra passengers.
By November 2018 SAS had a fleet of 157 aircraft in service. Its renewal is in full swing, with 14 Airbus A320neo's to join this fiscal year, 10 the next, 3 in 2020/2021 but 17 in 2021/2022 and 15 in 2022/2023 to grow a single type fleet. This didn't come without issues, as neo glitches affected operations during the past fiscal year. As announced by SAS last week, the airline will lease 3 A321LRs from Air Lease Corporation (ALC) for delivery from mid-2020.
The long-haul fleet will get an extra A330 this year as replacement for an A340, while in the next two years SAS will take delivery of 8 A350s on order. SAS has completed two-thirds of its cabin upgrades across the fleet.
With one more to come, SAS currently has eight A320neo's allocated to its bases in London and Malaga, flying under its SAS Ireland low-cost brand which became active in December 2017.
The Scandinavian airline identifies a growing awareness with passengers of environmental effects of flying. Therefore the airline has been offering CO2-compensation since April 2018 and plans to operate more flights using sustainable fuels or biofuels.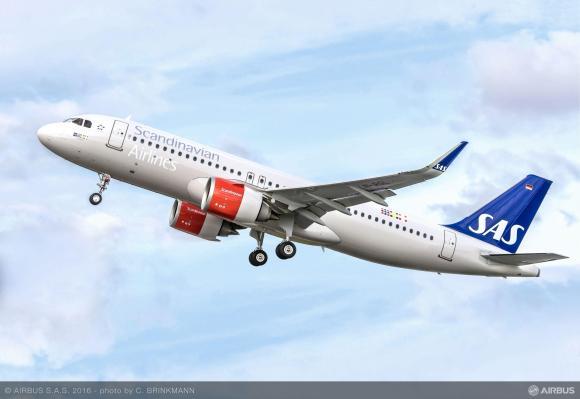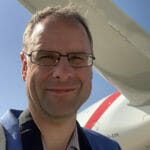 Active as a journalist since 1987, with a background in newspapers, magazines, and a regional news station, Richard has been covering commercial aviation on a freelance basis since late 2016.
Richard is contributing to AirInsight since December 2018. He also writes for Airliner World, Aviation News, Piloot & Vliegtuig, and Luchtvaartnieuws Magazine. Twitter: @rschuur_aero.