Singapore Airlines significantly reduced its losses last year, thanks to the reopening of borders in key markets and the resultant recovery in demand. Forward bookings for this summer are almost back to 2019 levels but high fuel prices and inflation are a concern, the carrier said on May 18. Singapore Airlines reduces losses thanks to VTL recovery.
For its Financial Year 2021-2022, which ended on March 31, Singapore Airlines Group reduced its net loss to $-962 million from $-4.271 billion in the previous year. This was hugely affected by the Covid crisis when SIA's operations almost came to a full stop for some time.
The operating loss was $-610 million, down from $-2.513 billion. In the second half-year, the group produced a $10 million profit which hardly offset the $-620 million loss in HY1. The group is happy with an operating cash surplus of $824 million, an improvement of $3.195 billion over last year. Expenses were up to $8.2 billion from $6.3 billion. Fuel costs more than doubled to $2.1 billion, of which $1.3 billion in HY2.
Total revenues ended at $7.615 billion, up from $3.816 billion in FY2020-2021, of which $4.788 billion between September and March. As Singapore said in February at its Q3 results presentation, the launch and expansion of Vaccinated Travel Lanes (VTL) that guaranteed quarantine-free travel between destinations was a "game-changer" and gave a boost to demand. Passenger revenues were up by 309.6 percent to $2.806 billion.
The parent airline carried 3.4 million passengers during the full year, of which 2.7 million in the second half. Revenue passenger kilometers (RPK) were 19.2 million, of which 15 million in HY2. Capacity as available seat kilometers increased by 201 percent to 58.7 million, of which 34.6 in HY2. Load factors were up to 32.6 percent, almost three times that of the previous year.
Low-cost subsidiary Scoot carried 502.000 passengers, of which 384.000 in HY2. RPKs increased to 1.5 million (2021: 221.6 million), with the second half of the year again the strongest at 1.2 million. Scoot increased ASKs to 9.8 million, of which 6.2 million in HY2. Load factors were up, but only to a low 15.5 percent.
Cargo produced record revenues
Singapore Airlines earned the most with its cargo business, which produced $4.339 billion in revenues (plus 60.2 percent) to reach a new record. Total mail and cargo carried were 1.046 billion kilograms, up from 734 million in FY2020-2021. The second half-year produced $534 million in cargo revenues, so this was evenly split between the two periods. Yields were up to $0.73 from $0.65.
SIA ended the year with $22.4 billion in equity, up $6.5 billion from March 2021. Total debt increased by $1.4 billion to $15.7 billion, which is due to the issuance of seven-year $600 million bonds in January.
In its outlook for FY2022/2023, Singapore Airlines says it is ready for ramping up its operations. It has resumed the recruitment of new cabin crew and plans to further roll out its network, which included 93 destinations on the passenger network and 100 on the cargo network by the end of March. Whereas the Covid situation looks promising and sees recovery of passenger demand, the situation remains volatile. The cargo business is expected to experience near-term volatility thanks to the conflict between Russia and Ukraine and supply chain issues in China, but both factors will keep yields at high levels. Rising fuel costs are also a great concern, with spot prices close to $150 per barrel in early May. This makes it unlikely that SIA will benefit from another hedge gain, which was $553 million last year.
On the fleet, Singapore Airlines operated 123 aircraft and seven freighters at the end of March, with Scoot 53. Singapore brought back more Airbus A380s into service and reinstated India and the combined Frankfurt-New York service on the doubledecker network In its final quarter, SIA received one Airbus A350-900 and three Boeing MAX 8s, but the latter will enter service only in June. Scoot added three A321neo's to the fleet.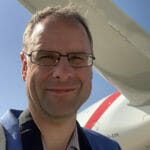 Active as a journalist since 1987, with a background in newspapers, magazines, and a regional news station, Richard has been covering commercial aviation on a freelance basis since late 2016.
Richard is contributing to AirInsight since December 2018. He also writes for Airliner World, Aviation News, Piloot & Vliegtuig, and Luchtvaartnieuws Magazine. Twitter: @rschuur_aero.