Southwest Airlines aims to reduce operating costs by $2 billion and Capex by $1 billion this year to weather the Covid-storm. Daily cash burn has been halved from $60-65 million a day to $30-35 million by the end of Q2, with additional measures studied, Southwest said on April 28 at its Q1-results presentation.
Q1 started strongly, but from February it witnessed trip cancelations at unprecedented levels as the US economy has come to a standstill, CEO Gary Kelly said. The airline ended the quarter with a $-94 million loss and revenues -17.8 percent at $4.2 billion. With bookings still very weak, capacity has been reduced by 60 percent for April and May. The flight schedule remains much reduced at least until July. Operating revenues in the two months are expected to be 90 to 95 percent below last year's levels.
Southwest ended Q1 with $5.5 billion in cash but has bolstered its cash position since then to $6.8 billion on April 24. This includes $1.6 billion coming from the Payroll Support Program, with another $1.6 billion expected in July in return for $948 million as an unsecured loan. In April, the airline also re-negotiated a $1 billion loan into a $2.3 billion facility.
At the same time, Southwest returned $639 million to shareholders through share repurchases and dividends but the remaining $899 million of the program has been suspended until further notice.
MAX-deliveries deferred
Southwest Airlines has parked 350 of its 742 aircraft, additional to the 34 MAX 8s that have been grounded since March last year. It hopes to re-introduce the type into service before October but this is only an estimate. The airline has agreed with Boeing to take delivery of not more than 27 this year and not more than 48 MAX until the end of 2021. This number is 59 lower compared to the original schedule which included 55 purchased and 16 leased MAX 8s, and 7 MAX 7s (still in the initial certification phase) for delivery this year. Of these, 40 aircraft were supposed to have been delivered in 2019 until the grounding intervened. Some 27 more have been produced since the grounding.
In 2021, 45 MAX8s were scheduled for delivery. The original plan included 380 MAX deliveries between 2020 and 2026.
If necessary more 737s (most likely the less fuel-efficient -700s) will remain in storage or will be retired.
Kelly is unable to predict the outcome of 2020: "We entered this crisis prepared with the U.S. airline industry's strongest balance sheet and most successful business model. While the impact of the pandemic is unprecedented, we believe demand for air travel will rebound."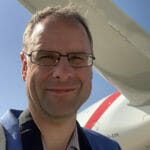 Active as a journalist since 1987, with a background in newspapers, magazines, and a regional news station, Richard has been covering commercial aviation on a freelance basis since late 2016.
Richard is contributing to AirInsight since December 2018. He also writes for Airliner World, Aviation News, Piloot & Vliegtuig, and Luchtvaartnieuws Magazine. Twitter: @rschuur_aero.