Remember Virgin Atlantic's bold plans for aggressive long-haul and short-haul growth, with aspirations to become the second national airline from London Heathrow? While they are only eight months old, you will find them somewhere in a trash bin. Hit hard by the Covid-crisis and even fighting for its survival, Virgin Atlantic on May 5 announced a drastic reduction.
Of its 10.020 staff (status 2018), Virgin Atlantic will cut 3.150 worldwide across all functions. The airline group has started consultation with unions that will last 45 days. Staff had been forced to accept 6,5 months of wage reductions earlier as the airline drastically reduced its flight schedules.
In another important step, Virgin will concentrate its activities on long-haul operations out of London Heathrow and Manchester with a simplified fleet. VA will stop operations from London Gatwick but says it will save its precious slots for better days if customer demand picks up again. For Gatwick, this is another setback, with British Airways planning to withdraw from London's second airport as well.
Hotlips to be retired
Out to will go part of the fleet. The seven Boeing 747-400s with inspiring names like 'Tinker Bell', 'Ladybird', and 'Hotlips' have been retired with immediate effect. So will be the four Airbus A330-200s with similar teasing names like 'Daydream Believer' but only by 2022. Parked earlier have been eight A340-600s.
Virgin says it will keep a fleet of 36 widebodies consisting of Airbus A330-300s, A350-1000s, and Boeing 787-9s.
Still seeking funding
The most pressing matter for Virgin Atlantic is securing additional funding. In April, the airline was reportedly seeking GBP 500 million in liquidity to survive the current crisis and applied for government aid which so far has been rejected. Founder Sir Richard Branson asked for a GBP 7.5 billion government aid program similar to the US CARES act.
He also offered to invest $250 million of his own funds secured against an island in the Bermudas. In a letter to employees in April, Branson stressed that a government loan wouldn't be free money but would be fully repaid. Like in September, the airline repeated that the UK needs a solid and healthy competitor to British Airways.
Today, Virgin says constructive negotiations with several stakeholders, including the government, are continuing. "However, to safeguard the future of the airline so it can emerge from this crisis a sustainably profitable business, further action is required." The airline plans to return to profitability by 2021 but with most airline CEO's expecting a prolonged crisis and a slow recovery this seems a bit optimistic for an airline that has been loss-making for three years.
The Virgin statement also said: "After 9/11 and the Global Financial Crisis, we took similar painful measures but fortunately many members of our team were back flying with us within a couple of years. Depending on how long the pandemic lasts and the period of time our planes are grounded for, hopefully, the same will happen this time."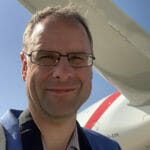 Active as a journalist since 1987, with a background in newspapers, magazines, and a regional news station, Richard has been covering commercial aviation on a freelance basis since late 2016.
Richard is contributing to AirInsight since December 2018. He also writes for Airliner World, Aviation News, Piloot & Vliegtuig, and Luchtvaartnieuws Magazine. Twitter: @rschuur_aero.