Like everyone else, we have been searching for solid evidence the recovery in air travel is coming.  Readers who read the charts in our Morning Call series will have noticed the appearance of recovery.  After an internal recovery discussion, we went digging for data and made an interesting discovery.
This University of Oxford source offers lots of granular level data.  Combining this data with our tracking of traffic and flights in the US, we found some encouraging trends.
Starting with the number of US daily flights and combining this with the Oxford number of people in the US who have been vaccinated, we get the following chart.  Isn't that a lovely trend? 

Next, using the same vaccination source, but using the number of people passing through TSA at US airports, we get the following chart.  Once again a strong upward trend with positive symmetry.


The US airlines association, A4A, published useful guidance in 2017. In 2017, 48% of Americans flew on an airline and 88% had taken a commercial flight in their lifetime.  Focusing on the former, we have a useful driver number.  In October 2020 National Geographic undertook a survey and their respondents reported "Only 13 percent of Americans surveyed in a National Geographic and Morning Consult poll say they'd be willing to fly now or before the end of the year, and another 24 percent said they would take a flight sometime in 2021. About a third of the 2,200 respondents to the poll taken earlier this week do not have a clue when they'll leave on a jet plane again, a function of the longer-than-expected pandemic pullback from normal activity."
The good news is that US residents are getting vaccinated at rising rates, which means with each passing day, the reasons not to fly are diminishing.  The following chart provides additional evidence that the worst may be behind us.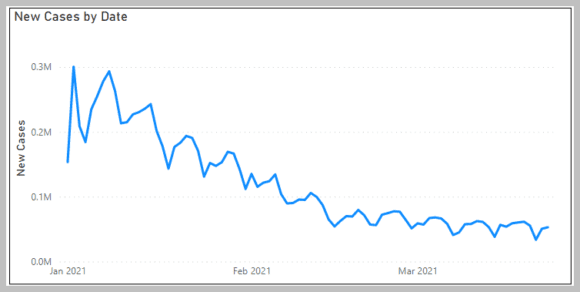 Prior to the pandemic, the US commercial aviation system moved about 2.5 million passengers per day.  We have breached the one million mark for 10 days in a row.  While that still puts us way off where we could be, consider the trends.
In the following chart, we set January 1st, 2019 as our baseline; we are still way off where we need to be. But the 2021 curve has breached the 2020 curve, and we only have traffic counts through March 23rd.  There's another week of traffic to go for the month.  This week marked the first day of over 1.5 million passengers in more than a year. The question is whether the growth in traffic is sustainable.

Here's more evidence, looking at passenger traffic with a 120-day forecast. (120-day forecast; 180-day seasonality; 95% confidence level) The red line is the 120-day forecast and it reaches the two million level in July.  Will the forecast hold true?  That depends on vaccination rates, herd immunity, and controlling the pandemic.  With vaccinations growing and fueling confidence and a return to normal conditions, we expect traffic to grow substantially as the economy rebounds from the pandemic.  Unfortunately, that rebound will not impact all demographics similarly, and significant un- and under-employment remain. The economic recovery, which is significantly impacted by perfidious politicians, is difficult to predict.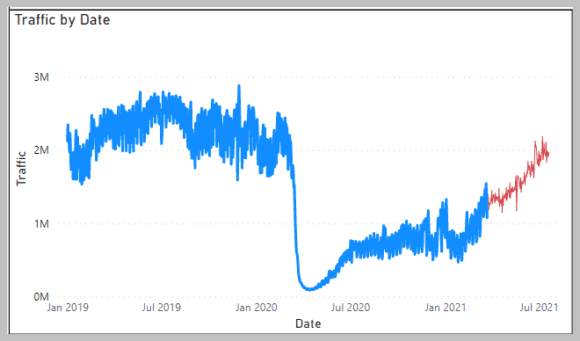 Bottom Line
It appears that domestic traffic could return to near-normal levels as early as the third quarter of 2021 if current upward trends continue.  Of course, with some borders still closed and vaccine rates much lower in Canada and Europe, full re-opening of international routes and borders to "non-essential" travel could take another year or more to return to "normal" levels.  But the recent climb in traffic is beginning to ease the fear that the recovery may not occur until 2023 or 2024, at least within the United States.
Like him or not, President Trump did fast-track vaccine development and order hundreds of millions of doses that should more than cover the needs of the entire United States population.  By fall, the US may be sending excess vaccine doses elsewhere if they cannot be utilized here.  That could help the US airline industry to be in a more favorable position to recover faster than its international counterparts.  
As of yesterday, 25% of the US population has had at least one vaccine dose, with 14% fully vaccinated.  With age limitations now lowered and additional mass vaccination centers being opened, we expect this to double over the next month, and by the end of May be at levels that typically generate herd immunity.  
There is one thing that we can be certain of – everyone wants this pandemic to end and to return to normal, which includes travel and vacations.  There is pent-up travel demand, and if unleashed, that demand could bring a faster recovery than predicted.  But as the old adage says, plan for the worst and hope for the best.  The latest data are starting to provide more hope.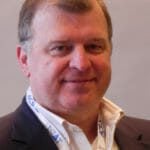 Co-Founder AirInsight. My previous life includes stints at Shell South Africa, CIC Research, and PA Consulting. Got bitten by the aviation bug and ended up an Avgeek. Then the data bug got me, making me a curious Avgeek seeking data-driven logic. Also, I appreciate conversations with smart people from whom I learn so much. Summary: I am very fortunate to work with and converse with great people.