Engine flying hours on Rolls-Royce's large commercial engines have gradually recovered in the past months but remain well-below 2019 levels as Covid-restrictions continue to impact air travel. The UK engine maker provided a trading update on December 11, anticipating a difficult and slower than expected recovery in HY1 2021 but some improvement in the second half as vaccination support the reopening of borders.
Engine Flying Hours (EFH) is a key indicator of performance and utilization. It tells the activity of the Rolls-Royce powered airliner fleet, which is all about widebodies like the Boeing 787, Airbus A330, A350, and A380. EFH directly translates into the need for maintenance, repair, and overhaul of these complicated powerplants and as such the level of earnings to be expected from Rolls' servicing agreements.
During the January-November period, EFH of the Trent-family stood at on average 42 percent compared to 2019 levels. Q2 was the low point, at just 24 percent. This has improved to 29 percent in Q3 but October and November combined were at 33 percent, giving Rolls-Royce optimism for further recovery. China is seeing the biggest recovery, with domestic flying outpacing 2019 levels in the last months.
By engine model, it is the newest and youngest generation of aircraft like the Trent XWB-powered Airbus A350 that has become the most active and is back to 2019 levels. The Trent 1000 on the Boeing 787 isn't that far behind. By contrast, the utilization rate of the older Trent 700 on the A330 is about half of that, in line with the trend that by percentage older aircraft have been grounded or retired. No details were provided on the Trent 900, but with most of the A380 fleet grounded and even retired EFH should be marginal.
Restructuring on track
The Derby-based company is on track with its restructuring and cost reduction plans. As reported earlier, Rolls-Royce wants to reduce its pre-tax cash costs by GBP 1.3 billion by the end of 2022. It expects to deliver more than GBP 1.0 billion in cost savings already this year. A large part of this has to come from its Civil Aerospace division. Out of 9.000 jobs to be reduced by the end of 2022, already 5.500 roles will have been removed by the end of this year, in large part through voluntary severance.
CEO Warren East said Rolls continues its plan to consolidate its Civil Aerospace footprint by outsourcing production. "We can't afford to maintain our production capacity when demand in the medium-term has been so dramatically reduced." The Hucknall facility, which is producing various aero-engine components, is to be integrated within Rolls-Royce subsidiary ITP Aero. The same will happen to aero-engine structures in Barnoldswick. "ITP Aero offers a more cost-competitive option than our existing structures facility in Barnoldswick. We are commencing consultation on a proposal to close the structures facility on the site." Barnoldswick will be retained for product development and technical support of wide chord fan blades as well as the manufacturing of them for both Defence and Civil Aerospace. Keep in mind that ITP Aero itself is in the midst of a restructuring plan and has been under consideration for sale for some months, but that depends on market conditions.
Rolls-Royce has successfully completed a recapitalization plan in November, bolstering its liquidity position by GBP 5 billion. Of this, GBP 2 billion has come from fresh equity, 2 billion in new bonds with maturity dates in 2026-27, and GBP 1 billion in the form of a new bank facility that remains undrawn. This gives Rolls-Royce GBP 8.5 to 9 billion in liquidity. Net debt will be between GBP 1.5 and 2 billion, excluding lease liabilities of approximately GBP 2.1 billion. Rolls-Royce expects free cash outflow of approximately GBP 4.2 billion this year but this should return to positive somewhere during the second half of 2021. The target for 2022 remains unchanged at GBP 750 million.
XWB issues still under investigation
East also gave an update on in-service engine issues, like the higher wear of the intermediate pressure compressor blades on the Trent XWB. Inspections on high-cycle engines have been completed and found wear on the first stage of IPC blades on 20 percent of inspected engines. The root cause of the issue is still under investigation. On the Trent 1000 TEN, work on the modified high-pressure turbine blade design is on track for installation by the middle of 2021. There are sufficient parts available to keep aircraft-on-ground at zero, even when the entire 787 fleet would re-enter service tomorrow.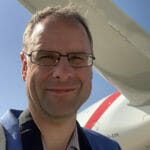 Active as a journalist since 1987, with a background in newspapers, magazines, and a regional news station, Richard has been covering commercial aviation on a freelance basis since late 2016.
Richard is contributing to AirInsight since December 2018. He also writes for Airliner World, Aviation News, Piloot & Vliegtuig, and Luchtvaartnieuws Magazine. Twitter: @rschuur_aero.