Ernest S. Arvai
One of the highlights of the MAKS Air Show in Moscow is the positive news regarding the Irkut MC-21, an all new
technology narrow body aircraft to be powered by the Pratt & Whitney Geared Turbofan for Western markets. The first PW1400G engine has already been delivered to Irkut, and the aircraft is reaching design maturity in preparation for its first flight scheduled for April 2016.
The MC-21 will also be offered with Aviadvigatel PD-14 engines, scheduled to enter service after the PW1400G.
Reports from MAKS indicate that the MC-21 will meet its initial weight goals, and that the design is now firm. Of particular interest in this design is the wing, which will be constructed from low-temperature "out of autoclave" composite materials.   Developed by a team from Irkut, AeroComposites, Diamond Aircraft and FACC, the new wing will be an industry leader in technology.
With the weight of… Continue reading →
Both Ilyushin Finance and Bombardier appear to be on the verge of coming to terms that will preserve the company's orders for 39 C Series aircraft that previously appeared in jeopardy. This is good news for both Bombardier and IFC, as the sanctions imposed by Canada precluded development bank financing. IFC's chairman Alexander Rubitsov indicated the "I'm feeling we may reach a compromise" with respect to the C Series order.
Apparently, after the C Series debut at the Paris Air Show, the attitude of private bankers shifted regarding the C Series, and banks that would not consider asset-backed financing appear to be changing their mind, after watching the CS300 fly and touring the CS100 on static display.
Marketing the aircraft outside of Russia is a new strategy for IFC, and they are hopeful of new agreements with operators before the end of this year. Both Bombardier and IFC believe that… Continue reading →
Boeing confirmed that the 777X met a key milestone on its route to entry into service in 2020, namely the firming of the aircraft configuration. This means that the basic trade-offs have been evaluated to finalize the aircraft's capabilities and design. This includes evaluating the results of wind-tunnel tests, aerodynamic performance and structural load requirements to ensure that the new aircraft will meet its range and fuel economy goals. Boeing can now confidently say that the new airplane's specifications are firm, rather than developmental, when the speak with customers.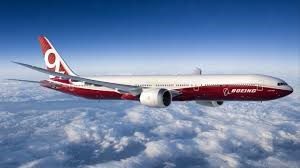 The configuration process includes Boeing working with key suppliers finalize the basic design and develop a set of performance criteria around which the aircraft will be built. The next step for the team is to begin detailed design of parts, assemblies, and systems for the aircraft, which lead to specifications and production.
One of the key improvements over the existing 777… Continue reading →
August 19th is National Aviation Day, proclaimed initially in 1939 by President Franklin Roosevelt and coinciding with the birthday of Orville Wright, who was the first to pilot the Wright Flyer. He and his brother Wilbur are given credit for building the world's first successful airplane with aircraft controls that enabled them to steer the plane.
So on a historic day, let's examine a historic feat from 60 years ago this month. Continue reading →