Ernest S. Arvai
In the aftermath of Germanwings 9525, we have learned that the crash of the aircraft was an intentional mass murder. While many questions are yet to be resolved regarding this crash, several issues emerge that need will be drawing future attention in the industry. Continue reading →
The much delayed ARJ has started test flights for launch customer Chengdu Airlines. The first two deliveries are set occur in April or May. This will be the first Chinese attempt at offering a regional airliner.
So how does their offering compare to competitive products that exist today?

The Chinese have publicly stated that they did not expect to produce a world-beating aircraft out of the box, and that the ARJ-21 was to be a learning experience. But they did expect to make an aircraft that could be competitive, given the capital cost differential, for Chinese airlines, which they have done.
The table above shows the seating is virtually identical in a typical two-class configuration. But then the other numbers come into play – the ARJ is much heavier; 16% more than the CRJ and 14.4% heavier than the E-175. This causes an interesting requirement – all three use various… Continue reading →
Rockwell Collins today introduced the ARINC Mult-Link Flight Tracking service to enable airlines to cost-effectively monitor the position of their aircraft in real-time, anywhere in the world.  The ARINC MultiLink system is different than most tracking systems in that it utilizes multiple data sources, including ADS-C, high-frequency data link (HFDL) performance data, ADS-B, US Aircraft Situational Display to Industry (ADSI) radar data, EuroControl position information, and Aircraft Communications Addressing and Reporting System (ACARS) data.  The system has also been designed to incorporate future third-party data sources in addition to the six initial sources currently utilized.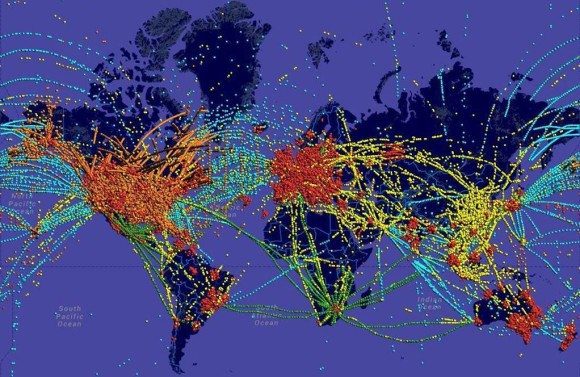 The current fracas with US airlines claiming state support for the UAE carriers has caused quite an industry kerfuffle.  We came across the following paper dated January 28 2015 which appears to be the basis of the US complaints.  Be advised it is 74 pages long in PDF format.