Ernest S. Arvai
The Big 3 US carriers began a war of words in March, with a complaint that the Gulf carriers were being unfairly subsidized and asking that Open Skies authorities be revoked.  Etihad, one of the Big 3 Gulf carriers, has responded today, releasing a study it commissioned.  That study, conducted by the London-based Risk Advisory Group, quantified government and court-sanctioned benefits and concessions received by the three largest US carriers (Delta, United and American) valued at $71,48 billion.  A summary of that study can be found here (Risk Advisory Report – US Carriers (May 14, 2015) final).
James Callahan, General Counsel and Secretary of Etihad, stated "We simply wish to highlight the fact that US carriers have been benefitting and continue to benefit from a highly favorable legal regime, such as bankruptcy protection and pension guarantees, exemptions from certain taxes, and various other benefits. … Continue reading →
Airbus Group has announced that it is bringing the first electric airplane into production, the E-Fan 2.0 through its subsidiary, Voltair. The group also announced a factory will be built in Pau, near the Spanish border, at which the aircraft will be assembled.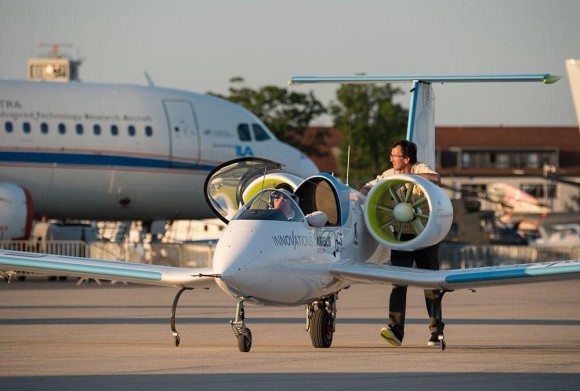 First deliveries of this innovative aircraft are scheduled for late 2017 or early 2018. The E-Fan 2.0 will be a two seat model aimed at the flight training market, with a second model, the E-Fan 4.0, a four seat touring model, on the drawing board.
The E-Fan demonstrator, shown in the photo above, has been flying since 2014, as seen here.
This comes on the heels of a recent announcement from Siemens earlier this week that they have developed a new type of electric motor for aircraft that is five times more powerful than previous generation motors. Weighing only about 100 lbs, the motor generates 260kW,… Continue reading →
American Airlines was forced to ground flights for a period earlier this week when their Electronic Flight Bag (EFB) on which pilots carry instrument approach charts, navigational data, and other aircraft information, including manuals, using an Apple iPad, rather than carrying a large suitcase of paper manuals and charts. A total of 74 of the company's 6,700 daily flights were affected before a solution could be communicated across the airline. The use of iPads by pilots as Electronic Flight Bags was implemented at American in 2013 and is estimated to save $1.2 million annually through lower weight and fuel bills.
American uses standard iPads with a third party application to manage the data and updates of that data. Pilots connect their iPads to a centralized system to download updated charts, replacing the tedious process of manually updating and replacing paper charts in notebooks and ensuring that everything is up to… Continue reading →