Ernest S. Arvai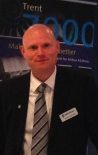 The Rolls-Royce Trent 7000 engine for the Airbus A330neo is an all new power plant, and will by the 7th variant in the Trent series.  We spoke with Richard Goodhead, Vice President of Customer Marketing, to obtain additional details about the new engine.
The Trent 7000 will offer the same thrust as the Trent 700, the leading engine on the A330ceo models, but will be a totally new design.  Based largely on architecture of the Trent 1000-TEN used on the Boeing 787, with additional technology from the Trent XWB used on the A350, the Trent 7000 will offer an 11% improvement in fuel burn per seat on the new aircraft.  Combined with aerodynamic and other improvements to the aircraft, the A330-neo will achieve a 12% reduction in trip fuel and a 14% reduction in fuel per seat. Continue reading →
Activity slowed at FAS, as it typically does by the third day of an air show, but there was good transaction volume for the major players.
Airbus had an MOU for 6 A350-900s for Air Mauritius, breaking the dry spell for the A350. This is for four orders and two leased aircraft. Qatar will be seeking compensation for the A380 delivery delay.
ATR received an order from Myanma Airlines for 6+6 ATR-72-600s.
Boeing received confirmation of the 50+50 Qatar 777-9 MOU placed at Dubai, converting 50 to firm. Qatar also announced the intent to order four 777F, with options for an additional four. They also announced an order for two 787-9 from MG Aviation (a leasing company, operators of Arkia Israeli airlines), bringing their total to four. Hainan Airways announced a commitment for 50 737MAX8s. This brings the MAX total to 2,100 orders to date. (By comparison, the A320neo is… Continue reading →
Day Two at Farnborough continued with additional announcements of new orders from the major industry players, as well as briefings by senior executives.  We've captured some interesting interviews today that will be posted as they are processed and uploaded from an internet connection that is a bit slower than we're accustomed to.  Please bear with us on while we're on the road. Continue reading →
Mark Pearman Wright is Head of Corporate & Investor Marketing – Customer Affairs at Airbus, and comments on the A330neo and A350 economics vis-a-vis Boeing 787.