Ernest S. Arvai
Airbus Group has announced that it is bringing the first electric airplane into production, the E-Fan 2.0 through its subsidiary, Voltair. The group also announced a factory will be built in Pau, near the Spanish border, at which the aircraft will be assembled.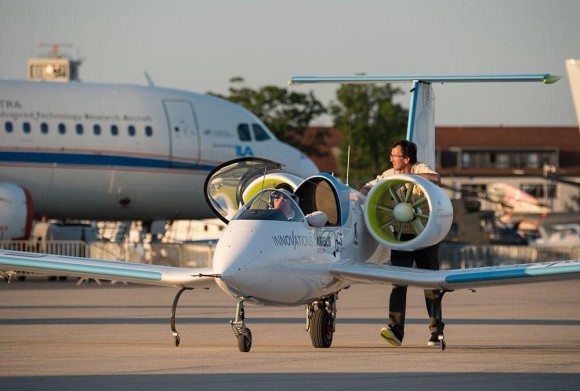 First deliveries of this innovative aircraft are scheduled for late 2017 or early 2018. The E-Fan 2.0 will be a two seat model aimed at the flight training market, with a second model, the E-Fan 4.0, a four seat touring model, on the drawing board.
The E-Fan demonstrator, shown in the photo above, has been flying since 2014, as seen here.
This comes on the heels of a recent announcement from Siemens earlier this week that they have developed a new type of electric motor for aircraft that is five times more powerful than previous generation motors. Weighing only about 100 lbs, the motor generates 260kW,… Continue reading →
American Airlines was forced to ground flights for a period earlier this week when their Electronic Flight Bag (EFB) on which pilots carry instrument approach charts, navigational data, and other aircraft information, including manuals, using an Apple iPad, rather than carrying a large suitcase of paper manuals and charts. A total of 74 of the company's 6,700 daily flights were affected before a solution could be communicated across the airline. The use of iPads by pilots as Electronic Flight Bags was implemented at American in 2013 and is estimated to save $1.2 million annually through lower weight and fuel bills.
American uses standard iPads with a third party application to manage the data and updates of that data. Pilots connect their iPads to a centralized system to download updated charts, replacing the tedious process of manually updating and replacing paper charts in notebooks and ensuring that everything is up to… Continue reading →
Last week, Harry Nelson, former Vice President of Airbus flight test department, warned about pilots relying too much on automation, and that airlines need to better train their flight crews who may have become complacent and may not be capable of adequately manually flying the aircraft should automation fail.
The crash of Asiana Airlines flight 214 in San Francisco in 2013 was a clear example of a flight crew that lost competence through over-reliance on automation.  Asiana's standard procedures for a pilot are to switch on autopilot shortly after takeoff, and utilize the auto landing systems coupled to airport instrument landing systems at airports for landings.  The day of the crash, the ILS was under repair at SFO, but since the weather was clear, visual landings could easily be undertaken.  Every other flight that day had no problems, but the Asiana crew, less accustomed to manually landing… Continue reading →
Mitsubishi Heavy Industry announced a first flight delay for the MRJ, and that it has launched a new management structure to facilitate the transition of the MRJ program from the development phase to manufacturing phase of development.  In addition to the management changes, the company has relocated its complete head office functions to the Nagoya Airport Terminal Building, adjacent to the manufacturing and test facilities, to improve efficiency and oversight.
The company reported that progress on the development of the aircraft is moving forward, with static strength testing and the manufacturing of a second aircraft proceeding smoothly.  However, the timing of the first flight has been pushed back to September or October in order to incorporate the results of various ground tests and feedback from those tests into the flight test aircraft.
Once those changes are made, the company expects to enter a more intensive flight test program… Continue reading →