Ernest S. Arvai
Airbus has received EASA certification for the A350, which is now approved for flight.  The first delivery to Qatar Airways is scheduled for the fourth quarter of this year.  The A350 program had a much smoother development process than 787 or A380, and it appears that Airbus has learned from the experiences from previous programs in delivering the aircraft on schedule.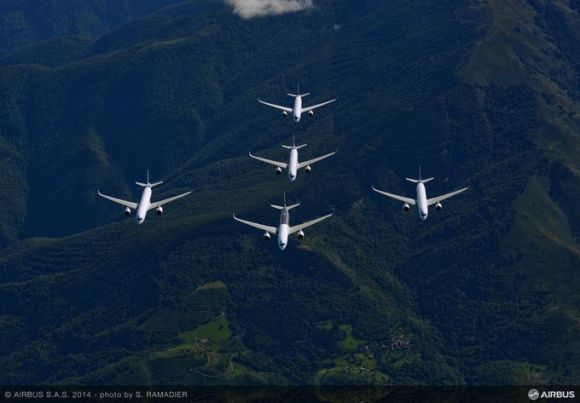 Although it is a boost for CEO Fabrice Bregier, we think it is an even prouder moment for program chief Didier Evrard .  Look at the delays of recent new aircraft programs, and it is clear that Airbus' team did exceptionally well to have so few delays. The program looks to be the best EIS of any current development program. Remember this is a clean sheet design, not a derivative.
The program was managed by Evrard – and he managed it differently by taking a delay… Continue reading →
Macquarie AirFinance has placed an order for 40 CSeries aircraft, with options for an additional 10, providing a boost to the program.  All of the orders are for the larger CS300 model, with deliveries scheduled between 2017 and 2019.  This increases firm orders for the CSeries to 243, with 563 total commitments including options and purchase rights, and the company is approach its goal of 300 firm orders upon entry into service.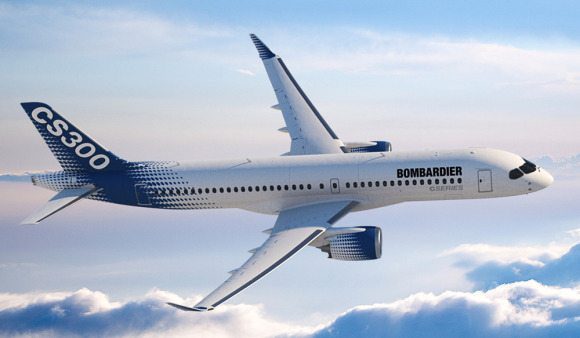 The selection of the CSeries by a leasing company is significant, as it indicates that the aircraft finance community also perceives a strong market for the aircraft.  Macquarie is the third leasing company selecting the aircraft, joining LCI and Ilyushin Finance.  Macquarie AirFinance currently manages 136 jet aircraft leased to 73 operators in 43 countries across six continents.
Stephen Cook, Chairman of Macquarie AirFinance, said "We welcome the addition of Bombardier's CS300 to… Continue reading →
The first flight of the A320neo, powered by the Pratt & Whitney PW1100G-JM geared turbofan, took place this morning in Toulouse.  The first flight lasted 2 hours and 22 minutes, and was hailed as successful.
Airbus currently has firm orders for 49 A319neo, 2,484 A320neo, and 724 A321neo models, a total of 3,257 aircraft.  In addition, it holds 1,105 options and 31 aircraft with a memorandum of understanding that brings the program total commitments to 4,393 as of today.  The aircraft is scheduled to enter service with Qatar Airways in October, 2015.
New engine technology, combined with improvements in aerodynamics, enable the A320neo family to reduce fuel burn by 16% initially, and up to 18% over existing models with the PW1100G-JM Advantage engine that will be available starting in 2019.  Given the order backlog, new orders would likely be for the improved engine option,… Continue reading →
We now clearly see the future, and it looks increasingly uncomfortable!
Ryanair today announced a launch order for 100 firm, and 100 options for the new Boeing 737-MAX200, which will be a 737-8 fuselage with an additional exit door to enable the accommodation of 200 passengers.  This represents an 11 seat gain over the current 737-MAX8 model that accommodates 189 passengers at its exit limit seating capacity.  The increase from 189 to 200 provides a 5.8% increase in maximum seating capacity, and a similar improvement in seat-mile costs, without a change to the existing cabin size.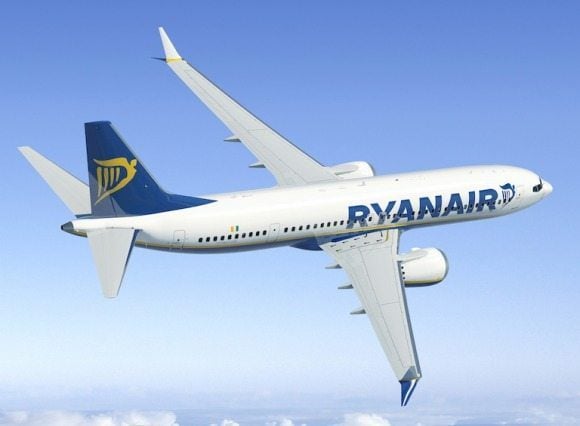 Typically, the 737-8 is configured for 162 passengers in two class and 175 passengers in single class configuration for most airlines, with tighter pitch and more dense seating for low cost carriers such as Ryanair.  This increase in density will require a further reduction in room between rows for passengers, albeit… Continue reading →