Aerospace
Britain, which by not adopting the Euro and not participating in the Schengen travel zone, was the most independent member of the EU, has voted to invoke Article 50 of the Lisbon Treaty and leave the EU.  This certainly provides some uncertainty in the near term, as Britain will now need to make arrangements for economic and trade relationships bi-laterally, as they once were.  This certainly shouldn't become a problem, and Britain may, like Switzerland, be able to reach a free trade agreement with the EU without becoming a member.
Of course, there may be some short-term panic regarding the potential implications of Brexit, driven by speculation and fear-mongering, in the near and long-term, there shouldn't be a substantial impact on aviation.  Rolls-Royce will still be the sole provider of engines for the A350 and A330neo, as there are simply no alternatives in the near-term, and it… Continue reading →
A mission to bring a sick worker at the Amudsen-Scott South Pole Station back from Antarctica for medical treatment was successful concluded. That patient, and another patient that while not in as serious condition was also evacuated to mitigate risk, arrived safely in Chile for medical treatment unavailable at the research station.
The aircraft used to complete this risky flight were DeHavilland Twin Otters, which are powered by the legendary Pratt & Whitney Canada PT6 turboprop engines.  The aircraft were fitted with skis to land on the unimproved runway, where special precautions were taken during the long South Pole winter that provides complete darkness from March to September, and temperatures can reach 70 degrees below zero.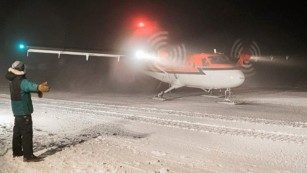 One Twin Otter remained at the Rothera British base 1,500 miles away from the pole on the Antarctic peninsula while the other flew the rescue mission.  The reserve aircraft was there in… Continue reading →
Recently, Airbus Group and Siemens signed an agreement in which they agreed to collaborate on hybrid electric propulsion systems.   This is ground breaking, but should be seen in context – Airbus has been prominently displaying its tiny electric powered E-Fan aircraft at air shows for some time.  In the noise and roar at air shows, this silent flier is easily ignored as it is not heard.  But Airbus clearly has been thinking about this concept for some time.
The item that caught our attention was this: Tom Enders, CEO of Airbus Group said "We believe that by 2030 passenger aircraft below 100 seats could be propelled by hybrid propulsion systems and we are determined to explore this possibility together with world-class partners like Siemens."
This is a level of detail that has not been disclosed before.  It prompted a number of questions which we sent… Continue reading →
Viking Aircraft, which currently produces the Twin Otter, has acquired the type certificate and production rights to the CL-415 Water-Bomber from Bombardier, as well as the aftermarket rights and type certificates for the earlier CL-215 and CL-215T water-bombers.  This is an ideal fit for Viking, which earlier acquired the rights for multiple de Havilland models from Bombardier, ranging from the DH-1 Chipmunk to the DH-7 STOL commuter aircraft.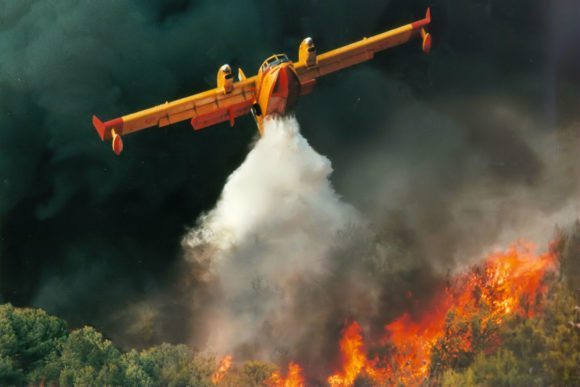 Currently, Viking produces the Twin Otter 400 and has delivered more than 100 aircraft to 29 countries since launching that model in 2007.  Can it do the same with the water-bomber?
There is certainly a need for water-bombers, as forest fires continue to erupt annually in North America during the summer, and Australia during their summer.  The advantage of the water-bomber is that it can quickly re-load by "scooping" water from a river or lake, mix that water with… Continue reading →
Base2 Solutions has developed a software solution that will speed up 737MAX operators' ability to turn their airplane even as it monitors 6,000 sensors.