Aerospace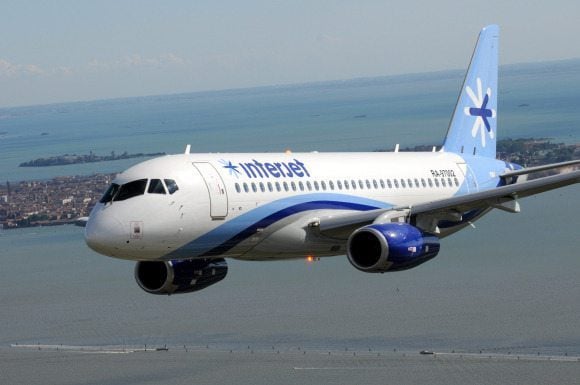 Superjet celebrates its first anniversary of operations with Interjet. On September 18, 2013 the first SSJ100 entered into service with the Mexican airline.
Up to the anniversary date, Interjet's fleet logged over than 12,000 flight hours and 11,400 cycles. The maximum utilization in one day was over 11 flight hours.  Since EIS Interjet's SSJ100  fleet confirmed outstanding results in terms of performance in the typical high-altitude environment of Mexico.  According to the airline's operational reliability report, the SSJ100 reports technical dispatch reliability at an average 99%. Over the year of operations, the SSJ100 fleet has not logged any cancellations due to technical reasons.
The fleet time leader is the first delivered SSJ100 (MSN 95023), which logged more than 2400 FH and 2300 FC starting from the EIS in September 18, 2013.  Interjet has ordered 20 SSJ100s plus 10 options in the basic version with a 93-seats.… Continue reading →
Airbus has received EASA certification for the A350, which is now approved for flight.  The first delivery to Qatar Airways is scheduled for the fourth quarter of this year.  The A350 program had a much smoother development process than 787 or A380, and it appears that Airbus has learned from the experiences from previous programs in delivering the aircraft on schedule.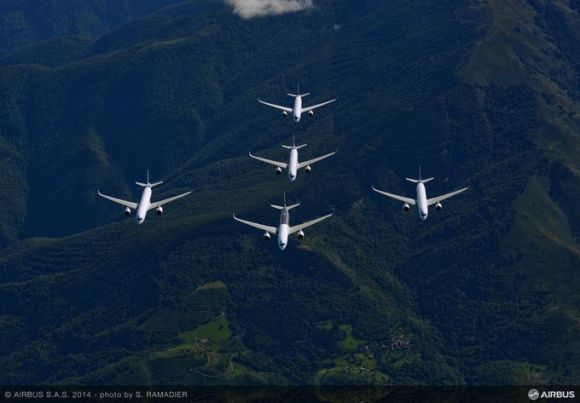 Although it is a boost for CEO Fabrice Bregier, we think it is an even prouder moment for program chief Didier Evrard .  Look at the delays of recent new aircraft programs, and it is clear that Airbus' team did exceptionally well to have so few delays. The program looks to be the best EIS of any current development program. Remember this is a clean sheet design, not a derivative.
The program was managed by Evrard – and he managed it differently by taking a delay… Continue reading →
Two videos and one airplane.
First video the aircraft with winglets and the "pre-NEO" engine. Engine noise at about 30 seconds.

Second video the same aircraft with the "NEO" engine. Engine noise at about 1:30.  Drama sound track aside, almost certainly the quietest single aisle Airbus has ever flown.  Airbus offers these videos: uncut takeoff and uncut landing  – it is very quiet.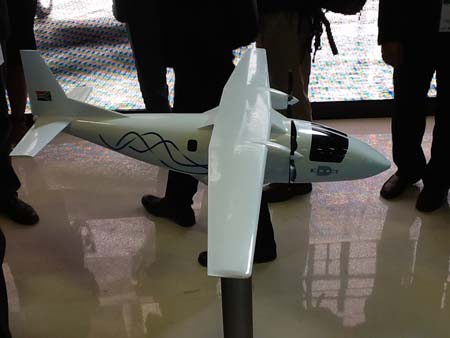 South Africa's Denel Aerostructures is a business that traces its aviation experience back 60 years.  And yet you may not have heard of the company.
Recently at the 2014 Africa Aerospace and Defence event, Denel announced plans to develop a small turboprop for commercial use.  The model on the left is what is currently the vision of the aircraft. 
The idea is to create an aircraft with seating for up to 24 people with cargo and use it for hub feeding in African markets, but more especially to offer point to point services between tertiary communities and avoiding hubs.  Depending on configuration the aircraft is expected to be able to handle routes between 400 and 1,400 NM.
We spent some time this morning speaking with Mr Ismail Dockrat, CEO of Denel discussing their ideas.
Macquarie AirFinance has placed an order for 40 CSeries aircraft, with options for an additional 10, providing a boost to the program.  All of the orders are for the larger CS300 model, with deliveries scheduled between 2017 and 2019.  This increases firm orders for the CSeries to 243, with 563 total commitments including options and purchase rights, and the company is approach its goal of 300 firm orders upon entry into service.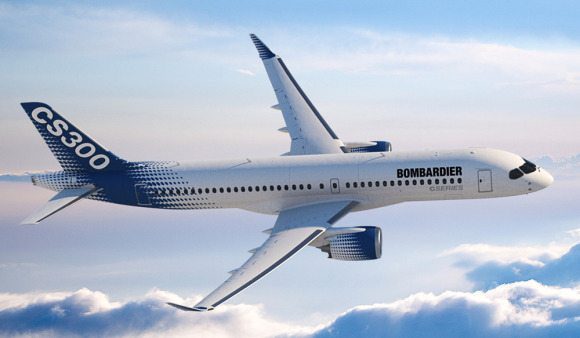 The selection of the CSeries by a leasing company is significant, as it indicates that the aircraft finance community also perceives a strong market for the aircraft.  Macquarie is the third leasing company selecting the aircraft, joining LCI and Ilyushin Finance.  Macquarie AirFinance currently manages 136 jet aircraft leased to 73 operators in 43 countries across six continents.
Stephen Cook, Chairman of Macquarie AirFinance, said "We welcome the addition of Bombardier's CS300 to… Continue reading →