Aerospace
Last year the first Airbus Market Survey in Latin America provided valuable insights on how airline executives in the region perceive market evolutions and fleet requirements.  Airbus has just launched their 2014 Airbus Market Survey in Latin America.
In the 2013 results Airbus discovered that:
Intra-regional connections was the top long term network development opportunity
The market has a "very optimistic near-term outlook"
Criteria for new aircraft is driven by fuel burn, revenue generation ability and fleet rationalization
Airlines need to see savings of 15% to transition to same generation and 25% to transition to next generation
Best age to replace aircraft is between 8-12 years or a 15-20% cost improvement
With that backdrop, let's look at this market.  The table shows the regional fleet earlier this year.  Over 77% of the fleet is narrow body (single aisle).  This is why the intra-regional market shows up… Continue reading →
Rumors about a Boeing 757 replacement from Airbus have been swirling for months.  Many industry followers have been discussing the Boeing 757 replacement "gap" – because the aircraft OEMs today tout as replacements, the A321neo and 737MAX9, don't quite meet the bar.
The Boeing 757 is a special aircraft with unique payload/range capabilities.  The way the aircraft is used today is quite different than what was envisaged at EIS.  The capability to operate long thin routes enables it to develop new markets, connecting secondary cities in the US with the same in Europe or South America.
Airbus shared with us that their design concept and it consists of the following key data points:
True transatlantic range (100NM more range than 757-200w)
Similar seat count to 757 but with true long range comfort. Lie flat bed business class and 18″ wide economy comfort.
25% lower cost per seat… Continue reading
Hello world! The man under the engine provides some scale. This is a big airplane.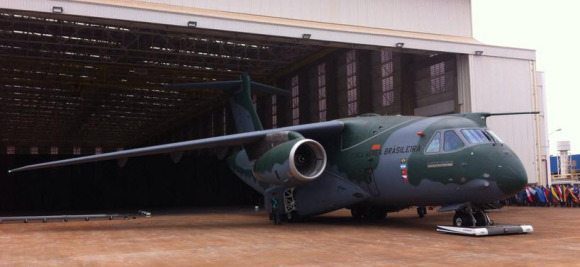 The prototype is expected to make its maiden flight soon. First deliveries are expected from late 2016.
Launched in 2009, the KC-390 is planned as a replacement of the C-130 with the Brazilian Air Force.   The aircraft f
eatures fly by wire controls and IAE V2500-A5 engines.  The KC-390
can carry up to 23 tons of equipment, 80 personnel, 64 paratroopers or 74 stretchers.
Brazil has ordered 28, while there is interest from 
Argentina (6), Chile (6), Colombia (12), Portugal (6) and the Czech Republic (2).

To the beat of traditional Japanese taiko drummers, Mitsubishi rolled in their new MRJ. About 3 1/2 years behind schedule, the aircraft apparently has been noted for high quality workmanship already.  Mitsubishi is building 78- and 92-seat versions  developed at a cost it estimates at $1.7bn. The company plans to conduct a first flight in June, with the larger model available first. Continue reading →
A story out today might lead readers to think a CSeries order from Austrian is imminent.  Its not.
We contacted Austrian and we were told "I am pleased to confirm that we achieved a framework-agreement with our workers council, so now we can be optimistic about the future of Austrian Airlines – including  some thoughts on the fleet modernization. Currently there is neither a decision made regarding the model nor to the number of aircraft."  Of course you would expect the airline to say this until things are official.
But we were advised by a contact within parent company Lufthansa "…there is nothing to really talk about; don't know where the rumour originated because there are many things to be done first."
The Bottom Line:  It could happen, but it isn't there yet.  The competition between CSeries and E2Jets is still ongoing.