Aerospace
Notes from a conversation with an senior engineer at a large airline (Part 1):
Foldable wingtips have been seen in military aviation for a long time and the reason to have such a mechanism is the same on the military and civil side: Minimize the wingspan and space used while taxiing and parked. Boeing has already got the experience of foldable wingtips with its F/A-18 Hornet and the planned introduction of foldable wingtips on the 777-200. Boeing's challenge will be a blend of proven technologies and new technologies to save weight and maintenance costs while aiming for high reliability and redundancy. Hence, the mechanical principle will remain the same for the 777-X and some of the components for the foldable wingtips are already used in aircraft construction such as actuators or the folding gear. However the combination of parts for the 777-X will differ from former systems.
Currently Boeing is… Continue reading →
Passengers flying these sub-100 seat aircraft are immediately able to sense the limited space as they enter the cabin.  OEMs have to compromise to get in the seating airlines want and fit this into a tube whose dimensions must be light and safe.  Comfort is not truly the primary requirement, since flights typically are under 90 minutes and passengers have to deal with it for only a short time.  Continue reading →
With all the excitement around the first fight of the CS300, many may have forgotten about the other test flight program underway in Toulouse.  Airbus' A320neo took off January for some upgrades and was back in the sky in February.
Even though February is a short month, the accumulated hours are considerably lower than what had been added earlier.  Three days into March, and the program accumulated another near seven hours. Continue reading →
COMAC has nearly completed the basic assembly of its C919 prototype, Chinese media are reporting. This picture released by Pudong Times shows the C919 prototype on the final assembly line.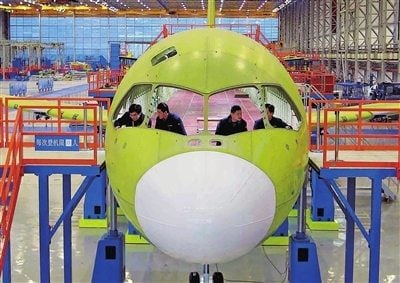 The engines, avionics, flight control and hydraulics systems have yet to be installed. COMAC started final assembly of its C919 prototype in September 2014 and believes its on track to complete final assembly in the second half of 2015.
The C919 will accommodate up to 160 passengers and make its maiden flight by the end of this year, with delivery scheduled in 2017 COMAC has said.  To date, COMAC has secured 450 orders for the C919 from 18 customers.
It seems the program is now at last developing the momentum observers have been waiting for.  The fleet accumulated 160 hours last month -a shade less than the previous month.  Notice how much more FTV3 was deployed last month. FTV3 is dedicated to electrical and avionics testing. Continue reading →