Aerospace
Visiting EAA's AirVenture gathering in Oshkosh, Wisconsin is both a treat and an amazing experience. Especially doing so after having just been to Farnborough. The contrast is tremendous. At Farnborough the place is full of professional avgeeks.   Aviation is something that people outside the industry cannot understand. People inside the industry have a passion about the business. At EAA that passion reaches a new level. There only a few professional avgeeks, here the majority are not professional and many fly their own aircraft to the event. People camp under the wings of their planes. People seem to camp everywhere and anywhere they find space. This may be the Woodstock of aviation.
At the show this year there are the usual OEMs showing off their aircraft. Pilatus had their line, Textron had the piston and turboprop aircraft, EPIC had their sleek turboprop, Piper also had piston and turboprops, Daher… Continue reading →
OneAviation, which produces the Eclipse very light jet and is developing the Kestrel single-engine turboprop, has announced significant upgrades to the Eclipse 550.  The new model, code-named Project Canada, represents a significant improvement to the current model.
The new model provides upgraded Pratt & Whitney Canada 615 engines with 1,460 lbs thrust each, a 56 inch extension to the wing, 70 gallons additional fuel, and a significant improvement in performance.  The aircraft will have 13% more wing area than the Eclipse 550.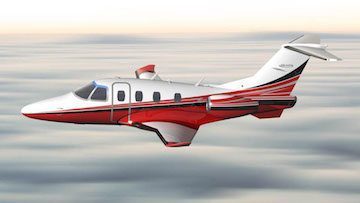 With 70 gallons of additional fuel, the wing root is extended by 28 inches on each side to accommodate it, and the existing tip tanks are eliminated.  This increases MTOW to 6,800 lbs from the current 6,000 lbs.  The horizontal stabilizer is also lengthened to accommodate the additional weight.
The cockpit will also be upgraded to the Garmin G3000 avionics suite, which offers a… Continue reading →
Textron Aviation introduced their new single-engine turboprop at the EAA AirVenture in Oshkosh today.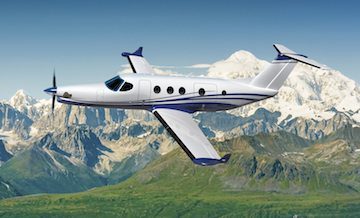 The Cessna Denali is designed to be a game changer in the single-engine turboprop market.  The Denali will have a cruise speed of 285 kts, a full fuel payload of 1,100 lbs, and a range of 1,600nm at high speed cruise with a pilot and 4 passengers.  "The clean-sheet Denali is being designed to outperform its competition in capability, pilot interface, and ownership costs" said Kriya Short, Senior Vice President, Marketing and Sales for Textron Aviation.
The aircraft will be the first application for the all-new General Electric Advanced Turboprop engine, which features a single-lever control.  This 1,240 shaft horsepower turboprop will be FADEC equipped and mate to a 105-inch diameter composite 5-blade, constant speed propeller from MaCauley.  That propeller is fully feathering with reversible pitch and ice protection.  The engine… Continue reading →
The sports teams market is small but unique segment of commercial aviation.  Professional sports teams typically charter airliners configured in first-class seating to fly between events.  Some teams even own their own aircraft.
Historically, the Brooklyn/ Los Angeles Dodgers were early adopters of aircraft, although they currently don't operate their own aircraft.  Over the years, they utilized a DC-3, DC-6, Lockheed Electra and a Boeing 720B.  Today they charter from United,  A few other sports teams, like the Detroit Tigers and Red Wings share a DC-9.   The NBA has a contract to transport 27 of its 30 team with Delta Air Lines, who have first class seats and added legroom to accommodate the tall players in comfort.
Until recently, there has been no aircraft manufacturer specifically designing an aircraft for sports team use.  Sukhoi, with its SportsJet, will utilize a variation of the… Continue reading →
Ethiopian Airlines, in it's 70th year of operation, is fulfilling its company motto: "The New Spirit of Africa".
It is the first African airline (and second Star Alliance airline), to receive an Airbus A350XWB (on lease from the AerCap). With the delivery on 29th June 2016, Ethiopian Airlines has one of the youngest average age fleets in Africa.
As part of its pilot training. roll-out and press tour, Ethiopian Airlines revised its planned A350 operations. The A350 operations to Lagos are temporary suspend. From 15 July 2016 to 25 July 2016, planned day-time A350 operations are: