Aerospace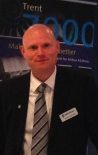 The Rolls-Royce Trent 7000 engine for the Airbus A330neo is an all new power plant, and will by the 7th variant in the Trent series.  We spoke with Richard Goodhead, Vice President of Customer Marketing, to obtain additional details about the new engine.
The Trent 7000 will offer the same thrust as the Trent 700, the leading engine on the A330ceo models, but will be a totally new design.  Based largely on architecture of the Trent 1000-TEN used on the Boeing 787, with additional technology from the Trent XWB used on the A350, the Trent 7000 will offer an 11% improvement in fuel burn per seat on the new aircraft.  Combined with aerodynamic and other improvements to the aircraft, the A330-neo will achieve a 12% reduction in trip fuel and a 14% reduction in fuel per seat. Continue reading →
After this week's A330neo, one might assume that Airbus is taking another leaf out of the Boeing playbook – sticking with one engine maker.  What GE is to Boeing may be starting to look like what Rolls-Royce is to Airbus.   With the foreseeable future in aviation looking like being filled with "MAX" and "neo" solutions, the obvious question is the A380neo.
Earlier this week Aviation Week put out a story that Airbus might be looking into this next year.  Since the primary pressure on the A380neo comes from the largest customer, of course Airbus will give the matter attention.  Even so, Emirates' CEO has also said that absent an A380neo, they will keep taking delivery of the current version because it does the job better than anything else.
Which brings us to the the most obvious item for a "neo" – the engine.  Emirates'… Continue reading →
On Sunday we heard Boeing talk about the "failed" A350 in light of the imminent A330neo's arrival.  Then on Monday Airbus respond with an announcement of its intent to offer the A330neo, and go announce 105 orders. It also scored a few more A350 orders.
At airshows its expected that these two firms poke fun at each other.  The audience laps it up.
So what's wrong with the idea of an A330neo anyway?  Turns out that its nothing special; its just an airplane updated with a new wing and engines along with some other technology tweaks.   Just like the 737 MAX, the 777 MAX and the 747-8 MAX.
But for the banter, airshows would be a lot less fun.