Airbus
Reports in the press have confirmed that Lufthansa is looking into setting up a low-cost long-haul operation. Given the Lufthansa brand, one would be hard pressed to visualize an LCC version under the Lufthansa name.  But people felt the same about Singapore Airlines, and yet its LCC operation called Scoot is doing fine.
Many details have yet to be finalized and announced, but we have managed to obtain some insight into  the company's current thinking.
It turns out that the company was not in quite as robust a condition as the new CEO, Carsten Spohr, was led to believe. A profit warning recently sent the shares downward by around 30%.   The market reaction is rational, because it was thought the cost cutting exercise at Lufthansa was making good progress.  But,  as most senior executives know, there is a limit to how much… Continue reading →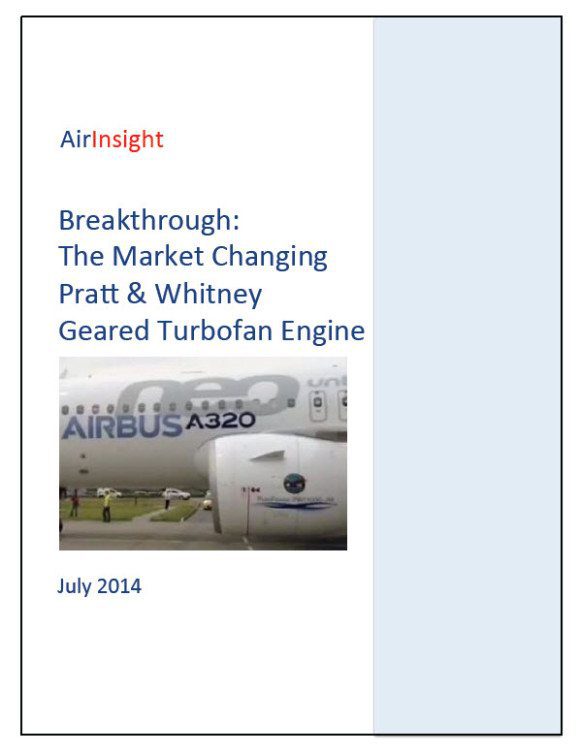 Our latest report is on the Pratt & Whitney Geared Fan Engine. Available for $199.

[UPDATE: Bloomberg News]
Today's Skymark news about its cancelled order at first glance looks like very bad news for Airbus.  Clearly the cancellation is disruptive for Airbus, but they must have reached the end of their patience.  Skymark has made $255m in payments so far, but cannot secure the rest of the finance to pay for the aircraft on order.
So now what?  Actually the situation Airbus faces may not look as bad as it seems.  Firstly Airbus has known about the Skymark situation for some time.  Since Airbus terminated the deal, it would seem they have the upper hand. After all they say  "Airbus is reserving all its rights and remedies" and they have $255m banked.
Moreover, the Airbus sales team have no doubt already identified potential customers for two "bargain" A380s.  There are reports British Airways is extremely pleased with… Continue reading →