Airbus
Last week, Harry Nelson, former Vice President of Airbus flight test department, warned about pilots relying too much on automation, and that airlines need to better train their flight crews who may have become complacent and may not be capable of adequately manually flying the aircraft should automation fail.
The crash of Asiana Airlines flight 214 in San Francisco in 2013 was a clear example of a flight crew that lost competence through over-reliance on automation.  Asiana's standard procedures for a pilot are to switch on autopilot shortly after takeoff, and utilize the auto landing systems coupled to airport instrument landing systems at airports for landings.  The day of the crash, the ILS was under repair at SFO, but since the weather was clear, visual landings could easily be undertaken.  Every other flight that day had no problems, but the Asiana crew, less accustomed to manually landing… Continue reading →
The US airline fleet has been remarkably stable since 2000 in terms of narrow and wide body aircraft.  Wide body aircraft have typically accounted for under 15% of the jet fleet for many years.  Continue reading →
The 180-200 seats segment is getting the attention of Boeing and Airbus.  It is growing fast as airlines up-gauge their narrow-body fleets and 757s retire.  The chart below illustrates the growth in this segment, with the fleet of about 600 aircraft in 2000 doubling by 2014.  And who is winning this segment's competition? Airbus and its A321.  Boeing used to own this segment with its 757.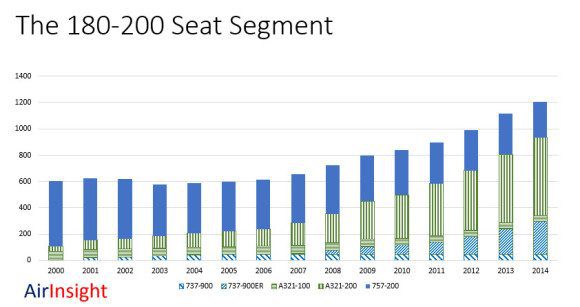 Airbus has seen its share of the segment rise from 17% in 2000 to 53% in 2014.  Given that the A321neo is comfortably outselling the 9MAX, this is likely to continue in the near and medium term.
However, one should not assume that this success is going unnoticed in Seattle.  Even as Airbus offers an A321LR – seemingly surrounding this segment with options – Boeing is almost certainly going to respond.
The question is when,… Continue reading →
The middle of the narrow-body market is changing, as it has been for many years. We define the narrow-body as single aisle aircraft over 100 seats, relegating those under 100 seats to the regional jet market. While the middle of the single aisle market ranges between 150 and 160 today, there is a trend towards larger aircraft, and the next generation of narrow-bodies will likely be optimized for between 180 to 200 seats.
Today, with many Boeing 757s approaching retirement, Airbus and Boeing are positioning their A321LR and 737-9MAX models as potential replacements, although neither has the capacity or range of the 757.
How has the middle of the market changed? It has grown steadily since wide-bodies replaced intercontinental narrow-bodies, and has continued to steadily climb over the last decade. The following chart shows the average number of seats for the US-based Airbus and Boeing single aisle fleet from 2000-2014.
Airbus announced its 1Q15 numbers today and they look weak. Airbus delivered 134 aircraft in the first quarter and took orders for 102 net aircraft, representing a 32 aircraft shrink in backlog. This contrasts with Boeing, which delivered 184 aircraft in the first quarter and received orders for 110 aircraft, a backlog drop of 74 aircraft. Is the order bubble in narrow-body aircraft, just as Boeing and Airbus plan to ramp production rates? Continue reading →