Airbus
AirInsight has released its latest in-depth report on the Bombardier CSeries program.  The report consists of 55 pages of analysis and charts.  A significant portion of the report is focused on the history since our previous 2012 report.   The report explains the path Bombardier worked through to achieve its EIS and how it is planning to continue recovering momentum.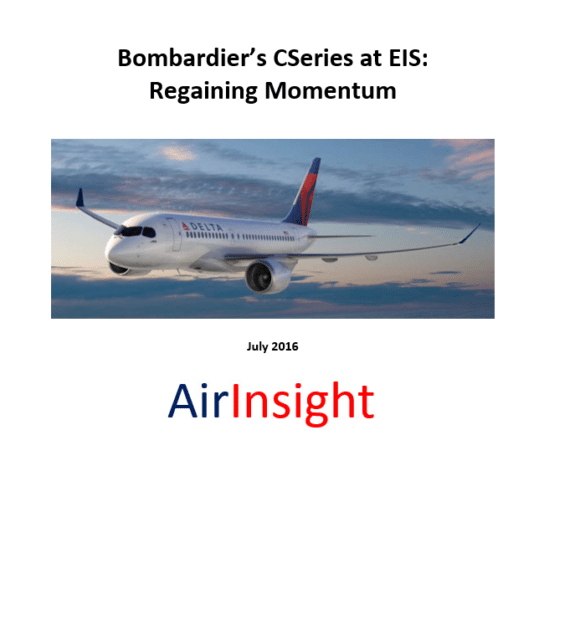 For your copy, please email us.  The report sells for $750.
We note with interest that there is news about doubts Iran Air will take delivery of those A380s.  The Airbus order has yet to be formally completed.  We have also heard the deal on the A380 is unlikely to be completed.
Iran's decision on the A380 may have been a deal sweetener for both sides.  But there is a big risk for the airline to acquire an aircraft this size.  Iran Air has to re-enter the market and attract traffic.  The airline has ambitions to turn Tehran into a regional hub like Dubai, Abu Dhabi and Doha.  For Tehran to reach the same levels as these hubs is a long way off. Almost certainly longer than the five years when the A380s are meant to come on stream.
Iran does have a far larger O&D potential than the three regional hubs because it is… Continue reading →
Recently, Airbus Group and Siemens signed an agreement in which they agreed to collaborate on hybrid electric propulsion systems.   This is ground breaking, but should be seen in context – Airbus has been prominently displaying its tiny electric powered E-Fan aircraft at air shows for some time.  In the noise and roar at air shows, this silent flier is easily ignored as it is not heard.  But Airbus clearly has been thinking about this concept for some time.
The item that caught our attention was this: Tom Enders, CEO of Airbus Group said "We believe that by 2030 passenger aircraft below 100 seats could be propelled by hybrid propulsion systems and we are determined to explore this possibility together with world-class partners like Siemens."
This is a level of detail that has not been disclosed before.  It prompted a number of questions which we sent… Continue reading →
As of the end of 1Q16 there were 1,660 active commercial aircraft in the Middle East.  Of these 270 or 16.3% were based in Iran.  Iran had a total of 324 (active plus inactive) commercial aircraft listed, but many are parked for a lack of spares or being unsafe to fly.
Iran has the second largest commercial aircraft fleet (including parked aircraft) after the UAE.  No wonder the OEMs are so keen to get into that market.  Airbus made a big splash with its $27Bn order.  Everyone has been wondering why Boeing has not also benefited from Iranian interest.  After all, Iran is expected to buy from every OEM in order to minimize its fear of renewed sanctions.  The wider the business interest and fear of economic pain, the higher the hurdle to renew sanctions.
Boeing is as eager as any OEM to… Continue reading →
The current backlog for aircraft is well known.  There are some, AirInsight included, who believe that there is an emerging bubble in the single aisle market.  The OEMs argue strongly that this is not the case, and that the large backlog will be delivered.  One of the factors in that equation is what will retirements look like, and when existing aircraft reach the point of economic obsolescence.
There are a number of factors that drive aircraft obsolescence, fuel burn being the most notable.  As engines increased in efficiency, newer aircraft have significantly lower operating costs than predecessors.  However, capital costs and interest rates also play a role in the equation, as does the supply-demand balance and pricing of older aircraft.  Those trade-offs are carefully evaluated by airlines as they project potential revenue and cost differentials and their retirement decisions.
Historic Perspective
What does history tell us about single aisle fleets and retirements?  Aircraft have a limited economic life, but this varies  among the OEMs. This is primarily due to the age of the fleets, with Boeing and Douglas having produced narrow bodies since 1958 while Airbus didn't enter the market until 1989.  The oldest Airbus narrow-bodies are now turning 28 years old, while the oldest Boeing and Douglas aircraft are senior citizens.
The age at which aircraft retire has been growing over the last few decades, as new models replace old ones and economic conditions for the industry change with recessions, 9-11, SARS and other exogenous factors.