Airbus
Mark Lapidus is CEO of Amedeo, a leasing firm with with 20 A380s on order.  Selling the A380 has proven to be a  complicated task.  The aircraft is the largest passenger airliner and for many airlines, the A380 is intimidating.  Yet, among the users of the aircraft there are voluble fans, like Emirates.  One of the leading A380 fans is Mark Lapidus, who thinks many airlines do not understand the aircraft's capabilities (but should and could benefit from it) and many who have deployed the aircraft are not optimizing its capabilities.

One of today's best panels was titled the "Fleet Managers" and moderated by Helane Becker from Cowen & Co. On the panel were Nathaniel Pieper from Delta, Jude Bricker from Allegiant and Jose Yunda from Avianca.
Mr Pieper started off by telling the audience that Delta is still interested in used aircraft. (He joked that Delta and Allegiant together accounted for the world's biggest used airplane buyers).  Used aircraft offered excellent ROI and ensured a strong balance sheet. (It helped Delta's results reported today were so good)  Low fuel costs have offered further support to the decision by Delta not to buy new aircraft at the same level as other airlines.  This strategy will continue to play at Delta.  The airline's fleet plan is driven by matching aircraft to routes. He used the 717 as an example – Delta frequently makes use of the 717 to… Continue reading →
Indigo Partners Managing Partner Bill Franke is an industry legend.  His background in the industry is not only long, but global.  His business has invested in LCCs all over the world.  This means his industry view is not exclusively US-oriented. When he speaks, smart people listen.
By the way, Mr Franke did concede that he has been the biggest V2500 buyer to date.  He noted the A320neos Frontier is getting in the next few years had their engine selection made before his takeover of the company, and he will stick with the order "as is".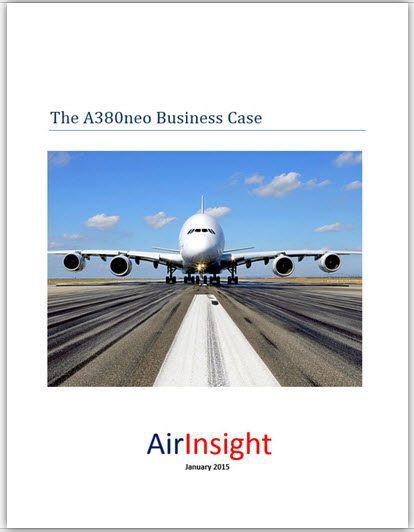 AirInsight's newest report is will be available Friday, January 16th.
The report consists of 46 pages with 23 tables and charts.
The report discusses potential engine options, the market for very large aircraft, frequencies, capacities, and constraints, and competitive economics, in reaching our conclusion regarding the business case for an A380neo.
Our report is available for pre-order at $495.