Airbus
In the business of buying airplanes, an airline will always seek the lowest cost.  Just as they do with every other production input – lowest cost wins every time.   So how is it that with the pending Azul order, "Boeing has not been given the opportunity to present a proposal for single-aisle airplanes"?
On the face of it, this looks like a selection that could not secure the lowest costs for Azul.  How does this make sense? As an Azul shareholder you would want to be certain your company secured the lowest cost option. Let's go through some data points and thoughts to see if a pattern emerges.
Airbus wins the deal:
Creative marketing on the side of Airbus.

Driven by the fact the airline already committed to A330 and A350-900s

Which offers common flight-deck ratings
And, lets say it again, creative marketing. Volume… Continue reading
Data summarizing aircraft orders are in for the first 9 months of 2014, and show interesting results, as shown in the table below.  Unfortunately, Boeing does not break out orders among the three variants of the 737MAX, making it more difficult to compare performance of the largest -9 model with A321 and the smallest -7 model with A319neo, CS300, and E2-195. Nonetheless, Boeing has gained a significant advantage in wide-body orders this year. Continue reading →
Airbus did something every aviation geek enjoys – they celebrated the end of their A350XWB flight test program with a special event.  A formation flight by the program's test aircraft. Spectacular and wonderful.
Airbus has received EASA certification for the A350, which is now approved for flight.  The first delivery to Qatar Airways is scheduled for the fourth quarter of this year.  The A350 program had a much smoother development process than 787 or A380, and it appears that Airbus has learned from the experiences from previous programs in delivering the aircraft on schedule.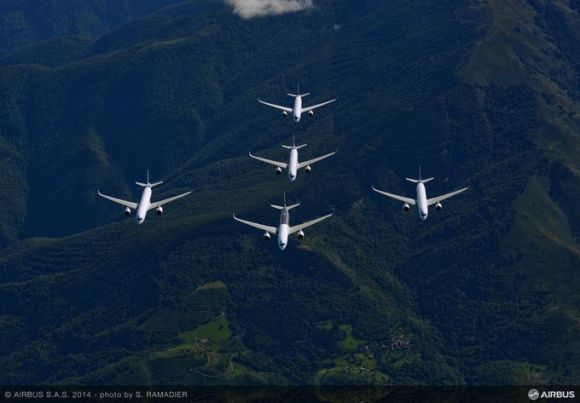 Although it is a boost for CEO Fabrice Bregier, we think it is an even prouder moment for program chief Didier Evrard .  Look at the delays of recent new aircraft programs, and it is clear that Airbus' team did exceptionally well to have so few delays. The program looks to be the best EIS of any current development program. Remember this is a clean sheet design, not a derivative.
The program was managed by Evrard – and he managed it differently by taking a delay… Continue reading →
Two videos and one airplane.
First video the aircraft with winglets and the "pre-NEO" engine. Engine noise at about 30 seconds.

Second video the same aircraft with the "NEO" engine. Engine noise at about 1:30.  Drama sound track aside, almost certainly the quietest single aisle Airbus has ever flown.  Airbus offers these videos: uncut takeoff and uncut landing  – it is very quiet.