Airbus
Airbus has received EASA certification for the A350, which is now approved for flight.  The first delivery to Qatar Airways is scheduled for the fourth quarter of this year.  The A350 program had a much smoother development process than 787 or A380, and it appears that Airbus has learned from the experiences from previous programs in delivering the aircraft on schedule.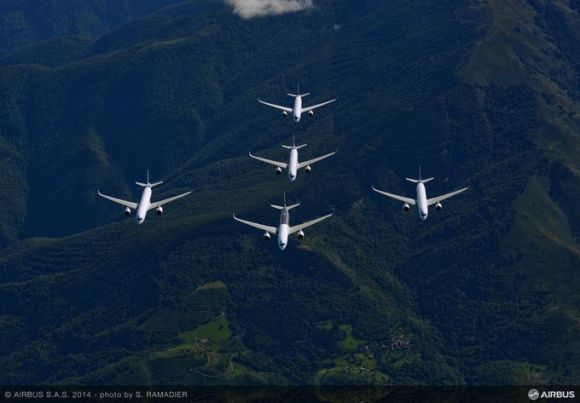 Although it is a boost for CEO Fabrice Bregier, we think it is an even prouder moment for program chief Didier Evrard .  Look at the delays of recent new aircraft programs, and it is clear that Airbus' team did exceptionally well to have so few delays. The program looks to be the best EIS of any current development program. Remember this is a clean sheet design, not a derivative.
The program was managed by Evrard – and he managed it differently by taking a delay… Continue reading →
Two videos and one airplane.
First video the aircraft with winglets and the "pre-NEO" engine. Engine noise at about 30 seconds.

Second video the same aircraft with the "NEO" engine. Engine noise at about 1:30.  Drama sound track aside, almost certainly the quietest single aisle Airbus has ever flown.  Airbus offers these videos: uncut takeoff and uncut landing  – it is very quiet.
The first flight of the A320neo, powered by the Pratt & Whitney PW1100G-JM geared turbofan, took place this morning in Toulouse.  The first flight lasted 2 hours and 22 minutes, and was hailed as successful.
Airbus currently has firm orders for 49 A319neo, 2,484 A320neo, and 724 A321neo models, a total of 3,257 aircraft.  In addition, it holds 1,105 options and 31 aircraft with a memorandum of understanding that brings the program total commitments to 4,393 as of today.  The aircraft is scheduled to enter service with Qatar Airways in October, 2015.
New engine technology, combined with improvements in aerodynamics, enable the A320neo family to reduce fuel burn by 16% initially, and up to 18% over existing models with the PW1100G-JM Advantage engine that will be available starting in 2019.  Given the order backlog, new orders would likely be for the improved engine option,… Continue reading →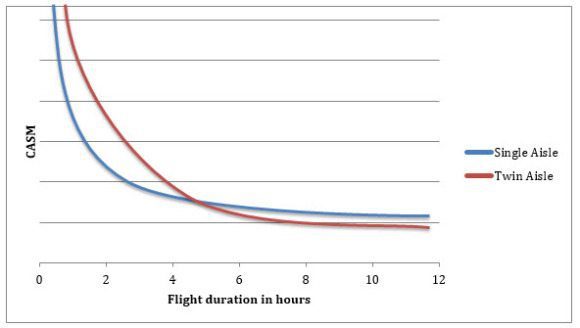 At the ISTAT conference in Istanbul, Turkish Airlines CEO Dr. Temel Kotil shared an interesting view on how the airline selects an aircraft for a certain route: For to 4-5 hour segments, a single aisle aircraft has a lower cost per average seat mile, while on longer routes, a twin aisle aircraft is more effective.
Having Europe, Middle East (including parts of China and India) and Africa within 3,000NM distance, Turkish Airlines is able to effectively reach many of these destinations with a single aisle aircraft.  Moreover the airline tries to fully exploit an aircraft's range.
But in order to avoid spillage and retain highest revenue level s, the airline departs from this theory when necessary.  For example, Dr. Kotil stated that on the route Istanbul-Kinshasa, he prefers to deploy a 737-900 than and A330 for the seven hour flight. On this route with the 737-900 Turkish makes… Continue reading →
We had a chance to speak with Turkish Airlines CEO Dr. Temel Kotil at ISTAT in Istanbul this morning after his keynote address.