United
This is a continuation of our recent story on the demise of the 747. There have a spate of stories recently about the 747s future. Most of these stories talk about the lower costs of the Super Twins and how they can replace the 747.  Of course that is a big factor, but what are these costs?  Let's take a look at the 747-400 data .
There are 193 747s operating in the United States and of these, 62 are -400s.  Let's look at data from three US airlines flying the 747-400; UPS, Delta and United.
UPS is a relatively recent acquirer of the -400, which replaced older -100 and -200 models in its fleet. Notice that from 2009 when its flight hours started to operate at a typical 25,000 hours per quarter, repair costs kept rising.  Freighters tend to be retired passenger aircraft and this means they are old to start with. The UPS fleet consists of 12 -400Fs and one -400M.  The -400M is over 20 years old at this writing; six of the -400Fs are over 15 years old, and the remainder are between five and six years old.   It is notable that maintenance costs for both airframe and engines have continued to rise, despite similar utilization in recent years. Continue reading →
The US DOJ, various state attorneys general and the District of Columbia have filed challenging the American Airlines (AA)–US Airways (US) merger.  This news was not what was expected by industry followers.  The previous merger between Delta and Northwest went through without a hitch, followed by United and Continental and then Southwest and AirTran, all of which were approved. How is this merger any different?
It can't be competing routes.  Delta and Northwest had 12 overlapping non-stop routes, United-Continental 11, and Southwest-AirTran 18 routes.  USAirways and American overlap on 12 – so that certainly can't be the reason.  It appears that the DOJ has decided, after three mega-mergers, that a fourth will be anti-competitive and change the nature of the industry.
Up to now the US has been leading the airline industry in turning around its profitability.  This has been enabled by two key… Continue reading →
Embraer's E-Jets are coming to United Express, after the airline ordered 30 plus 40 options. Deliveries are slated to arrive in the second quarter of 2014.   The E-175 aircraft will be fitted to seat 76 passengers, the current limited under the scope clause in the pilots union contract.
The enhanced E-175 will provide significant improvements over the current E-175.  Embraer speaks of the airplane's new wingtips, systems optimization and aerodynamic refinements that will lower fuel burn by as much as 5%. United Airlines expects their new E-175s to achieve fuel savings of 10 percent in comparison to the 50-seater regional jets they will replace.  The United order follows an order from American for 47 of the E-Jets.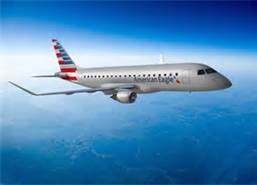 Consolidation among the US airlines is making the competition fierce on competitive routes, but oligopolistic on non-stops.  OEMs and labor are not the only ones facing fewer options. Passengers… Continue reading →
With a precautionary landing by a United 787 and the issuance of an Airworthiness Directive  over the last two days, the mainstream media are suggesting more potential problems for Boeing with the 787 program.  That simply isn't the case. Continue reading →
Yesterday, United Airlines took delivery of the first of 50 Boeing 787s it has on order, and the first of five expected to be delivered in 2012. United is the first US airline to operate the Boeing Dreamliner, and takes its first delivery nearly a year after the first 787 was delivered to Japan's All Nippon Airlines.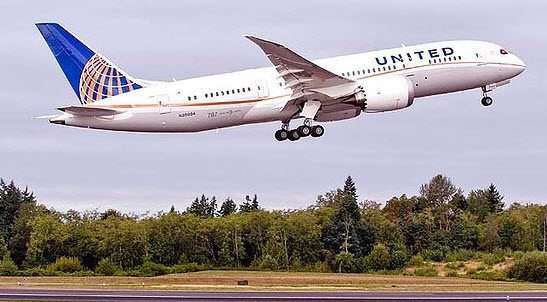 The 787 aircraft to be delivered in 2012 will be initially based in Houston for training purposes and will be first deployed domestically on services between the airline hubs at Chicago O'Hare, Houston, San Francisco Newark, Cleveland, Denver and Washington Dulles.  It is expected that after the introductory period, the aircraft will be re-deployed on international routes. 787 routes are already listed on United's reservation system, with flights from Houston to Chicago beginning in November.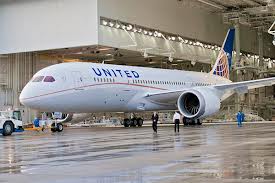 United will configure its 787s with 36 First -Business class seats, 72 Premium Economy, and 111 Economy… Continue reading →